HelloTrail® is reader-supported. We may earn a commission, at no additional cost to you, on purchases made from our expert chosen links.
If you're anything like me, you best enjoy the cold season holding a cup of hot chocolate with the heat turned up to eleven. But let's be honest, there's something unique about the winter atmosphere.

That tranquility and serenity of the untouched snow-covered landscapes. Early nights and freezing early mornings. Escaping the harsh cold, huddled around a warm fire with your friends.
The thought of experiencing it firsthand is enticing, but only if you have the proper gear! Let me show you some of the best 4-season tents just in case you decide to release your inner winter warrior.
Top 4 Season Tents for Camping in 2023
Alps Mountaineering Tasmanian 2
You don't have to bring in the big bucks to enjoy the outdoors in the depths of winter.
The Alps Mountaineering Tasmanian 2 provides an affordable solution to all your 4-season camping needs.
Pros
– Affordable
– Easy pitch
– Ample storage
Cons
– Poor ventilation
– Not great in high winds
– Difficult teardown
Some of the more noteworthy features of the Tasmanian 2 are the ample amount of storage in the hoop-shaped vestibules, mesh interior pockets and an overhead gear loft.
You'll quickly be able to pitch the Tasmanian 2, thanks to the support poles being tethered together by a weatherproof shock cord. A godsend when you want to jump into your sleeping bag after a long day outing in the freezing cold.
While the Alps Mountaineering Tasmanian 2 does have ceiling vents to create airflow, you may want to crack open the vestibule during warmer conditions as airflow and condensation can be a problem.

Overall, the quality of this tent is not the best on the market, but it will serve its purpose of protecting you from the elements.
The heavier polyester fabric may hold a few inches of snow, but the aluminum poles don't hold up very well to mountain peak gusts. So stay below the tree line in the Tasmanian 2.

Still, if you want to venture into the woods in freezing temperatures on a budget, then Alps Mountaineering has created the perfect product for you.
The North Face Mountain 25
The North Face is an industry leader in quality winter gear, and their Mountain 25 4-season shelter is no different.
If you embark on an expedition into the mountains or desire to experience the fresh winter air, then this tent may be right for you.
Pros
– Great stability
– Ample space
– Great ventilation
Cons
– Difficult setup
– Heavier than competitors
– Questionable durability
Other than the brand name itself, the best feature about the North Face Mountain 25 is its protection against harsh wintery conditions. Like the Trango 2, it uses a reinforced X-shaped structure with two cross supports (or as The North refers to it: "bomber squared").
The North Face Mountain 25 will remain rigid when the weather is frigid in combination with the heavy nylon and polyester fabrics. One feature that separated the Mountain 25 from the rest of the available 4-season shelters is moisture control.
The "bucket" floor is coated with an unprecedented 10000 mm polyurethane coating – most tents offer around 2000 mm – which offers excellent protection against water from entering from underneath The North Face Mountain 25.
The North Face has engineered this tent to incorporate a High-low venting system, which breezes past its competitors and provides campers to use it as a shelter all year round, not just in the bowels of winter.
Of course, there are a few downsides to The North Face 25 as well. The setup is challenging since the pole sleeves can turn the tent into a giant kite if not properly staked down.

The materials are great against weather, but they seem a little thin, which leads me to believe that long-term durability may be an issue.
Still, with more features like No-stretch Kevlar guylines for a taut pitch, dual doors, two vestibules (8 sq. ft. and 3 sq. ft), and tested down to -60°F, you'll stay warm in any storm. Climb to new heights, join the ranks of the cragsmen and cragswomen, and conquer every side of the mountain with The North Face Mountain 25.
Marmot Thor 2P
For the adventurer (or the Avenger), the Marmot Thor 2P is a great 4-season, double-walled tent that will provide you with all the weather protection you need in the high altitude of the mountains.
Pros
– Spacious interior
– Easy setup
– Ample storage
Cons
– Heavier than competitors
– Condensation issues
– Known manufacturer defects
From windstorms to rainstorms to snowstorms to the "God of Thunderstorms," the Marmot Thor utilizes a unique six-pole design (composed of DAC Featherlite NSL) to remain upright and sturdy in the harshest of conditions.

That way, nearly every "weak point" is supported to take on any impending blizzard.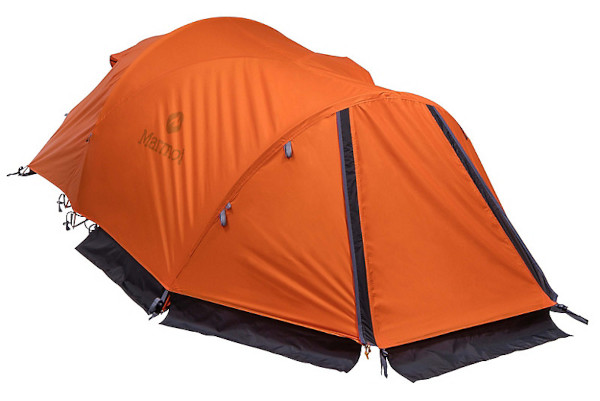 Aside from the aluminum frame, the rest of the Marmot Thor 2p tent is composed of different densities of ripstop nylon. The canopy and the rain fly are composed of 40-Denier nylon (with a thick waterproof coating on the latter), while the bathtub floor comes in at a thicker 70-Denier, which makes it more durable against the sharp rocks in the mountains.
Although, the thicker material can lead to poor ventilation and internal condensation, which could be an issue if you neglect to open the vents in exchange for warmth.
Unlike other four-season tents, Marmot has engineered the Thor so that you and your winter camping buddy have plenty of headroom (44" ceiling height), just in case you get trapped in some heavy powder.

Then when you're ready to leave and move on to the next location, you'll have no problem moving, as the pitch/breakdown is quick and straightforward.
A 7 lbs 10 oz carry weight means you can easily carry it to your next stop. Anyways, the Marmot Thor 2P isn't just for intense thrill-seekers.

If you plan to camp at a higher elevation, you should probably be packing a 4 season tent due to the ever-changing conditions.
Whether you're simply enjoying the view or trying to climb to the top of the earth, the Marmot Thor 2P will keep you safe and secure – no matter how miserable the weather.
Mountain Hardwear Trango 2
It takes two to Trango in the Mountain Hardwear Trango 2.
*crickets*

Seriously, it does take two people to carry around this nearly-10 lb. shelter, but it's definitely worth its weight.
Pros
– Easy pitch
– Spacious interior
– Adequate protection
Cons
– Heavy
– Expensive
– Poor ventilation
The Trango 2 has been trusted by mountaineers, climbers, and winter warriors for years. It's a standard X-shaped design, with two extra pole featherlite aluminum supports and heavy nylon fabric, which means you can take on the frosty fury of the ever-changing alpine conditions.
One important feature that Mountain Hardwear has incorporated into the Trango 2 is space. The 40 sq. ft. of interior space will give you and your camping buddy plenty of room to hang out.
The setup is quick with "Direct Connection" secure points between the tent canopy, pole supports, and rain fly. You won't have to wait long to retire from the cold.
As a slight negative, the Trango 2 doesn't have the best ventilation, leading to unwanted condensation. One thing is for sure, this tent will keep you safe any season.
Black Diamond Fitzroy
Aptly named after the awe-inspiring yet terrifying Mount Fitz Roy in Patagonia, the Black Diamond Fitzroy is an excellent option for any mountaineer, guru, or greenhorn.
What sets the Fitzroy tent apart from the rest of its 4-season competitors is the attention to detail.
Pros
– Strong and stable
– Single-wall structure
– Great weather protection
Cons
– Expensive
– Interior setup
– No vestibule
The unique single-wall structure and bomber design of the Black Diamond Fitzroy provide plenty of stability and protection from high-altitude conditions. The unique ToddTex fabric offers long-lasting durability with three separate layers, which promote warmth, dryness, and security.
The double-mesh provide another layer of protection against potential bugs and help with the ventilation as well. Unfortunately, Black Diamond has made their top-of-the-line tent a little difficult to pitch.

Unlike most shelters, the tent poles are located on the inside rather than the outside of the fabric. While this is beneficial when it comes to overall security, it can be complicated to pitch.
Also, with no vestibule, it may be difficult to keep your gear out of the elements (even though there is plenty of interior space).

Overall, the Black Diamond Fitzroy is an expensive, secure option for any winter warrior and may be the toughest of the tough when it comes to single-walled 4-season tents.
Hilleberg Jannu
Named after a treacherous peak in the Himalayas (and 32nd tallest mountain in the world), the Jannu is the ultimate 4-season shelter.
It offers more-than-sufficient protection against the harshest of wintery conditions with strong 9mm poles and a weather-resistant Kerlon fabric exterior.
Pros
– Ultimate weather protection
– Enhanced ventilation
– Simple pitch
Cons
– Expensive
– Little headroom and may feel cramped
So, with all of this strength, you may expect the Hilleberg Jannu to break your back as you lug it up the alpine trails. But that's not the case. Weighing only seven pounds, the Jannu 2 is unbelievably lightweight compared to many of its competitors.
Although, as with every product, there are a few downsides to consider. First off, the Jannu will cost you a pretty penny, but what else would you expect from a tent that can withstand blizzard-like conditions?
There's not much headroom, and it may feel a little tight for two people, but there's a reason for that (other than cuddling up to your camping buddy in the blistering cold). See, this tent was designed to summit mountains.
There isn't always much room to pitch on the high hilltop, so they keep the footprint small to nestle into the flat alpine ridges. Speaking of the pitch, it's effortless for a tent this sturdy and capable. See the video below...
You're probably thinking one of two things by now: "This tent is awesome, but I'm no mountaineer," or "Where do I buy tickets to start climbing Mount Everest?"
Here's the lowdown: You don't have to be an expert mountain climber to enjoy the amazing features of the Hilleberg Jannu 2. Any tenderfoot trekker will love its doomsday-esque storm protection, while sure-footed sherpas are sure to enjoy the fast, simple setup.
I think it goes without saying (but I will say it anyway), the Hilleberg Jannu is one of the top-tier 4-season tents on the market.
How to Buy a Four Season Tent
Size
While most three-season tents come with ample living space, you'll rarely see a spacious 4-season tent. These shelters are meant to withstand a large amount of snow (in case of a blizzard or small avalanche), so they are built compact and sturdy.
Less interior space means the tent will stay warmer, as it will trap in your body heat more efficiently. Furthermore, a smaller footprint also helps when pitching on the sides of mountains.
As per weight, it comes as no shock that 4-season shelters tend to be made up of heavy materials, which can put a strain on your body as you carry them to the campsite or even across the alpine ridge.

Camping technology is constantly improving, which allows some products to cut down on the overall weight while still maintaining their strength and stability.
Season
Although 3-season tents are aptly named, as they perform well in the spring-summer-fall temperate climates, calling a tent 4-season can be misleading since they are typically only used in the one coldest season: winter.
These tents act more like huts in frigid conditions. The thick-walled fabric and sturdy pole structure protect against the elements while trapping in the camper's body heat.
The one big difference between 3- and 4-season tents when it comes to protection from the elements is ventilation. While 3-season shelters are sometimes constructed of almost 80% mesh, their cold-weather counterparts contain little to no mesh.
Instead, they have small vents to regulate airflow so that condensation doesn't build up (and freeze) on the underside of the fly. The 4-season pole structure is usually made from aluminum to withstand blistering winds and heavy snowfall and hold up their thick fabrics.
Setup
If you thought that pitching a dome tent in the comfort of a warm, dry campsite was difficult, wait until you have to pitch a heavy tent in freezing temperatures, snow flurries, and double-digit wind gusts!
While hopefully you never have to experience this, you should still look into the ease of setup as one of your buying considerations. Compared to the 1 or 2 pole support system of 3-season tents, 4-season tents can have anywhere from 1 to 12 poles to ensure the stability of the structure.
Also, instead of the usual plastic clips that attach the support system to the canopy, they tend to use sewn-in fabric sleeves, which provide more durability. So if you want to become an expert pitcher, you'll have to practice, practice, practice.
Security
Perhaps the most crucial category when purchasing a 4-season tent is security. And by security, we mean questions like: Do you feel safe in your tent? Are you prepared for inclement weather? Will your shelter last through the night?
As for the longevity of a 4-season shelter, it can be hard to predict its lifespan. Most support poles are made from structural solid aluminum, and the fabrics have a higher denier count (indicative of the density or thickness of each product).

Your mileage for tent lifespan may vary if you tend to camp in extreme conditions.
Storage
Interior storage (corner pockets, light pockets, loops, etc.) doesn't change much between 3- and 4-season shelters as each one has its unique features. Although, one storage design aspect that differs dramatically is the vestibule.
Most of the time, 3 season shelters have 1 or 2 vestibules to store your gear so that you have more space to spread out in your tent, but this long flap doesn't extend to the ground since air is meant to flow through it.
With 4-season shelters, the vestibules tend to extend down to the ground (and sometimes with an inward-facing flap) to prevent snowdrift from getting inside.
$$ Price
Due to the more expensive and expansive materials, you probably will have to shell out more than a few hundred dollars to purchase a 4-season tent. But, there are still plenty of affordable 3-season tents that will prevent you and your bank account from freezing.
Since camping in the winter can be dangerous, always be aware of the fact that you shouldn't skimp out on a higher-end shelter, as it could cost you your life.
Wrapping It Up…
4-season shelters are much different than their 3-season counterparts. Their main purpose is to keep you safe and protect you from the most disastrous of weather conditions.
If you're thinking about hiking high above the tree line in the mountains or just want to breathe in the crisp December air, you now know where to look to find the best 4-season shelters of 2023. Camp on!