Your compact two-person tent might be your pride and joy when backpacking but when you're car camping, bigger is often better, particularly if rain is forecast.

Spacious enough for families, six person tents also offer a luxurious camping option for two people.

If you want a tent that you can sleep in, store your kit in and hang out in during bad weather, this is the size you want to be looking at.

After all, just because you're camping, doesn't mean you have to rough it…

We've scoured hundreds of reviews to come up with a 6-person tent to suit every camper, and here they are!
Best 6 Person Tent Comparison
Best All Around: REI Kingdom 6
The battle for our top spot was a bit of a stand-off between the REI Kingdom 6 and The North Face Wawona 6.

The Kingdom 6 won out – just – but I'd recommend checking out our review of the Wawona below as the two tents have different pros and cons and will suit different campers.
A major upgrade in recent years is the improved pole structure which is designed to give extra stability in bad weather and make setup easier.

As the tunnel-style design of the tent is susceptible to high winds if pitched broadside, this is a welcome development of the design.
Where the Rei Kingdom 6 really wins is in the flexibility of the internal space.

You can either have it set up as one big room or use a central divider wall to separate the tent into two areas – great if you want to put the kids to bed early.
One half of the tent has a greater mesh coverage than the other, which gives different options for privacy versus ventilation if you're camping without the fly on.
The downside of this tent compared to the Wawona 6 is that there's very limited vestibule space.

You can also buy a "mud room" which attaches onto the tent to give more storage but this will set you back an extra hundred bucks.
Pros
– Versatile internal space and ventilation
– Revised pole structure for added stability
– Good internal storage
Cons
– Limited vestibule space
– Expensive
Read our full REI Co-op Kingdom 6 tent review here…
Best for Families: The North Face Wawona 6
Whether you prefer The North Face Wawona or the REI Kingdom 6 as a family tent will largely come down to which you value more…

Flexibility of internal layout OR a large external vestibule.

If price is a consideration, the Wawona also comes in a little cheaper.
It's got slightly more internal space than the Kingdom 6, but the real bonus with this tent is the 45 sq ft vestibule that extends from the front (there's an additional, smaller, vestibule at the back).

This is great for family camping as you can use it to store bikes, chairs, toys or your camp kitchen set up.
The North Face Wawona is a single skin tent, meaning there's no separate flysheet.

This has the advantage of making it easier to set up (trying to chuck a fly sheet over a 6-person tent when you're vertically challenged is an exercise in frustration) but gives less flexibility in terms of ventilation.
To make up for this, the Wawona has a huge mesh front door as well as side windows and vents.

There have been a few user reports of issues with the mesh ripping, so it's worth treating the doors and windows gently.
Pros
– Huge vestibule
– Easy setup
– Good height in the internal compartment
Cons
– Mesh door may be a bit delicate
– Tall people won't be able to stand upright in the vestibule
– Limited ventilation options
Best Mid-Range Tent: Alps Mountaineering Camp Creek
The Alps Mountaineering Camp Creek 6-person tent is a great option for regular car campers who want a tent for 2-3 season camping without the price tag of a premium brand.
Its cabin-style design with straight sidewalls is a great option if you're tall or want to set up cots inside.

With a maximum height of 7 foot, even the tallest camper will be able to stand upright and walkabout.
However, this design does have a downside in terms of how resistant the tent is to wind.
Due to their shape, cabin-style tents are much more susceptible to being damaged or destroyed in strong winds than dome-style tents.

As the Alps Mountaineering Camp Creek comes with a partial rainfly rather than a full-length version, I'd rate this as a 2-3 season tent overall.
There are four doors giving lots of options for ventilation in warm weather and plenty of room inside for four adults (or dogs!).

The tent's fairly simple to put up, even if you're doing it by yourself. It weighs a ton (okay, 23.5 pounds…) so it's definitely a car camping tent, but it'll provide a comfortable home away from home at a reasonable price.
If you're a frequent camper, then it's worth buying some heavy-duty tent stakes since the ones that come with the Camp Creek aren't particularly robust.
Pros
– Great for tall people
– Spacious interior
– Great value
Cons
– Very heavy
– Susceptible to damage in strong winds
Best Budget 6 Person Tent: CORES 6-Person Dome
If you only camp a handful of times a year then you don't need to splash out on an expensive tent.

CORE's 6-person dome tent is a great value option for summer camping with lots of features for your money.
The internal compartment is a generous 99 sq ft but the sides have a steeper slope than other models and the maximum height in the center is only 6 foot.

For shorter campers this won't be a problem, but tall people might find it frustrating not being able to stand up inside.
The tent can be used with or without its partial rain fly.

Stare up at the stars through the mesh upper part of the tent or add the rain fly for extra weatherproofing.

The mesh doors and windows are great for ventilation and have zipped covers for privacy.
That said, the zips on the tent are one of its weaknesses, particularly on the main door.

This may not be surprising given its price, but it can be frustrating to struggle to get into your tent when it's raining outside or you're being attacked by an army of mosquitoes.
Pros
– Great Value
– Excellent ventilation
– Good internal storage
Cons
– Cheap materials
– Not as tall as other tents
Best for Winter Camping: Moose Country Base Camp
If you want a winter tent, a full-length fly and a weather-resistant design is a must.

The Moose Country Base Camp Tent has a dome-shaped design with strong aluminum poles that will help shed snow and its relatively low profile should stand up to reasonable wind speeds.
It's a simple, no-frills design with a full-length rain fly and two doors.

The doors allow for some cross-ventilation in warmer weather, but you may find it a bit hot sleeping in the tent during summer. (Which is precisely why we're recommending it as a winter tent!)
There are two really great things about this tent: it's very reasonably priced for a 4-season tent and it's relatively lightweight.

At under 10 pounds, it's the lightest 6-person tent we've looked at and perhaps the only one which you could use for backpacking.
The tent does have a small footprint for a 6-person tent and unless you're on the short side, you'll struggle to stand up inside.

But having a smaller volume is actually an advantage in cold weather, as there's less air inside the tent to keep warm.
I'd recommend the Moose Country Base Camp Tent for couples or small families/groups of friends who want to give winter camping a go without forking out a ton of cash for an Arctic-spec tent.
Pros
– Great value winter tent
– Light enough for backpacking short distances
– Weather-resistant design
Cons
– Very cramped for 6 people
– Too hot in summer
– Not as durable as more expensive tents
In case you still aren't sure what type of family tent to get here are some tips to help make your decision even easier…
The Complete Guide to Buying a 6-Person Tent
Larger tents typically come in a wider range of designs. It's worth comparing different styles to figure out what type of layout will work best for you.

Here's a roundup of the different types of tent you're likely to come across:
Cabin Style Tents
This is a popular design for larger tents as the straight sides and high ceiling give a spacious, practical living space like the Coleman in the image above.

They're a good option if you're tall (and struggle to stand upright in other styles of a tent) or if you prefer to sleep on a cot rather than the ground.
What makes these tents so great is also their downfall.
The box-like design will struggle in high winds and snowy conditions and the large volume inside the tent will make it cold when the temperature drops.

Cabin-style tents often have a partial fly and good ventilation making them excellent summer tents, but come winter, you'll want to pack it away and check into a hotel.
Dome Style Tents
Dome style tents are generally better at standing up to bad weather and many come with full-length fly sheets for added protection in heavy rain or snow.

The amount of mesh fabric underneath the fly will determine how much ventilation you get in summer versus how warm you'll stay in winter.
Taller campers may find it frustrating to be constantly hunched over in dome-shaped tents.

Even large 6-person tents may be less than six feet in the center and the sloping sides make it harder to move around.

If you sleep on a cot, this may also mean that you have to move the cart further into the center of the tent to avoid rubbing up against the tent wall.
Tunnel Tents
Tunnel-style tents, such as the REI Kingdom 6 person tent, are rectangular in shape and often come with a large vestibule section at one end.

Tall people may prefer this design to that of a dome-style tent as they can stand up and move around more easily.
If they're pitched in the right direction, tunnel-style tents can be fairly resilient but get hit broadside by a gale and you could well end up with a broken tent.
Pop-Up Tents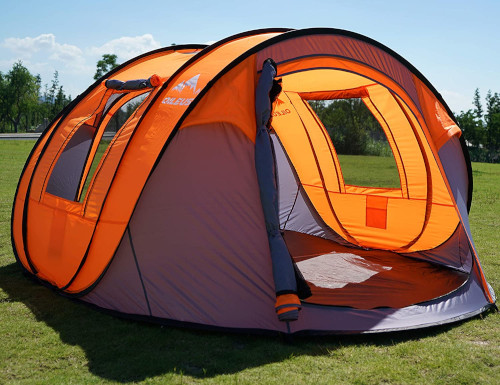 Pop-up tents take ten seconds to erect and forty minutes of head-scratching and a Ph.D. in tent design to try and get back into their bags.

Only joking. … (kind of.)
They definitely have their uses and once you've got the hang of twisting the poles to collapse them, they can be quick and easy to put up and down.

However, they're not the sturdiest of tents, particularly in high winds.
4 Other Things to Consider…
1. Internal Layout
Most 6-person tents come with one large compartment. In some tents, this can be divided into two sleeping rooms, or a sleeping and living space.

A vestibule or awning gives you the option to sit outside undercover and store bulky pieces of kit.
Larger tents give you the option of sleeping on a thick air mattress or cot with a side table, lighting, and even a TV.
2. Storage
If you've got four or more people sleeping in a tent, then storage is likely to be an issue.

Having a number of internal storage pockets for everyone to stash small items is a must, and an overhead gear loft for storing spare bedding, toys or clothes is also handy.
An internal clothesline (or attachment points for you to fix your own) can be handy for drying out wet clothes.
Outside storage is also important, particularly if you're not camped right next to your car.

Having somewhere dry to store cooking gear, camp chairs and other items can be a real bonus and free up space inside the main compartment of the tent.
3. Packability
6-Person tents tend to be heavy. Even if you don't have to carry them very far, weight and packability may still be an issue.

You'll also want a sturdy carrying bag to pack it back into.
Some tents come with rucksack-style bags which can be handy if you're pitching your tent more than a few meters from the car.
4. Durability
Typically, the more you pay, the better-quality materials and construction you'll get.

But you'll need to offset this against how often you'll be using the tent and in what weather conditions.
If you're only going to be camping for a few nights a year in summer, it's not worth shelling out $500 on a top of the range 4-season palace.

On the flip side, if you camp regularly in bad weather, you may regret buying that budget tent when you're forced to retreat to your car in the middle of a stormy night.
Wrapping It Up…
As you can tell from our roundup, there are plenty of 6-person tents to choose from at all budgets.

Which one is right for you will come down to the style of design you prefer, how much height and storage space you want and what sort of weather you want it to stand up to.
It's worth carrying out a trial run putting your tent up at home in daylight, so you can figure out the best way of erecting it quickly.

This also gives you a great opportunity to figure out your internal layout and decide what to pack for your first camping trip.
Happy camping!