Aspen Colorado hiking trails do not disappoint. These are the 10 best hikes in Aspen that any outdoor lover will enjoy with unforgettable views!

Before we get to the list, it's important to understand the area, how to get there and things to keep in mind…

Aspen is nestled in a remote area of Colorado's Rocky Mountains Sawatch Range and the Elk Mountains, serving as a year-round destination for outdoor enthusiasts.
Although synonymous with winter getaways and home to one of the area's most pristine ski resorts, Aspen Colorado offers quality hiking ranging from paved hiking trails to rugged mountain summits.

Located along the Roaring Fork River, Aspen sits at an elevation just below 8,000 feet and gets its name after the area's high abundance of aspen trees.

It is part tourist destination, part local hub – complemented by delicious dining options for when your day out on the trails is complete.
Best Hikes in Aspen
Trail
Difficulty
Distance
Smuggler Mountain
39.19157, -106.80802
Easy
3 miles
Ute Trail to Aspen Mtn
39.18236, -106.80897
Difficult
6.2 miles
Mount Sopris
39.30430, -107.12395
Very Difficult
12 miles
Maroon Bells
39.09880, -106.94171
Easy
1.5 miles
Cathedral Lake
39.04299, -106.80746
Moderate – Difficult
5.6 miles
Sunnyside Trail
39.21184, -106.83976
Difficult – Extremely Difficult
4 or 20 miles
Grizzly Lake
39.07773, -106.61070
Moderate
7.1 miles
American Lake
39.07275, -106.80361
Moderate – Difficult
6.4 miles
Hunter Creek Trail
39.20195, -106.81258
Easy – Moderate
5 or 14 miles
Weller Lake
39.12052, -106.72215
Easy
1.2 miles
How to Get There
Aspen is home to the Aspen–Pitkin County Airport, a small local hub with seasonal flights to large nearby cities.
Denver International Airport is the closest major international airport, located about three and a half hours from Aspen.
You can find flights to Denver routing from most cities around the US and major cities internationally.
While the easiest way to get around is by car, the Roaring Fork Transportation Authority (RFTA) offers free bus service throughout Aspen and Snowmass Village and paid services to other communities including Basalt, Glenwood Springs, and Rifle.
You're going to need to rent a car if you're heading here from Denver – the only way into Aspen is along State Highway 82, other than a few mountain passes that are seasonally closed.
Once in town, it's easy to get around by bike, as the city is very bicycle-friendly.
You can check out and check back in rental bikes from one of twenty different destinations through a program called We-cycle.

As an alternative, you can rent a bike from one of many local bike shops.
Things to Know
The Aspen Snowmass area transforms from a crisscrossing network of fabulous ski runs to strenuous dirt hiking trails in summer, with more than 50 trails added in recent years.
Some of these trails also accommodate mountain bikers, so stay alert and pay attention to trail markings.
If you're looking for a reward at the end of your hike, select a trail that leads up to Elk Camp Restaurant, from where you can refuel and then continue up to Elk Camp summit for amazing views of Bush Creek Valley.
Aspen Mountain is a separate hiking area, providing views of the town and a substantial wilderness experience.
Various trails take you up to the summit, ranging from highly strenuous to gentle and meandering.
The best part about hiking on Aspen Mountain? If you overdo it on the hike up, you can always take the Silver Queen gondola back down – for free.
Tips For Hiking in Aspen
Stay aware of changing weather conditions. As with other high-elevation areas in Colorado, afternoon storms are common in summer. In the event of lightning, seek shelter and lower ground.
Aspen can be a very sunny place in Colorado – don't forget your sunscreen.
On some trails hikers share the trail with bikers, so stay alert and pay attention to trail signs.
Dogs are welcome on most trails and gondolas but you must keep them on a leash and be aware that there is other wildlife in the area, including moose and bears.
Top 10 Aspen Hikes
Smuggler Mountain Road Trail
Smuggler Mountain trail is a great introduction to hiking in the area. As opposed to your typical mountain hike, this journey takes place on a dirt road that weaves up the side of Smuggler Mountain.
Expect extensive views of downtown Aspen, all four Aspen Snowmass ski resorts, and Sopris Mountain, considered Aspen's most treasured gem.
If you plan accordingly and reach the viewing platform right at sunset, you're in for a photographic event.
The Smuggler Mountain trail boasts about 800 feet of vertical gain. There are options to continue to Warren Lakes, turning the three-mile round trip into a strenuous twelve miler with an extra thousand feet of elevation gain.
The Robbie Wade picnic area is a short distance beyond the viewing platform, serving as an excellent place for lunch or an afternoon snack.

The trailhead is located in the northeast corner of Aspen, accessible via Mill Street or Cooper Avenue.
Difficulty: Easy
Distance: 3 miles
Time: 1-2 hours
Trail Type: In and Out
Where to Start: Park Circle
Ute Trail to Aspen Mountain Hike
Ute Trail requires a high level of physical fitness and mountain stamina, but if you're looking to summit Aspen Mountain, this is the way to go.
Located on the southeast side of Aspen, the Ute Trail gains a lot of elevation in a very short distance, including 700 feet in the first mile.
Ute Trail is heavily trafficked by dedicated local hikers, many of whom hike it daily as a form of training.
Enjoy sights of the Aspen Highlands, Independence Pass, and the impressive Collegiate Peaks in the distance.
A bonus? The trail is mainly in the shade, making for a great summer excursion.

A rocky overlook about 1 mile up serves as the turn-around point for those who may have gotten in over their heads.
There's a gondola you can take back down from the summit if you're feeling winded at the top.
Difficulty: Difficult
Distance: 3.1 miles to the top, 6.2 miles round trip
Time: Approximately 3-4 hours to the top
Trail Type: In and Out
Where to Start: Ute Avenue
Mount Sopris Hiking Trail
Regarded as the most treasured gem of the Aspen hikes, Mt Sopris is the peak that you can see from Smuggler Mountain.
The trip to the summit is an all-day journey so be sure to start early. Mt Sopris tops out at 13,000 feet, so it's vital to be acclimated.
If you enjoy trekking through different landscapes, the Mount Sopris trail is for you.
The journey to the top takes you through miles of open meadows to Thomas Lake. From here you climb the ridgeline to the summit and soak in the alpine environment above the trees.
Expect many steep and rocky sections and some scrambling over rocks.

Don't be fooled by the false summit – keep going to the memorial at the very end.
Enjoy views of McClure Pass to the south and a few of the classic 14ers, including Maroon Bells, Pyramid Peak, Capitol and Snowmass.

Don't Miss: 10 Best Hikes in Telluride
Difficulty: Very Difficult
Distance: 12 miles
Time: Approximately 7-9 Hours
Trail Type: In and Out
Where to Start: Dinkle Lake
Maroon Bells Trail
The Maroon Bells area boasts some of the most beautiful scenery in Colorado. Picture golden aspens and snow-capped peaks reflecting off the calm water.
There are tons of options for hiking from the Maroon Bells trailhead – but you definitely shouldn't miss the hike that takes you around the lake itself.
Go for a moderate stroll on the northeast side and take in the scenery.
Bring a lunch if you plan on staying the afternoon and feel free to cast out your line for some fish as long as you first attain a Colorado fishing license.
The lake sits at an elevation of 9,580 feet and the vertical gain is minimal, making this an excellent expedition for hikers of all abilities.
Difficulty: Easy
Distance: 1.5 miles
Time: About an Hour
Trail Type: Loop
Where to Start: Maroon Bells Trailhead
Cathedral Lake Trail
If you can't get enough of alpine lakes, Cathedral Lake is one of the best hikes near Aspen.

The Cathedral Lake trail is considered moderate – but you'll earn your views.
Enjoy a journey through an incredible aspen forest before entering the Maroon-Snowmass Wilderness. Here the path will steepen as it meanders alongside Pine Creek.
The second leg of the journey requires more fitness as you climb through scree fields and ascend sharp switchbacks.

Check Out: Best Hikes Near Boulder Colorado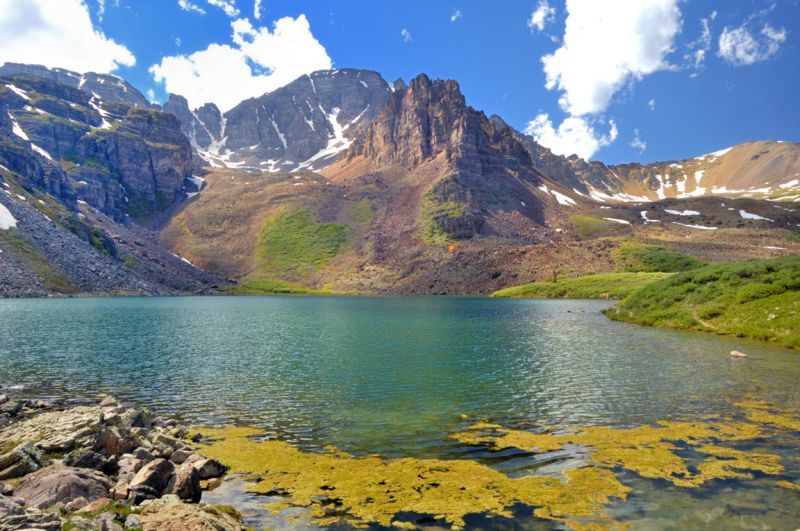 Go to the left where the trail forks and enter a world beyond your wildest dreams.

You'll find yourself standing at nearly 14,000 feet, soaking in views of Cathedral Lake and Cathedral Peak rising beside it.
Difficulty: Moderate/Difficult
Distance: 5.6 miles
Time: Approximately 3-4 hours
Trail Type: In and Out
Where to Start: Travel 0.5 miles outside of Aspen to the roundabout on Highway 82 where you'll turn right on Castle Creek Road. Go 12.2 miles and then turn right onto a gravel road and another 0.5 miles will take you to the trailhead.
Sunnyside Hiking Trail
True to its name, Sunnyside Trail gets plenty of sunshine and offers wide-open views of the area.
There are two different options to choose from, one starting at the Rio Grande Trail off of Cemetery Lane and the other from Hunter Creek Valley that is quite a bit longer.
Because this trail is dry and warm, it's a great winter hiking option.

This journey will reward you with views of the valley, Aspen Mountain, Aspen Highlands, Buttermilk and the impressive Pyramid Peak, a classic 14er.
Look out for marmots along the way and don't forget proper hiking gear like sunscreen.
Difficulty: Difficult/Extremely Difficult
Distance: 4 miles or 20 miles
Time: Approximately 2-3 hours or one day
Trail Type: In and Out
Where to Start: Stein Park/Cemetery Lane
Grizzly Lake Trail
Grizzly Lake is one of the best moderate Aspen hiking trails.
Travel through forests, meadows, and rocky cliffs up to an alpine lake with views that will take your breath away.
Be aware that the last mile is often still covered in snow early in the season.

The Grizzly Lake Trail is located in the Collegiate Peaks Wilderness, boasting about a 2,000 foot gain in elevation.
To get to the trailhead you will travel eight miles up Highway 82 and turn right onto Lincoln Creek Road. After 6.3 miles, the trailhead will be on your left.

The hike meanders through pine and fir forests in addition to wildflower meadows.
Difficulty: Moderate
Distance: 7.1 miles
Time: Approximately 3-4 hours
Trail Type: In and Out
Where to Start: Grizzly Lake Trailhead
American Lake Trail
The American Lake Trail is the perfect way to acclimate for longer trails and provides an impressive dose of scenery and an excellent workout.

Steep switchbacks wind through aspen groves before the trail turns south.
Enjoy the transition to spruce-fir forests and then on to meadows sprinkled with wildflowers.

You will go back through the forest, cross a scree field, and then follow the sounds of a waterfall which will appear suddenly on your left.
A short distance further takes you to American Lake, a picturesque basin backdropped by a granite ridge.
Difficulty: Moderate – Difficult
Distance: 6.4 miles
Time: Approximately 3-4 hours
Trail Type: In and Out
Where to Start: American Lake Trailhead
Hunter Creek Hike
The Hunter Creek Valley area provides stunning views of the Elk Mountains, complemented by a unique glimpse into Aspen's past.
Mining cabins decorate the Hunter Creek trail located along the northern portion.
Up for some adventure? Try to find the hidden cabin behind the 10th Mountain Division Bridge or head inside one of the cabins for a dose of mining history.
The best part of the Hunter Creek Trail is that you can choose between two different hikes or go as far as you'd like.
The 10th Mountain Bridge to the Van Horn Trail is 2.5 miles one way, while the 10th Mountain Bridge to the Midway Creek Trail is seven miles.

The Hunter Creek Trail also connects to popular backpacking routes.
Difficulty: Easy – Moderate
Distance: 5 or 14 miles
Time: Anywhere from 1 hour to 6 hours
Trail Type: In and Out
Where to Start: Hunter Creek Road off Red Mountain Road
Weller Lake Trail Hike
The Weller Lake Trail is a fabulous option if you're looking for a relaxing romp with great views.

All the hiking routes located off Highway 82 on Independence Pass are easy to get to and allow you the opportunity to explore multiple destinations or spend the evening in downtown Aspen.
Enjoy the fresh scents of aspen and spruce forests and elevate your heart rate just enough with an easy 200-foot elevation gain.
Unlike many of Colorado's alpine lakes, Weller Lake sits below the treeline, making for some coveted forest scenery.
Difficulty: Easy
Distance: 1.2 miles
Time: Less than an hour
Trail Type: In and Out
Where to Start: Weller Lake Trailhead
Wrapping It Up…
Whether you're a beginner hiker or you've been hitting the trails for years, hiking in Aspen Colorado provides tons of opportunities to get outdoors.
A high concentration of aspen forests is unique to the area – as the name might suggest – so if trees are your thing, you're in for a real treat.
But the scenery is not just relegated to forests – a high elevation makes for the chance to explore alpine lakes, serene ridges, and prestigious mountain peaks.
Many of the hikes are just a few miles from downtown, which means you can easily accomplish your outdoor excursions and return to the city at the end of the day to indulge in its delectable culinary delights.
It is easy to see why this area has some of the best hikes in Colorado!
Which of these trails have you hiked or are you looking forward to hiking? Let me know in the comments below!