HelloTrail® is reader-supported. We may earn a commission, at no additional cost to you, on purchases made from our expert chosen links.
There's something incredibly comforting about hunkering down in a cozy sleeping bag under the stars. I often sleep better outdoors than at home – perhaps it has something to do with being out in the fresh air.
Like many things in life, top-quality sleeping bags are expensive. But unlike tents, this is one piece of camping gear where you can get away with buying a more affordable option, particularly if weight and pack size aren't an issue.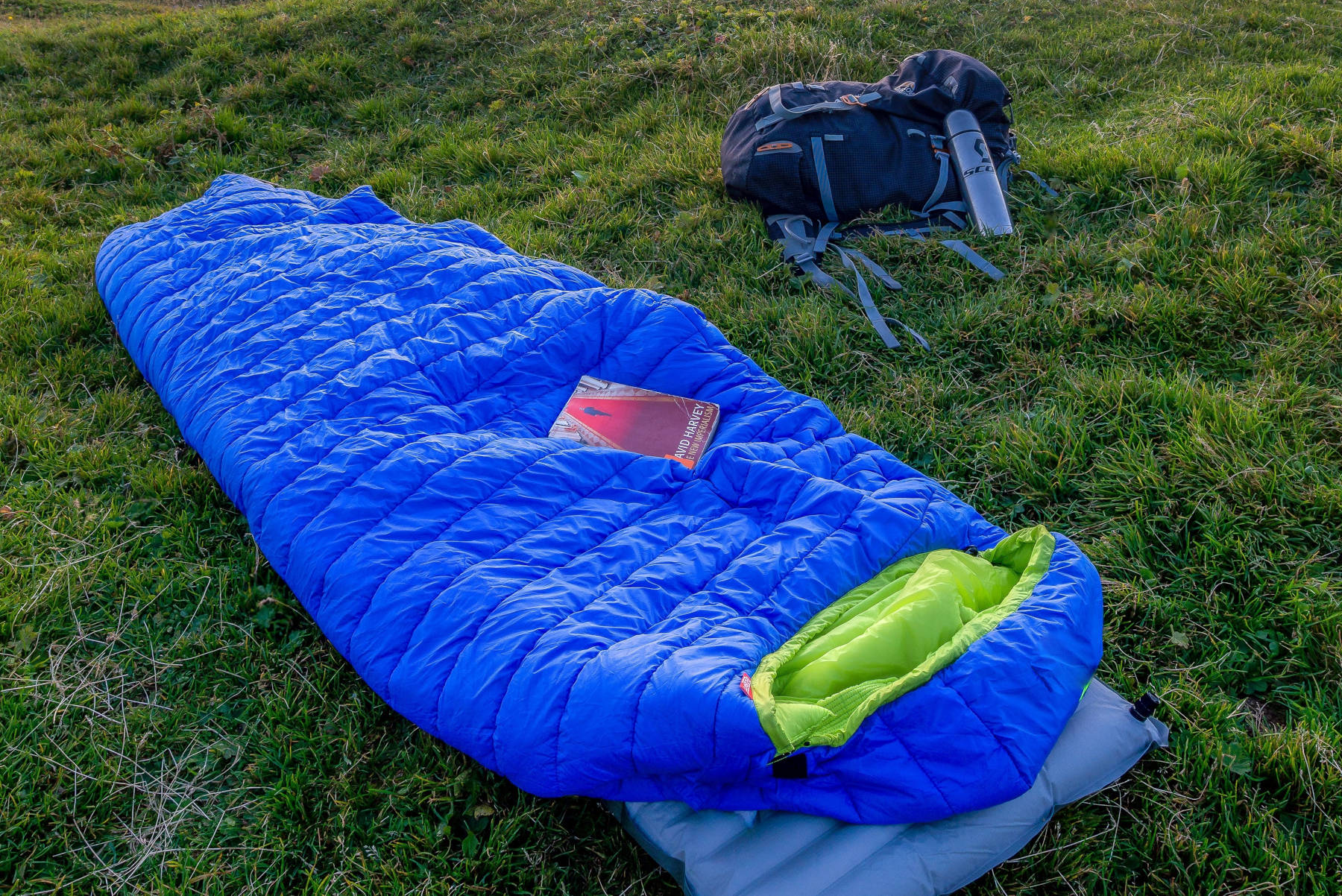 We've rounded up a selection of the best budget sleeping bags under $100 to help make your buying decision easier.
Our Pick of the Best Cheap Sleeping Bags
Best Budget Sleeping Bag for 2-3 Seasons: TETON Sports Celsius Regular
The TETON Sports Celsius is a cozy sleeping bag with a more than comfortable price.

One neat feature is a small interior storage pocket – something I wish more sleeping bags had! Perfect for stashing keys, Kleenex or earbuds.

It does run small, so if you're tall, then it's worth checking out the XL version, which is ten inches longer and three inches wider.
The TETON Sports Celsius sleeping bag has a survival rating of 0 degrees Fahrenheit – the comfort rating is more like 20F to 30F, though I'd class it as a 2-3 season bag.

If you do most of your camping in the summer, you may find it too hot in warm weather.
For you couples that like to bundle up together in your tent, the next sleeping bag on the list also from TETON Sports is for you…
Pros
– Handy interior storage pocket
– Extra insulation around shoulders plus draft tubes
– Decent stuff sack
Cons
– Runs small
– Zipper is tough to use from the inside
Best Sleeping Bag for Two People: TETON Sports Cascade
If you miss cuddling up under the duvet with your partner when camping, then a double sleeping bag may be a worthy investment.

The Teton Sports Cascade bag is designed for two adults, though if you find regular sleeping bags too constricting, you may want to sleep in it alone!

Unlike zipping together two individual bags (where you can end up lying on top of one of the zips), this is designed primarily as a double sleeping bag.
The entire top section zips off, giving you the option to use the two parts of the sleeping bag as blankets or individual bags. While this may sound like romantic bliss, you may find you don't sleep quite as well in a double bag as you expect.
You're more constrained than a regular duvet (not ideal if your partner fidgets a lot), and there aren't as many options for regulating your body temperature.
Pros
– Specifically designed for two people
– Can unzip to use as a blanket or individual sleeping bags
– Comes with two small pillows
Cons
– Not designed for cold weather
Best Cheap Down Sleeping Bag: AEGISMAX Outdoor UL Goose Down
I've stretched the budget slightly for this one to bring a down sleeping bag into the mix but the AEGISMAX goose down sleeping bag is still around $100.

The AEGISMAX Outdoor UL Goose Down is an ultralight sleeping bag designed for campers who prioritize weight and pack size over warmth.

The regular version weighs under a pound and compresses down to a 5×8 inch pack. Even the large version (for people up to 6'3) comes in at just over a pound.
The 800 fill-down insulation helps keep the weight down, as does the stitch-through baffle construction. There are three temperature ratings given for the AEGISMAX sleeping bag: comfort (52F/11C), lower limit (43F/6C), and extreme (15F/-9C).
This bag is for warm weather use, but you could combine it with a silk liner or another sleeping bag for colder weather. Several users have also recommended cleaning it with a down wash product and tumble drying (use a couple of tennis or drying balls in with it) to improve the loft.
Pros
– Extremely lightweight
– Packs down small
– Goose down has a good warmth-to-weight ratio
Cons
– No draft tubes on zipper or neck
– Sewn-through baffles
Best 3-Season Bag: Abco Tech Sleeping Bag
Abco claims this is a 4-season sleeping bag that's good down to 20F (-7C). While I suspect most people would get pretty cold using it in those temperatures, this is a very affordable 3-season bag.

The polyester fill is easy to clean in the washing machine and it comes with a compression stuff sack.

The Abco Tech sleeping bag is a good choice for all-year-round camping, but if you have broad shoulders or prefer some wiggle room when sleeping, this probably isn't the bag for you.
Pros
– Relatively lightweight
– Opens fully so it can be used as a blanket
– Good for tall people
Cons
– It's only 29 ½ inches wide (most rectangular bags are 33 inches), so it may be a tight fit for larger people
– Zipper can work itself undone
– Hard to pack down
Best Budget Backpacking Sleeping Bag: Winner Outfitters Mummy Bag
The Winner Outfitters Mummy bag is an excellent choice if you need a fairly lightweight bag that packs down well.

Its 'comfort' temperature range is 35F to 40F (-1C to 4C), but it's probably best considered a 2-3 season sleeping bag.

A common complaint with a budget sleeping bag is the stuff sacks they come with. That won't happen here…
Winner Outfitters gives you a large enough sack to fit the sleeping bag back in once you use it. You don't even need two people compressing it at the same time to make it fit!

It's also reasonably lightweight for a cheap bag, at around three pounds, making it a reasonable option for backpacking.
Pros
– Lightweight
– Compresses down well
– Great customer service
Cons
– Zipper prone to catching on the fabric
– Not as warm as it looks
Best Cheap Sleeping Bag for Winter: Coleman North Rim Adult Mummy
Mummy-shaped bags are typically warmer than rectangular bags and the Coleman North Rim is a sleeping bag you'll be happy to snuggle down when the temperature drops.

Made for cold weather, the North Rim's design addresses critical areas of heat loss.

A full-length draft tube prevents heat from leaking out through the zipper, a neck baffle, and an adjustable hood.
The Coleman North Rim Mummy bag is rated for temperatures between 0F and 10F (-18C to -12C). This may be a 'survival' rating rather than a 'comfort' rating unless you're a hot sleeper, but this is a great option if you do a lot of camping in the 20-30F range.
Pros
– Warmer than most cheap sleeping bags
– Good hood and neck baffle
– Two-way zipper allows you to vent your feet
Cons
– Bulky and heavy
– Stuff sack on the small side
Best Budget Summer Sleeping Bag: REVALCAMP Lightweight
The Revalcamp Lightweight is a great cheap sleeping bag for kids' sleepovers, indoor use, and summer camping.

If you want to stand out from the crowd, the Revalcamp range of sleeping bags will help you do just that.

You've got 12 vibrant colors and designs to choose from, and there are two styles: a basic rectangle (no hood) and an 'envelope' design with a hood.
It's lightweight and packs down smaller than many of the other bags we've reviewed, but it's not warm enough for cold weather use.

That said, if you want to share some body heat with your companion, you can zip two of the bags together to create a sleeping bag sized for two.
Pros
– Lots of bright colors and fun designs are available
– Can zip two bags together
– Relatively small and lightweight
Cons
– Not very warm
– Rectangular version may be tight for larger campers
– Tough to get back into the stuff sack.
The Winner Is…
The Coleman North Rim is the best affordable sleeping bag under $100. Since I am a cold sleeper (and get very cold feet!) it is my favorite but if you camp in warm temperatures, you'll find it too hot.

Don't forget, if you buy a bag and find it doesn't keep you as warm as you were expecting, you can use a liner for extra warmth, add a blanket on top or even layer two bags together.
So choose one that meets your needs best, chuck a few extra warm layers in the car just in case, and get camping!
4 Things to Consider Before You Buy…
1. When Should You Save Money and Buy a Cheap Sleeping Bag?
If you're a regular camper and buying a tent or another technical item of camping gear, I'd always recommend going for the highest quality you can afford. But with sleeping bags, things are a little bit different.
When buying a sleeping bag, your top priority is getting something that will keep you warm at night.

Cheaper sleeping bags typically aren't as warm as more expensive models, but unless you're planning on camping in the Arctic, you should be able to find one that keeps you warm enough in most weather conditions.
It IS worth buying a more expensive sleeping bag if you need a bag that's both warm and lightweight. If you're backpacking in cold conditions, you're unlikely to find a decent light bag under $100.
And there's nothing worse than being unable to sleep because you're cold. In my opinion, buying affordable sleeping bags makes sense when you:
Don't have to carry it very far
Don't have to worry about pack size
Are camping in warm weather
Don't have the money to buy a more expensive bag
Prefer to spend less on a sleeping bag so you can buy a better quality technical item such as a tent
2. What are the Temperature Ratings
Manufacturers usually give a temperature rating for their sleeping bags. Sleeping bag temperature ratings will usually have an EN/ISO rating, a standard you can use to compare different bags or a manufacturer's assessment.
If different ratings are given for 'comfort', 'lower limit' and 'extreme' temperatures, then the bag has probably been assessed under either the EN or ISO system. But it's not quite as simple as that…
The temperatures given are for a "standard female" or "standard male". People are of different shapes and sizes and require different levels of insulation to keep them warm.

This isn't the manufacturer's fault, of course. When reading reviews, it's just worth being aware that a product that keeps someone else warm may not keep you warm.
A final point to note is that most temperature ratings assume the sleeper is wearing thin thermals. Your best bet is to treat the temperature ratings as a loose guide and err on the side of caution if in doubt.
3. Down or Synthetic Fill?
Most cheap sleeping bags use synthetic insulation. Synthetic fill will keep you warm even if it gets damp. It is hypoallergenic and the only option for vegans or people concerned about the ethical implications of down.
Down insulation has a much higher warmth-to-weight ratio, making it the preferred option for warm, lightweight bags. It's also more expensive, which is why you're unlikely to find it at the budget end of the market.
4. Style of Sleeping Bag
There are three main shapes of sleeping bag:
Rectangular
Mummy
Semi-rectangular (a bit of hybrid of rectangular and mummy bags)
Many manufacturers also make women-specific models, which are typically shorter and narrower than the unisex versions. The style you go for depends mainly on personal preference and how snug a fit you prefer.