HelloTrail® is reader-supported. We may earn a commission, at no additional cost to you, on purchases made from our expert chosen links.
After hiking thousands of miles, from the Smoky Mountains to the Rocky Mountains, the Pacific Northwest, and Hawaii, Ashley and I know a thing or two about picking the proper footwear for an enjoyable trek.

We know the decision is cumbersome, so we've researched hundreds of different pairs to help bring you this list of the best hiking boots for beginners for women and men.
Before we get into the details of each recommendation, here are the top choices that will have you hitting the trails in comfort. The last thing you worry about is dealing with pesky blisters at the end of your journey!
Top 4 Women's Beginner Hiking Boots
Top 4 Beginner Hiking Boots for Men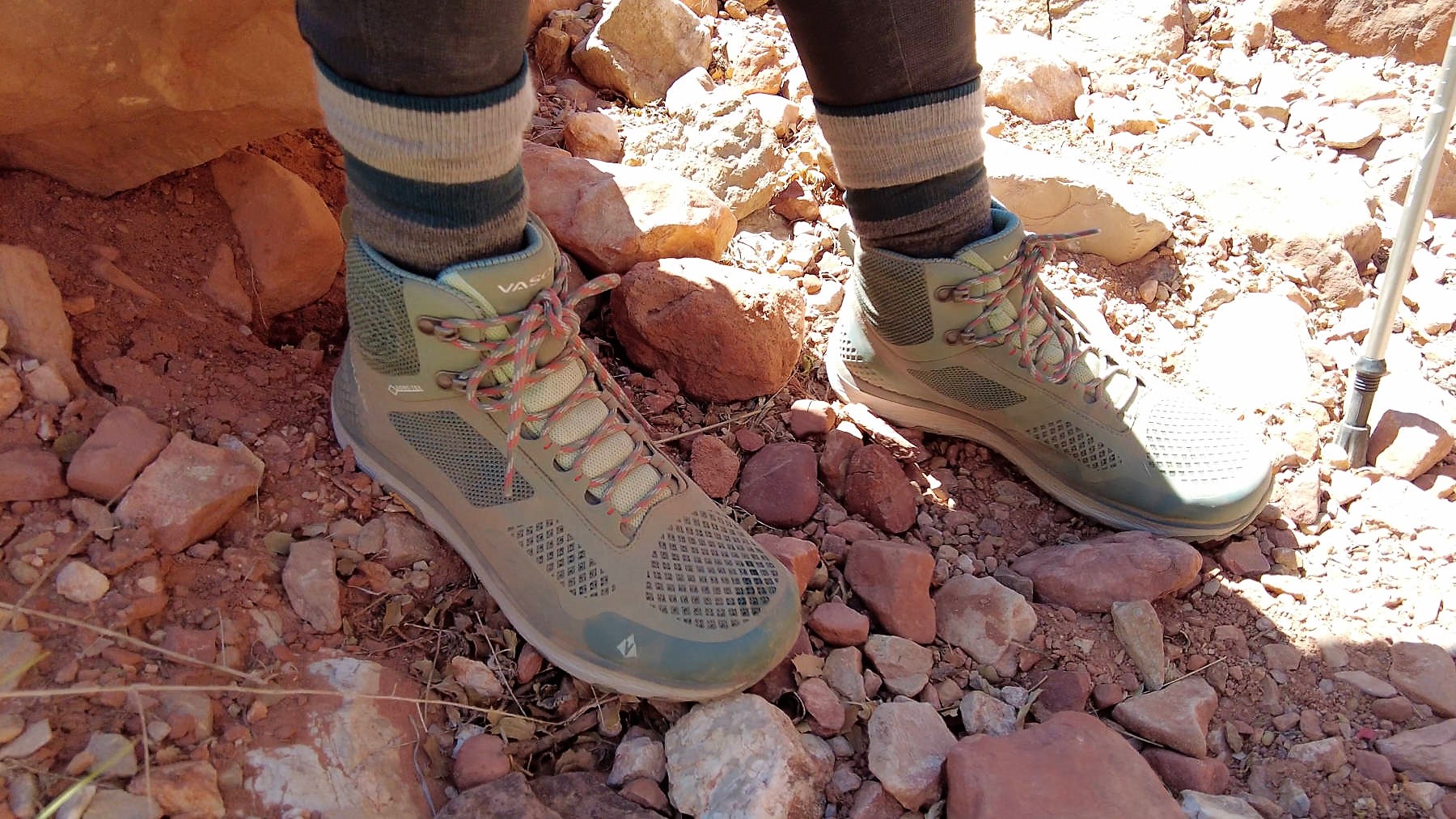 Since styles and availability change throughout the year, we try to update this article frequently. Ashley and I appreciate the trust you put in us to bring you the most current hiking boot options so you can enjoy the trails as much as we do!

If you think a pair of hiking boots is going to be too bulky for your personal preference, visit our other article showcasing the best hiking shoes for beginners.
Now, let's learn more about the footwear that will help power you up mountains…
Best Women's Hiking Boots for Beginners
Ashley's Favorites…
Vasque Breeze LT NTX (Best Lightweight Hiking Boot for Women)
If you're searching for the perfect pair of lightweight and waterproof hiking boots that are ideal for beginners, look no further than the Women's Vasque Breeze LT NTX.

Of course, I'm speaking for Ashley here, but I can confidently say that these boots are an excellent choice for those of you that want to hit the trails with confidence and style.
They offer a fantastic combination of support, flexibility, and durability that will make your first hikes a breeze – pun intended!
The over-the-ankle design provides moderate support and the waterproof synthetic microfiber upper ensures both flexibility and durability. Vasque has focused on sustainability with their new Nature-Tex waterproof technology that is made with 50% recycled materials.
Trust me when I tell you there is nothing worse than wet feet on a long hike!

The Vasque exclusive Vibram Litebase outsole not only reduces the weight of the sole by 25% but also offers superior traction on rocky, slippery slopes – something Ashley has appreciated during her own adventures in these boots.

Ashley especially swears by her Vasque Breeze LT GTX boots after taking them on an 11-mile trek through the Grand Canyon – right out of the box, no less!

And let me tell you, that hike is both spectacular and grueling at the same time, but her Vasque Breeze's ensured her feet were the only thing not sore at the end of the day!
However, keep in mind that these shoes have a narrow fit. She found her regular size 10 to be just right, but if she were wearing thicker socks or needed more room for foot swelling during long hikes, she would have opted for a half size up.

In addition to their performance on various terrain, these boots are even lighter than her previous favorites, the Teva Ahnu Sugarpine II.
With good color options available and true-to-size fitting (just remember they run slightly narrow), these boots are ready to accompany you on all your upcoming adventures – from casual strolls in local parks to challenging treks through breathtaking landscapes.

Make sure to check out our complete guide of lightweight waterproof hiking boots…
Pros
– Fits true to size
– Very Lightweight
– Good color options
Cons
– Can run narrow for some
KEEN Women's Targhee III Mid Waterproof (Most Rugged)
You'll love the KEEN Women's Targhee III Mid Waterproof boots as a beginner hiker, offering fantastic support and protection while you explore the great outdoors.

The previous versions of the Targhee Mids were Ashley's first pair of boots, and they provided her with excellent grip on various terrains thanks to their 4mm lugs.
The over-the-ankle height combined with nubuck leather and nylon mesh ensures your feet stay dry and comfortable throughout your hike, courtesy of KEEN's proprietary KEEN.DRY waterproof breathable membrane.
After hiking for over three decades, I can't stress enough how important it is to have proper foot support when venturing onto trails. With the Targhee III's EVA midsole and nylon shank, you'll feel supported and comfortable on even the most challenging paths.

You will also appreciate the rugged toe cap that will protect your toes from unexpected rock hits that will inevitably happen!
However, keep in mind that these boots run a half size small according to KEEN's recommendations. So be sure to order them half a size larger than your normal shoe size for optimal fit.

Also, if you have narrow feet, this might not be the ideal choice for you as they are built tough and may feel too roomy in that case.
Pros
– 4mm lugs to grip any terrain
– Rugged toe cap to protect you from those unexpected rock hits
– Great first boot for beginning hikers
Cons
– Runs 1/2 Size Small
– Not ideal for narrow feet
Merrell Women's Moab 3 Mid WP (Best Women's Hiking Boots for Narrow Feet)
Year in and year out, the Merrell Women's Moab 3 Mid WP is one of the best hiking boots for beginners. They are tailor-made for narrow feet, keeping you comfortable and in control as you navigate through nature.

Both of us can vouch for the excellent water resistance provided by the combination of waterproof leather and synthetic leather upper since we were twinsies and decided to test them out at the same time!
The nylon ventilator mesh ensures that your feet won't get too sweaty on those longer treks, allowing you to focus on exploring your newfound freedom in the great outdoors.
From our personal experiences, we have found that these boots offer a fantastic grip on various surfaces – whether it's rocky terrain or muddy paths, you'll feel confident every step of the way.

Just remember to double knot those stock laces; they tend to come untied if not properly secured!
When ordering these boots online or trying them on in-store, Ashley recommends going a half to a whole size bigger than your normal shoe size.

This extra space allows for wearing heavier socks without feeling cramped inside the boot – trust me when I say this little tip makes all the difference when it comes to comfort during extended hikes.
Pros
– Perfect for narrow feet
– Great grip on different surfaces
– Terrific for day hikes
Cons
– Stock laces tend to come untied if not double knotted
– If you wear a heavier sock order 1/2 – 1 size bigger
Lowa Renegade GTX Mid (Best Women's Hiking Boots for Wide Feet)
Strolling through damp forests or traversing rocky landscapes becomes a breeze with the Lowa Women's Renegade GTX Mid on your feet, offering unbeatable waterproof protection and a roomy fit.
The GORE-TEX liners in these boots will keep your feet dry through stream crossings and puddles, ensuring that you can tackle any terrain without worrying about soggy socks.
The nubuck uppers and polyurethane midsole paired with the nylon shank provide superior support in this over-the-ankle design, making the Lowe Renegades perfect for beginners who may be uncertain of their footing on uneven surfaces.
One thing to note is that there is no special toe reinforcement, so be mindful of where you step when navigating rocky areas.

However, despite all these solid features, these hiking boots weigh just over two pounds – impressively lightweight for such a sturdy pair of boots.

Although these boots fit true to size, they do require a break-in period before they reach peak comfort levels. Don't let this discourage you; it's common for quality hiking boots to need some time before they mold perfectly to your feet.
To ensure maximum comfort throughout your hike, consider wearing them around the house or during shorter walks before embarking on more challenging trails.

With their waterproof capabilities and roomy fit tailored for wider feet or those who prefer extra space in their footwear, you'll find yourself conquering new trails and expanding your horizons like never before in your new Lowa Women's Renegade GTX Mids!
Pros
– GORE-TEX keeps your feet dry
– Removeable insoles
– Fits true to size
Cons
– No special toe reinforcement
– Need a break-in period
Danner Women's Inquire Mid Insulated (Best Cold Weather Beginner Hiking Boot)
When you're venturing out into the chilly wilderness, you'll want Danner Women's Inquire Mid Insulated Boots to keep your toes cozy and snug.
These over-the-ankle boots are not only stylish but also practical with 200 grams of PrimaLoft insulation that will keep your feet warm while exploring the great outdoors.
Danner really knows what they're doing when it comes to crafting a comfortable and reliable boot. The 100% waterproof barrier ensures that your feet remain dry from all elements, yet still allows moisture to escape – talk about ultimate comfort!
As you explore more trails, you will come to appreciate the multi-directional lug outsoles that help provide incredible grip on wet and dry surfaces.

At just two pounds, these boots are lightweight without compromising on warmth or durability. Trust me when I say that every ounce counts when you're covering miles of trails each day!

Plus, the fact that these boots come in true-to-size makes them an ideal choice for beginners who may not be familiar with choosing the right fit for their hiking adventures.
Embrace your inner explorer and confidently take on those frosty trails in Danner Women's Inquire Mid Insulated Boots.

Just remember, they might not be suitable for summer use unless you like having hot feet – but hey, we all have our quirks!

Regardless of the season or trail difficulty, these boots are designed to provide maximum support and warmth while keeping you comfortable throughout your journey into nature's wonders.
Pros
– 200g of insulation equals warm toes
– Comfortable out of the box
– True to size
Cons
– Not intended for summer use unless you like hot tootsies
Best Beginner Hiking Boots for Men
Now that we've covered all the great options for women, let's dive into the excellent hiking boot choices for men…
Andrew's Favorites…
Danner Mountain 600 Mid (Best Trail-to-Town Hiking Boot for Men)
If you're looking for a lightweight yet durable beginner hiking shoe option that looks great, let me introduce you to the Danner Mountain 600 Mid.

As someone who tends to lean towards boots that combine high performance and style, these Danners are perfect for new and seasoned hikers alike!
Their collaboration with Vibram sets these boots apart, featuring a specialized performance elastomer (SPE) midsole and a Fuga outsole with Megagrip – ensuring you won't slip on any terrain.
The rubberized EVA midsole in these boots is truly unique, offering the traditional cushioning properties of EVA while maintaining durability.

Trust me when I say this; there's nothing quite like feeling supported without being weighed down by your footwear during long hikes.
And speaking of support, the Fuga outsole offers incredible grip whether you find yourself trudging through mud or scrambling across rocky terrain.

In addition to providing excellent performance on the trails, the Danner Mountain 600 Mid boasts a stylish suede upper that seamlessly transitions from trail to town.
This versatile boot even includes a Danner Dry proprietary membrane for water resistance – because no one likes wet feet when they're exploring new paths!

While it may not be recommended for backpacking trips or offer extensive toe protection, the Danner Mountain 600 Mid lightweight and waterproof hiking boot will make those summer hikes all the more enjoyable – both on and off the trail!
Pros
– A great summer hiking boot option
– Nice old school look pairs well with jeans to get use off the trail as well
– Lightweight, Waterproof & Grippy
Cons
– Not recommended for backpacking
– Very minimal toe guard
Merrell Men's Moab 3 Mid WP (Best Hiking Boots for Beginners with Wide OR Narrow Feet)
The Merrell Men's Moab 3 Mid WP might not be the sexiest option when it comes to outdoor footwear, but they sure do perform where it matters – on the trails!

Merrell has gone above and beyond in creating these boots specifically for you – offering both narrow and wide versions.

The Moab 3 Mid WP hikers feature performance suede leather, mesh uppers, and their M-Select Dry proprietary membrane. This ensures your feet stay dry by keeping water out while allowing moisture to escape.
As someone who's been on more hikes than I can count, I can't stress enough the importance of having breathable, waterproof boots. What's more, these boots come with contoured footbeds designed to provide arch and heel support exactly where you need it most.
In my experience, this kind of targeted support can make all the difference when tackling challenging terrain or embarking on long hikes.

The 5mm Vibram outsoles will give you confidence in every step by maintaining traction even on slippery surfaces.

The Merrell Men's Moab 3 Mid WP offers sizing options for both narrow and wide feet, making them a versatile choice suitable for most beginners.
They're comfortable right out of the box and work well in various climates throughout the year.

While they don't use GORE-TEX (which might be a deal-breaker for some), they still deliver impressive performance at an affordable price point without compromising stability too much compared to other options available on the market today.

Give them a try – your feet will thank you as you explore new trails and embrace your adventurous spirit!
Pros
– Sizing options for both narrow and wide feet make this a good all around choice for most
– Good in both warm and cold climates or year round use
– Comfortable out of the box
Cons
– Uses Merrell's M-Select Dry not GORE-TEX in case you are a GT fanatic
– Not as much stability as some of the other options mentioned
KEEN Men's Targhee III Mid WP (Most Rugged)
You're in for a real treat with the KEEN Men's Targhee III Mid WP, as it'll feel like you've got your own personal fortress on your feet while conquering those trails.
I remember the first time I strapped on these boots – the sense of security they provided made me feel invincible!
The proprietary KEEN.Dry membrane keeps your feet dry when splashing through puddles or sloshing through snow, and the patented rubber toe guards protect your toes from impact with trail objects and abrasion.
Even after all these years, every now and then, a random rock or rogue tree root jumps up and smacks my foot, so I can assure you that these features are incredibly useful!
Now let me tell you about my favorite aspect of these boots: their rugged design combined with exceptional comfort.

With beefy 4mm lugs that grip all kinds of terrain, you'll never have to worry about slipping or losing your footing.

And despite this ruggedness, the Targhee III is surprisingly comfortable even during long hikes.
However, there are a couple of things to keep in mind before making a purchase.

Firstly, these boots tend to run a half size small. So if you're considering buying them online or without trying them on first, make sure to order half a size larger than what you usually wear.

Secondly, for my big-footed friends out there – unfortunately, KEEN does not offer half sizes above size 12. Keep this in mind when selecting your perfect fit!
Pros
– Feel free to kick rocks with this massive toe guard, although not recommended
– Beefy 4mm lugs that grip all kinds of terrain
– Very comfortable for such a rugged design
Cons
– Tends to run a 1/2 size small, may need to order a 1/2 size larger than usual
– Big footed folks, KEEN does not have 1/2 sizes above size 12
Columbia Newton Ridge Plus II Waterproof (Best Budget Hiking Boots for Beginners)
The reliable Columbia Newton Ridge Plus II Waterproof boots are well-known for their versatility and performance on various terrains and won't break the bank either.

These boots are crafted with PU coated leather, suede, and mesh that effectively seal out the elements while allowing your foot to breathe.
I know firsthand that these boots will keep your feet dry in wet conditions without compromising on comfort.

The Techlite midsole is another feature worth mentioning.
Not only does it provide excellent cushioning across long distances, but it's also extremely lightweight – a must-have for beginners embarking on their first hikes.

The metal lacing hardware ensures a snug fit, which is particularly important for maintaining stability on uneven trails.

And if you're worried about finding the right size, fear not – these boots generally fit true to size.
Now let's talk grip: the Omni-Grip rubber compound outsole is truly the stand-out feature of the Columbia Newton Ridge Plus II Waterproof boots.

You'll be able to maintain your footing wherever the trail may lead you – from rocky inclines to slippery mud paths – giving you that sense of freedom and adventure every beginner hiker craves.
However, keep in mind that these boots may not be ideal for those with wider feet and might require a break-in period before hitting the trails.

But don't let this deter you; once broken in, they'll serve as faithful companions for many hikes to come.
Pros
– If you're looking for grip then this is the hiking boot for you
– Metal lacing hardware to help ensure a snug fit
– Fits true to size
Cons
– Not ideal for wider feet
– Plan for a break-in period before your hike
KEEN Men's Durand Polar (A Cold Weather Hiking Boot King)
For those venturing into colder climates, the KEEN Durand Polar boots are where it's at. They will keep your feet warm and dry even in the most challenging winter conditions.
With 400 grams of insulation and waterproof leather, you'll feel as if you're walking on clouds while trudging through snow mounds or icy trails.

The high-rise design provides extra coverage above your ankles, making them perfect for snowy adventures.
Considering its heavy-duty capabilities, the KEEN Durand Polar boasts a lightweight design that may surprise you. You'll find that this makes your hikes more enjoyable as less energy is spent lugging around cumbersome footwear.
When I first tried these boots out on a snowy mountain trek, I was amazed at how light they felt without compromising my comfort or warmth.

These boots offer excellent insulation and protection from the elements, and their dual-compound snow and ice rubber outsoles provide fantastic traction even in slippery situations.

As someone who has had their fair share of slips on icy trails, I highly appreciate this feature in a hiking boot – especially for beginners who are still finding their footing.
Just remember to order your KEEN Durand Polars half a size larger than you usually would since they tend to run small.

Although they don't have removable liners and are specifically designed for cold weather use only, these boots will undoubtedly serve as reliable companions on all your frosty adventures!
Pros
– Highest coverage of any option on this list
– Lightweight is a pleasant surprise
– 400g of insulation and a foil heat shield footbed keep the warmth inside the boot
Cons
– For winter or cold climate use only
– Do not have a removable liner
– Runs a 1/2 size small – may need to order 1/2 size larger than normal
How to Choose the Right Hiking Footwear
I decided to include this great video from the experts at REI if you are more of a visual person, but of course, keep reading to learn how to choose your first pair of hiking footwear.
Are Hiking Boots Necessary
The short answer is NO, hiking boots are not necessary to enjoy a good hike. Any athletic type of shoe will work, BUT a well fitting boot will take your experience to a new level.
If you're a new hiker, make sure to check out our guide to hiking for beginners…
To determine what type of footwear will suit you best, take the following questions into consideration:
There are a variety of different hiking shoes to meet your needs — once you've determined your primary hiking purpose, that is.
Hiking Boots vs Shoes vs Trail Runners
I already alluded to the fact that there is no right or wrong answer when choosing what to put on your feet when you go hiking.

As a hiking beginner, though, it's essential to understand the differences and names of the different styles of footwear. Below is a quick overview, but I did go more in-depth comparing the differences between hiking boots versus shoes…
Hiking Boots: A true hiking boot is designed to handle the most challenging terrain.

They provide superior ankle support and are ideal for those with concerns in that department or a previous injury.

Some styles are available in mid-cut designs, while others rise high up on the ankle.

They provide outstanding protection in deep mud, snow, or water. The boots in this article fall primarily under this category.
Mountaineering Boots: Designed for use with crampons, which are necessary during glacial travel in high alpine areas.

Some make for great hiking options, so it's meaningful to identify them on this list.

They typically have full-length shanks and high ankle collars and are intended to keep your feet warm in cold conditions.

If you're traveling through extremely rugged terrain or in the most inclement of weather conditions, some hikers opt for mountaineering boots.
Hiking Shoe: Hiking shoes are designed for day hikes, short expeditions, or for those who prefer to move light and fast.

Many are waterproof and practical for any type of terrain. They provide less ankle support than the more burly boots covered in this article.

Plus, some hiking shoes can double as trail runners. I like getting the most bang for my buck, so I own a pair of Adidas Terrex Swift R GTX shoes that are rugged and nimble – just like me!
Trail Runners: As implied by the name, these are designed for running through the backcountry.

They are the most low cut and lightweight type of hiking shoe and are much less durable than the sturdy options selected for this article.

For experienced hikers who want to move extremely light and fast, trail runners are an ideal option.
Stiffness and Stability
When picking out a hiking boot, you need to determine how much stiffness and stability you're going to want.

They are comprised of layers sandwiched around a stiff plastic piece in the center, known as the shank.
The length of the shank determines how stiff the hiking boot is. It varies from full-length to just under the arch.

Full length shanks are found in stiffer boots, such as more heavyweight options and those intended for mountaineering.

For day hiking and gentler terrain, more flexible and lightweight hiking boots are recommended.
Waterproofing
While the integration of a waterproof, breathable membrane is standard on most hiking boots, it's not necessarily needed.

What kind of climate will you be hiking in?

Do you avoid bad weather days and typically stick to dry terrain? Well, then you could probably go without waterproofing — saving yourself some weight.
More likely than not, however, you'll be splashing through puddles and occasionally getting caught in the rain, so if you're on the fence about waterproofing, I would opt-in.

It's important to note that you can still get wet — if you step into a puddle deeper than the top of your boot, water is going to seep in.
Likewise, water can dribble down from your rain pants into your boot if it's raining.

GTX (Gore-Tex) is the most common waterproof membrane you'll see, but some companies have their own proprietary membranes.

These membranes are inserted between the outer fabric and interior materials of the shoe.
In addition, many versions are coated with a durable water-repellent that is often applied to the outside of the shoe in order to help bead up and shed water droplets before they have the opportunity to soak through the outer fabric of the shoe.
Weight
The weight of your hiking footwear is a crucial consideration out on the trail and will affect how fast and nimbly you move across terrain.

Heavier boots usually equate to greater stability and durability, which might be desirable when you're a newbie hiker.

On the other hand, you'll start to feel the weight of your heavy footwear after a few miles on the trail.
If you have adequate hiking experience and would like to move fast, lighter weight gear is recommended.

They're less durable, and it's easier to sustain a stubbed toe or sprained ankle, but if your body is adjusted to the rigors of hiking, you'll perform fine, and the miles will feel like they're floating by.
Should hiking boots be tight or loose?
Technically your hiking boots should be neither tight nor loose. You want them to be snug but also have enough room in the toe area to account for swelling. Also, make sure there is not much heel movement as this can lead to rubbing and, worse yet, blisters.
Fit is the most critical consideration on this list. If you don't wear a boot that properly fits your foot, more than likely, you'll end up miserable.

Some brands typically serve a wider foot, whereas others have a more narrow fit, and for some models, you will have both width options to choose from.

Also, even if they're ready to be worn right out of the box, spend some time breaking them in (trust me).
In order to fine-tune your boots' fit, you can purchase after-market insoles or play around with different sock thicknesses.

Speaking of socks…

I would be missing a prime fit element if I didn't mention that you should invest in a pair of socks for hiking.
Companies like Smartwool and Darn Tough have put a lot of effort into making socks that will compliment your hiking shoes to ensure you end the day blister free.
What are Hiking Boots Made of?
It's necessary to understand what goes into creating a hiking boot so that you can evaluate what you like and don't like.

These materials determine the boot's weight, breathability, and water resistance.
Uppers: Uppers comprise the part of the boot from the rubber outsole up to the top of the shoe. They provide durability, breathability, and water resistance.

Most boots are designed with synthetic materials, including nylon, mesh, and leather.

Synthetic nylon and mesh uppers are commonly found on lighter weight boots, providing for fantastic breathability but not as much durability.
Nubuck or suede leather is durable, water resistant, and holds up against abrasion but does require some breaking in.

Some high-end options are designed with full-grain leather or nubuck leather, buffed to resemble suede.

Full-grain leather is found most commonly on heavyweight boots and is typically the toughest, most durable, and most water resistant.

They require ample break-in time and are not as breathable as other materials.
Midsoles: Midsoles are tasked with two purposes: shock absorption and stiffness. There are two different primary midsoles:

EVA: The most common midsoles are comprised of EVA (ethylene vinyl acetate) foam or polyurethane, often varying in thickness depending on how much support the specific boot provides.
EVA is often more comfortable, lighter, and less costly, while polyurethane is found in higher-end heavy versions.

Manufacturers can integrate varying densities in order to allocate extra support to the more sensitive areas of the foot.
Polyurethane: This is the more durable of the two materials and can also provide the most shock absorption.
It is generally less comfortable and used to support heavy loads (such as in backpacking), but also has a longer lifespan than EVA due to its lack of compressibility.

Internal Materials: These are the secret ingredients of a good hiking boot that can make a huge difference in comfort and support.

Shanks measure between 3-5 mm in width and are integrated between the midsole and the outsole, either extending from the toe to the heel or only extending halfway.
They have essential load-bearing properties. Plates are positioned between the midsole and outsole, providing for solid protection from bruising.
Outsoles: Your outsole determines your traction and is especially important when hiking in winter across possibly slippery, icy conditions.
Vibram rubber is a quality name you'll encounter frequently as you shop for outdoor gear, but not all Vibram is created equal, as manufacturers tailor the lug pattern to suit the primary purpose of the boot.

It's ideal to look at lug depth, compound, and tread pattern as a whole.
Beginner Hiking Boots FAQ
Can you wear hiking boots everyday?
Yes, you can wear hiking boots everyday but keep in mind this will reduce how long they last. Many people on their feet all day find hiking footwear very comfortable since it is designed to be worn in rough terrain and on the trails.
How long should a pair of hiking boots last?
A good pair of hiking boots should last between 500-1000 miles. The actual timeframe will depend on how many miles you hike at a time and the terrain you are hiking on. If you are a frequent hiker, then you may go through a couple of pairs a year.
Wrapping It Up…
There you have it, the best beginner hiking boots for women and men, along with what to look for in your first pair! No doubt, by this point, you're probably itching to hit the trail.
The woods are calling — but remember, your footwear will be your closest companion when the going gets rough.
Do your research and select a model that matches your unique footprint and, of course, compliments the appropriate hiking clothes you'll be wearing.
Remember to go on short hikes to break in a new pair and soon you'll be hitting the backcountry with ease — and returning home without a blister to show!