HelloTrail® is reader-supported. We may earn a commission, at no additional cost to you, on purchases made from our expert chosen links.
The outdoors has become the playing field for a new era of hiking technology. Let's take a look at some of best hiking gadgets in 2023 so that you can hit the trails with everything you need — plus a few things to enhance your experience, making it memorable for years to come.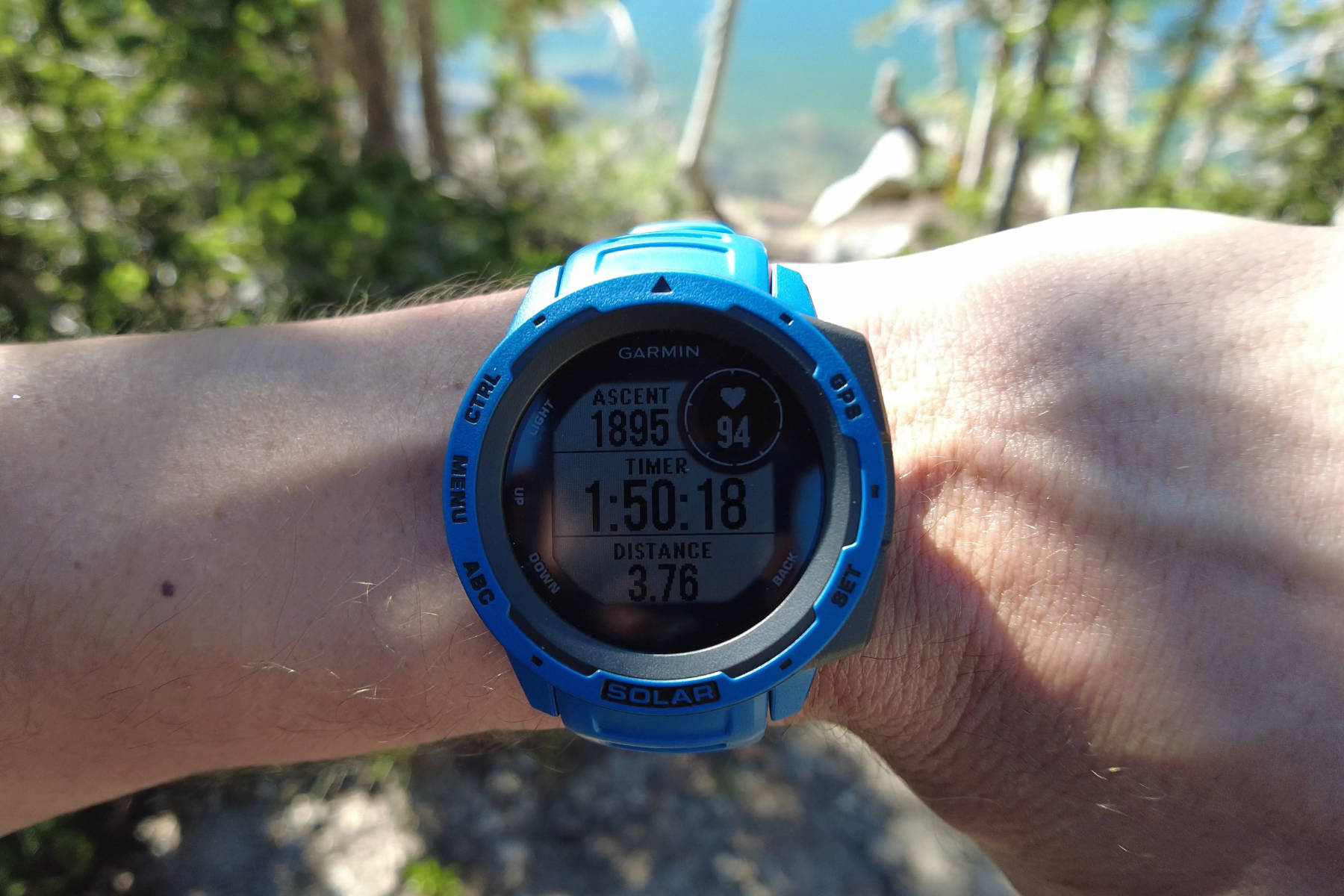 Below are eleven cool hiking gadgets that cover everything from a lighting source, water purification, instruments for navigation, and much more!

The best part? These products are lightweight and durable enough to handle nature's most unpredictable moods.
HelloTrail® is reader-supported. We may earn a commission, at no additional cost to you, on purchases made from our expert chosen links.
In a hurry? Here are the top three gadgets for hikers…
Coolest Hiking Gadgets of 2023
Garmin inReach Mini
No matter how long or short of a hike you are going on it is good practice to let someone know where you will be.

A satellite communication device like the Garmin inReach mini makes this a whole lot easier and is why it is at the top of the list of cool hiking gear.

When you are out of reach of regular cellular service having a way to let someone know where you are or if you get into trouble is vital.
This particular Garmin enables you to send texts, track your waypoints at certain intervals and even send SOS messages when needed. It pairs to your phone via Bluetooth and you can use the Earthmate app to use topographic maps, US NOAA charts and is Apple/Android compatible.
The main caveat is that you must have a subscription plan for it to work – via Garmin's website. Currently, it is $24.95/mo on their annual plan or $34.95/mo on their Freedom plan which requires a minimum 30-day commitment.
That plan level allows for 40 text messages per month, unlimited SOS and will set tracking intervals at 10min+. The inReach mini can be charged with a power bank and/or solar charger – scroll down a few more items and we have you covered on that suggestion…
The device should be kept outside of your pack so the antenna can have access to the sky. One of the best features is that it will provide your coordinates when you send text messages. That way your friends and family will know exactly where you are at certain times for peace of mind.
It's called 'mini' for a reason and only weighs 4.23 oz. The SOS feature is interactive so you will get connected to someone 24/7 in case you are in need of rescue. They will also keep in touch with your emergency contacts so they know what is going on as well.
Keep in mind though that you could be billed for any rescue efforts. There is insurance available and GEOS offers plans and memberships to help defray the costs as well.

Go ahead and pick up your own Garmin inReach Mini today…
Bivy Stick Satellite Communicator
Similar to Garmin's inReach, the Bivy Stick gives you the ability to utilize 2-way satellite communication.

The major difference is that you use your own phone to send and receive the messages by pairing the Bivy Stick via Bluetooth.
The new Bivy Stick weighs 3.35 ounces and is small in stature at 4.3125 x 1.75 x 0.8125 inches.
The prices of both devices are similar so your choice might come down to the subscription plans – of which you need one for the Bivy as well.
Their plans cost $19.99/mo for 20 credits, $34.99 for 80 credits or $59.99 for unlimited credits (prices accurate as of 6/30/22). A credit is used when you send or receive a text, when you share your location, access a weather report or track your path for 1 hour.
The Bivystick will still work when you run out of credits and you will be charged up to $0.75 for each credit depending on which plan you choose. Your unused credits do rollover if you continue your monthly base plan.
The advantage is that you are not in a contract, can cancel anytime and they do not charge any activation fees which Garmin does on their plans. They also use the GEOS SOS system and you get access to similar downloadable maps as with the Garmin inReach mini.
You can clip your Bivy Stick using a carabiner on your backpack or with a GoPro mount. Get your Bivy Stick from Bivy by clicking here…
My Medic MyFAK (First Aid Kit)
A lot of must have hiking gadgets revolve around safety and even though this isn't a 'techy' choice it is something every hiker needs to carry!

Whether your hike is only going to last a couple of hours or a couple of days you never know what could go wrong.

Our friends at My Medic are hooking you up with a generous 20% off discount- Just use code HELLOTRAIL20 at checkout!
There's always a tree root or slick rock that could sneak up on you at any minute so having a first aid kit handy will help you finish your trek intact.

The MyFAK comes in a basic and advanced version and at first glance, you might get some sticker shock but rest assured you will have what you need in case of an emergency.
Everything from various bandage sizes, pain pills, emergency whistle, survival blanket, finger splint and more are included in the basic kit.

Don't Miss: Beginner Hiking Essentials
Personally, I would opt for the advanced that also includes paracord that can have many uses, a tourniquet – which I hope you never have to use -, a lightstick, hydration tablets, and other items that are useful in case of more extreme situations.
The case is weather resistant and made of ballistic nylon – aka very tough material – so it is made to last! Of course, you are heading outdoors to enjoy nature and take in the surrounding beauty but it never hurts to be prepared.
Learn more about the My Medic first aid kits…
GoalZero Venture 35
Never be left without power — because you never know when you might need it.

Whether you need to recharge your phone, camera, or light source, the Goal Zero Venture 35 is one of those cool hiking accessories every hiker will appreciate.

Featuring an IPX67 weatherproof rating, it can withstand being submerged in 1 meter of water for up to 30 minutes and is completely dustproof.
The Goal Zero Venture 35 was made for life in the backcountry. The product includes two USB ports for charging up to two devices simultaneously including phones, video recording devices, tablets, and headlamps — and charges them at the same rate as a wall charger.
The Goal Zero Venture 35 features a 9600mAh battery capacity and can charge your headlamp 7 times or your smartphone 3 times in a single cycle. It weighs just 10 ounces — light enough to take on any expedition.

Sure, the 50 lumens flashlight it has won't light up the night sky, but is handy for those just n case moments

Want to get more life out of your Venture 35? Strap the Goal Zero Nomad 10 portable solar charger to your backpack and you'll never run out of juice!
Sawyer Mini Filtration System
It features a 0.1 micron filtration system, which filters 99.99% of all bacteria and protozoa so you can be assured the water you're drinking is safe for consumption. The system is rated to filter up to 100,000 gallons and includes its own drinking patch and straw.
Prefer to use your own hydration system? The Sawyer Mini matches the thread on standard water bottles and can also be connected to your hydration bladder tubing.

Make sure to read what other hikers think about it…
Sagan Life Inline Water Purifier
We use both the Sawyer Mini you see in this article and the popular LifeStraw but what attracted me to the Sagan Life water purifier is the fact that you can attach it to your existing hydration pack bladder in a similar fashion to the Sawyer.

Our Camelbaks join us on all of our day hikes so having the ability to dip our hydration bladder in a cold mountain stream and knowing the water will be filtered properly is a huge plus!
If your day hiking backpack has room for a bladder but did not come with one they also sell a 2L or 3L Mazama bladder already fitted with the inline water purifier (see first image above).

It will filter up to 250 gallons of fresh water (not for saltwater use) and removes 99.99% of all the bad stuff!
Leatherman Wingman
One of the most useful hiking gadgets is the Leatherman Wingman.

The Wingman is small in size but comes with 14 tools in one, including pliers, scissors, a can opener, a bottle opener, and a combo knife. All of which could come in handy on a hike.

Whether you need to open a can of beans, slice up an apple, or fix a piece of gear, the Wingman has the tool you need to get the job done.
Its stainless steel construction ensures it will hold up in the backcountry and be able to withstand typical trail abuse. I have used a Leatherman for decades dating back to my days on the farm and one thing I can attest to – they last!
Plus you can't beat a 25 year limited warranty. Leatherman truly stands behind its products. Make sure to read what other users think…
Three Trees USB Rechargeable Hiking Headlamp
Don't get caught out in the dark — whether you're setting out on an early morning hike, plan on finishing later in the evening, or just in case of an emergency, it's ideal to bring along a headlamp and the Three Trees USB Rechargeable LED Headlamp is an ideal choice.

Headlamps are easily the most efficient source of lighting in the backcountry, being both hands free and compact for packing.
This LED headlamp is weatherproof, with an IPX4 waterproof rating, and comfortable — so you don't have to worry about the elements around you and can wear it for extended periods of time if necessary.
Unlike many headlamps on the market, this product is USB rechargeable, which means you don't have to carry around extra batteries — it pairs perfectly with a battery pack. This headlamp tilts up to 60 degrees, allowing you to adjust the light where you need it most.
Want more choices? We take a look at the best headlamps for hiking to help you light the way.
Garmin Instinct Solar GPS Watch
GPS navigation systems are one of the most popular technology advancements to infiltrate the outdoor industry.

Leave your map behind and navigate the backcountry from your wrist with the Garmin Instinct Solar.

This product includes a built-in electronic compass, barometric altimeter and wrist-based heart rate monitor.
Not only is the Garmin Instinct Solar a performance based hiking GPS watch it looks good too. I have never been a watch wearer but I find myself wearing it every day even when I'm not going for a hike or run.
The watch's stand-out feature is Garmin's Power Glass that gives it the ability to be charged by the sun.
Making it one of the best gadgets for hiking is that even without solar charging, the Garmin Instinct Solar's battery can last up to 24 days in smartwatch mode. Factor in solar power and your watch won't need a charge for up to 54 days!
The Garmin Instinct has built-in tracking for hiking, running, trail runs, cycling, mountain biking, pool swimming, open water swimming and even paddling on your kayak or sup. The hiking navigation includes Tracback routing so you will always be able to find your way back to the trailhead.
The other features of the Garmin Instinct Solar I like are the altimeter so you know what elevation you are at and a barometer to keep track of any weather changes.
Bonus features? The Instinct Solar allows you to connect wirelessly to the Garmin Connect app to keep a log of all your data and can also be used as a sleep tracker. Plus the ability to track your PulseOX to see how your body reacts to elevation changes during your day hikes.
Is a GPS watch not your thing? Then make sure to check out some of the best handheld gps for hiking available.
Suunto MC-2 Compass
The Suunto MC-2is professional and military grade, boasting top-of-the-line features for precise directional measurements. The display shows the direction in mils and a 20-degree tilt margin allows for easier reading.
The capsule is liquid-filled for optimum operation and the product includes luminescent markings for working in low light. USGS UTM scales are utilized.

The Suunto MC-2 comes with a lanyard for easy transport and yet is also detachable for when you need to coordinate your compass with a map.
It has a transparent base that makes it easy to use with maps. And the mirror can double as a signaling device if needed but let's hope that isn't necessary. Read user reviews on Amazon…
In case you need to brush up on your compass navigation skills like I did the fine folks at REI break it down for us…
GoPro Hero8 Black 4k
GoPro recently released the Hero11 Black so I will be updating this section soon. In the mean time my Hero8 is still going strong!

That said, the Hero8 is a more than capable adventure companion.

The GoPro Hero 8 Black is one of my favorite hiking toys especially since it captures impressive 4K video and 12 megapixel photos in single, burst, or time-lapse modes. Not to mention the stable, shake-free filming.
Speaking of stable and shake-free…the Hero8 Black's biggest improvement over earlier GoPro's is the addition of HyperSmooth 2.0. This means you record in all available resolutions and frame rates choosing from their 3 levels of internal stabilization to avoid shaky videos.
You can even fine-tune the exposure settings to make sure your final product is cinema worthy. The Hero 8 is completely waterproof to 33 meters in depth — you know, just in case you happen to fall in that lake you set out to hike to.
It can mount to various products such as a head or chest strap for simple hands-free recording. My personal go-to method is this awesome backpack strap mount…
The Hero8's 2-inch display lets you check out your shots with ease and a simple interface allows you to trim videos and quickly adjust settings. The battery is rechargeable, making a battery pack an ideal complement, or you have the option to purchase an extra battery.
Another major aspect of the Hero8 Black is the option to add new 'mods' such as flashes, microphones, LCD screens and more. If the ability to add these new accessories to your GoPro isn't something you will use then you can save some money on the prior year's Hero7 Black.
It still will give you top notch video quality and has most of the same features and benefits as the newer 8 version. This is another of my personal choices and as Ashley snaps pics with her Canon DSLR I'm making sure to capture everything I can with our Hero8 Black!
What to Look for in Hiking Accessories
Water Resistance or Waterproofing
Water resistance is a huge consideration when you're out on the trail. Mother nature is unpredictable — and rain or thunderstorms can strike at any moment, depending on where you are in the world.
It's worthwhile to check weather forecasts in advance and become familiar with the climate through which you're hiking. Take into consideration any river crossings you might encounter along the way.
You also need the proper accessories to contain your products, especially when it comes to electronics. For example, rainfall can be devastating if you don't have a waterproof case for your camera.
As you plan your hike take into consideration if the gear you choose is water resistant or even water proof and then decide what kinds of accessories you might need to purchase. The IPX scale provides weatherproof ratings used by many manufacturers.
IPX ratings range from IPX-0 to IPX-8, with IPX-0 providing no water or dust protection and IPX-8 allowing you to completely submerge an object in water for a specified amount of time at a certain depth. Anything IPX-6 or higher provides complete protection from dust.
Durability
The best outdoor gadgets need to be rugged enough to withstand rough conditions, including dirt, dust, and moisture.
Most of the time your gadgets will be stuffed away in some deep, dark crevice of your backpack — so they need to be able to handle the typical clanging and banging corresponding to your movement down the trail, scrambling over boulders, or bushwhacking through the undergrowth.
In general, if a gadget is built specifically for the outdoors it was probably developed to certain trail standards — but it's important to look at a product's construction to ensure its durability.
Functionality
The whole point of an outdoor gadget is that it serves to assist or enhance your backcountry experience. Whether it's designed for navigation, water filtration, or to help with a physical task, a gadget should have a purpose.
When you're packing for a hiking trip, consider each object's functionality. You could ask yourself: When am I planning on using this?
It could be helpful to break down gear into separate categories, such as for daily use, occasional use, or for emergency purposes only. Don't bring along something you're not going to use, because then you're just wasting precious space in your backpack.

On the same note, don't leave behind something you might need if conditions take a turn for the worse.
Wrapping It Up…
Imagine day hiking through a lush forest, carrying a single water bottle, and refilling it using your water filtration system at various streams along the way.

You look down at your GPS watch and navigate your way back to the main trail — no map needed.

It's your son or daughter's first hike and you've captured the best moments with your GoPro.
The best hiking gadgets should complement your time outdoors, not be distractions. Whether you prefer strolling through the woods or trekking up a mountain, enjoy nature at its finest. Even if you have your hiking tech gear strapped to every available spot!