Discover the 10 best Rocky Mountain National Park hikes with waterfall views like Alberta Falls and Horseshoe Falls to name a couple.

Estes Park is a mountain lover's haven, serving as the gateway to Rocky Mountain National Park (RMNP).

This summer resort town is tucked away in the exquisite scenery of Colorado's Front Range and contains over 350 miles of hiking trails.
Although flocked by tourists during the summer months, you can easily escape into the wilderness and find peace amongst the trees and plentiful wildlife.
This adventure playground is full of fun 14ers, alpine lakes, and lush wooded forests.
These hikes near Estes Park are an experience for the memory books!
Top 10 Rocky Mountain National Park Hiking Trails
How to Get There
One of the best things about the area is that it's easy to get there — no matter the season.
From cities east of the Rockies – Loveland, Fort Collins, Greeley, Longmont, Boulder and Denver, there are no mountain passes to cross and highways that serve the area are well maintained.
The town is just ninety minutes from Denver via car. You can ride the Estes Park Shuttle routing from the Denver International Airport straight into town if you don't have a car.
Denver International Airport is the closest international aviation hub — serving daily flights from major U.S. cities and worldwide.
From the Denver International Airport, you will exit onto Pena Boulevard and take toll road E-470 northwest to I-25. Exit on CO 66 west towards Estes Park. From Lyons, CO you will take Highway 36.
If you want to avoid the toll road, alternate routes follow I-70 to I-270 then route to Highway 36, although they will add a little bit of time to your drive.
If you have a car, Trail Ridge Road is the most picturesque drive in the area — a highly recommended rest day activity.
The road covers the 48 miles between Estes Park on the park's east side and Grand Lake on the west, winding up to a staggering elevation of 12,183 feet.
The trail ridge tundra offers epic views above the treeline and the opportunity for passersby to experience wildlife just outside their vehicles, including pikas, marmots, ptarmigans and bighorn sheep.
Tip for Hiking in Rocky Mountain National Park
Rocky Mountain National Park is a high elevation hiking destination. Be prepared to acclimate before your visit and familiarize yourself with the symptoms of altitude sickness, which can include headache, nausea, and dizziness. Be sure to stay hydrated and carry plenty of water with you.

RMNP is home to a large population of black bears. While spotting a bear is a thrilling and photo-worthy opportunity, it's important to demonstrate proper behavior for your safety and theirs. If a bear approaches you, the best thing to do is stop and do not run. Make loud noises such as clapping or shouting and back away slowly. It is also a good idea to carry bear spray.

It's best to wear sunscreen and reapply during your hike. Because of the park's high elevation, you're closer to the sun and more exposed to the harmful effects of UV rays.

Be sure to check the weather forecast before you set out on a hike. Colorado is prone to afternoon lightning storms, especially in summer, so start your hike early in the day and get back down below the treeline before the afternoon. If you get caught in a lightning storm, seek shelter, avoid summits, lone trees and rocks, get away from water, and drop metal objects.

Ticks are another concern, especially in spring and early summer. Ticks can carry serious diseases, including Rocky Mountain Spotted Fever. If you come into contact with a tick, remove the tick and thoroughly clean the site. You should see a doctor if lesions or a rash forms around the site or strange symptoms occur.
Best Trails in Rocky Mountain National Park
Alberta Falls Trail
If you want to extend your hike, go the entire 2.8 miles into the impressive Mills Lake inside Glacier Gorge.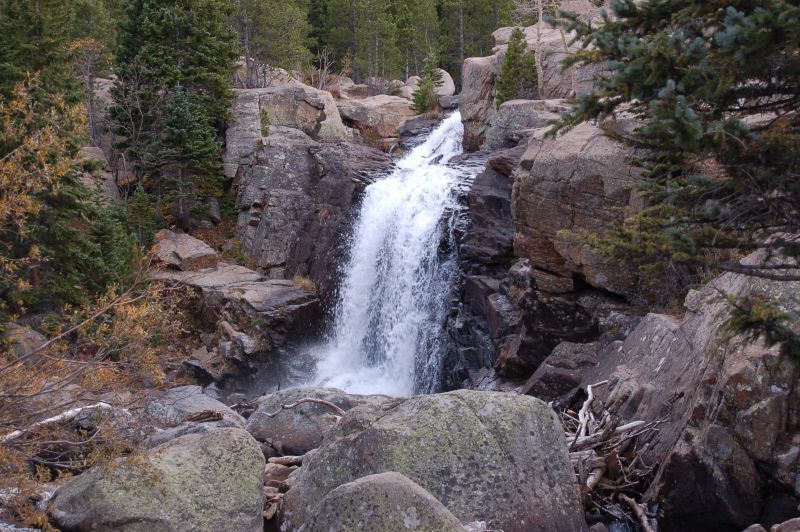 Black Lake Hiking Trail
The Black Lake trail is a challenging hike that poses about a 1,430-foot elevation gain.
Flattop Mountain Trail
If you're looking for the most exquisite panoramic views of Rocky Mountain National Park, the hike to Flattop Mountain is just for you.
This moderate hiking trail is heavily trafficked – and for a good reason.
The hike winds through a varied alpine landscape, gaining nearly 3,000 feet in elevation.
You start at the Bear Lake Trailhead and wind through an aspen forest until the Flattop Mountain Trail takes you up through a series of switchbacks.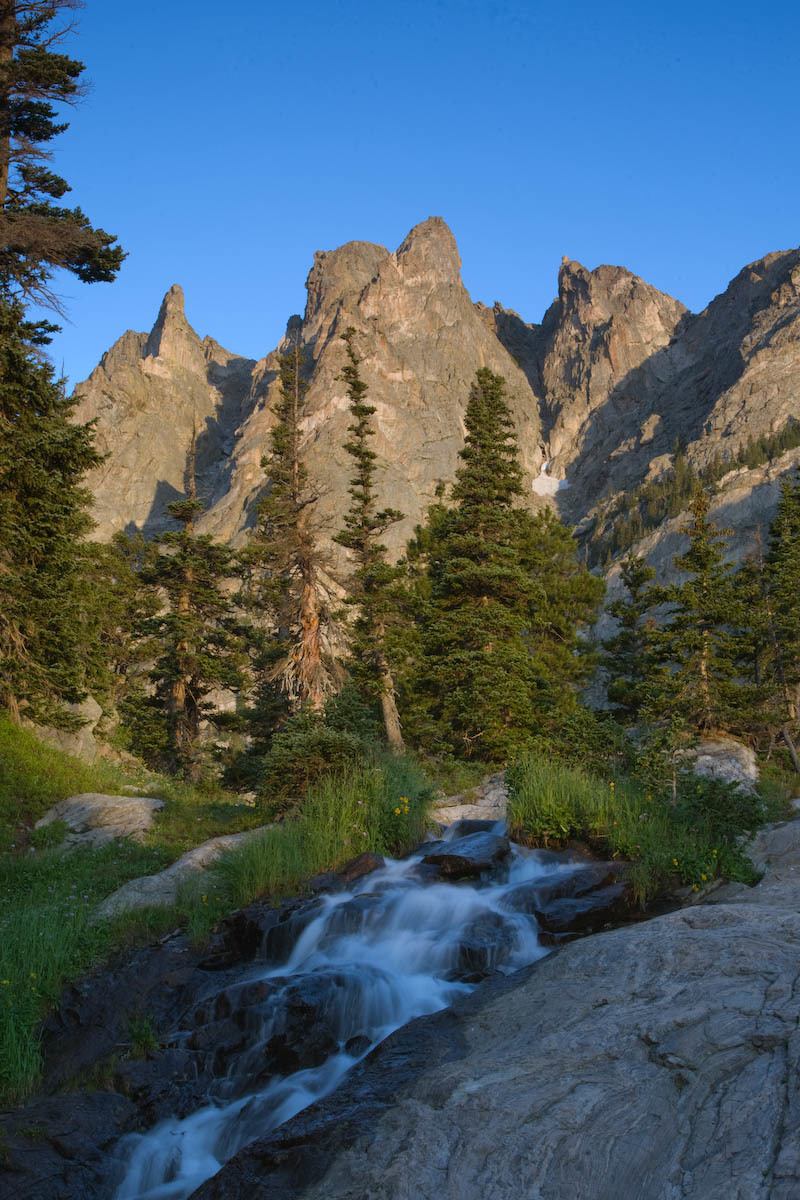 Be sure to stop at the Dream Overlook for photo-worthy views of Hallett Peak and Longs Peak.
Next, the trail will take you on a mesmerizing journey through the Krummholz forest to the tundra above the treeline and finally to Flattop Mountain.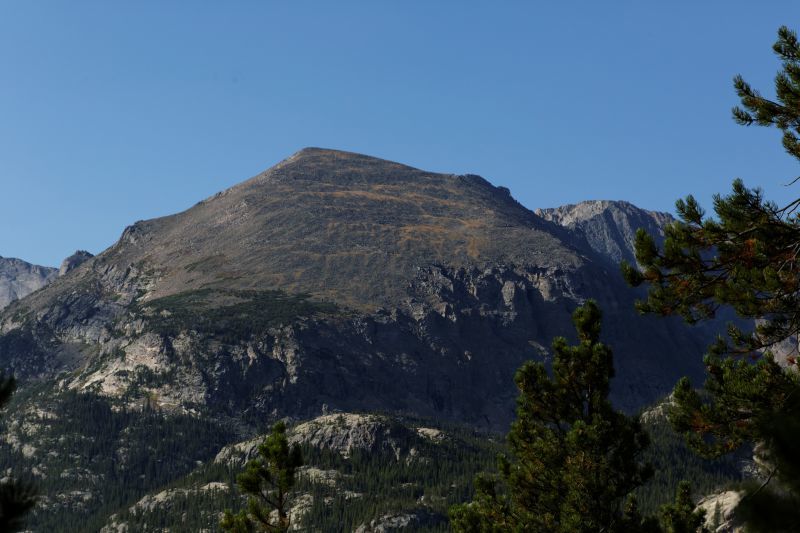 Horseshoe Falls Hiking Trail
If you're looking for an easy, family-friendly hike, Horseshoe Falls is a solid option.
The falls can be viewed from the roadside, but it's much more rewarding to stroll the short distance from the Alluvial Fan Trailhead.
Take the Fall River Road to Old Fall River Road and access the East Alluvial Fan Trailhead about a half-mile up Old Fall River Road.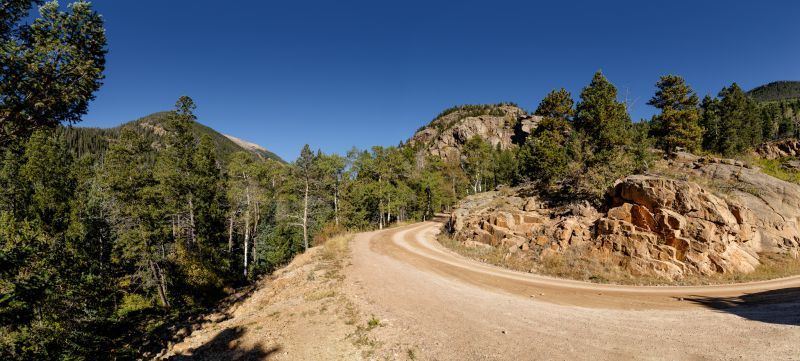 The trail has experienced past flooding incidents, so it's recommended to navigate the terrain with caution and don't forget your emergency first-aid kit.
Horseshoe Falls is a lovely cascading waterfall that twists and turns down the rocky landscape.
The trail is relatively flat, including little more than one hundred feet in elevation gain, making Horseshoe Falls Trail suitable for most hikers.
Granite Falls Trail
Perfect for the moderate hiker, the path to Granite Falls offers everything you could want in one of the best hikes in Rocky Mountain National Park – including forests, meadows, and creeksides.
Your journey will take you through Big Meadows, which, when in season, offers splendid views of wildflowers.
Although you'll cover plenty of miles, the elevation gain is only about 1,000 feet, so this is an ideal trek to evaluate your fitness level and could serve as a warm-up for more strenuous hikes in the park.
When you reach Granite Falls, you'll experience the waters of Tonahutu Creek cascading fifty feet down a landscape of granite slabs.

Check Out: The Best Hikes in Boulder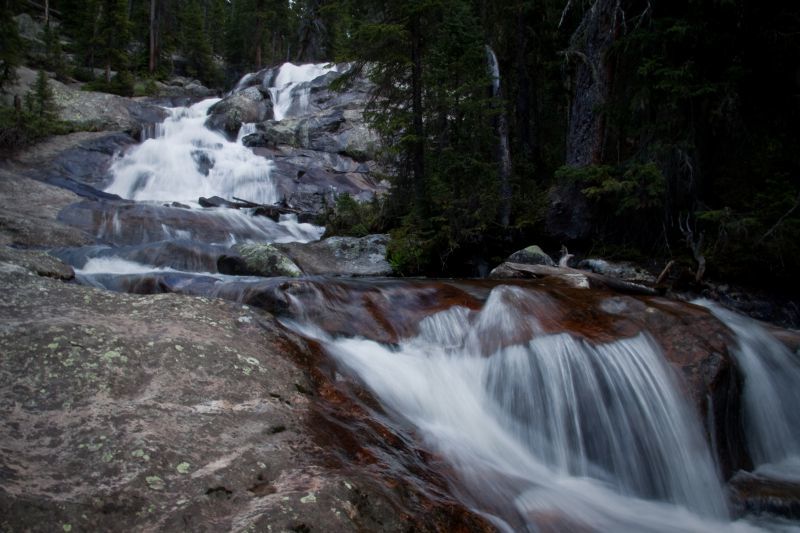 Moraine Park Loop
The Moraine Park Loop is one of the most popular Estes Park hiking trails, taking you on a relatively flat journey around the park, which serves as a prime spot for wildlife.
If you're looking to see elk during your visit, this hike grants you the perfect opportunity.
Moraine Park is an example of where a glacier once settled and then receded, leaving a broad, level plain in its wake.

Both the Big Thompson River and Cub Creek intersect this area.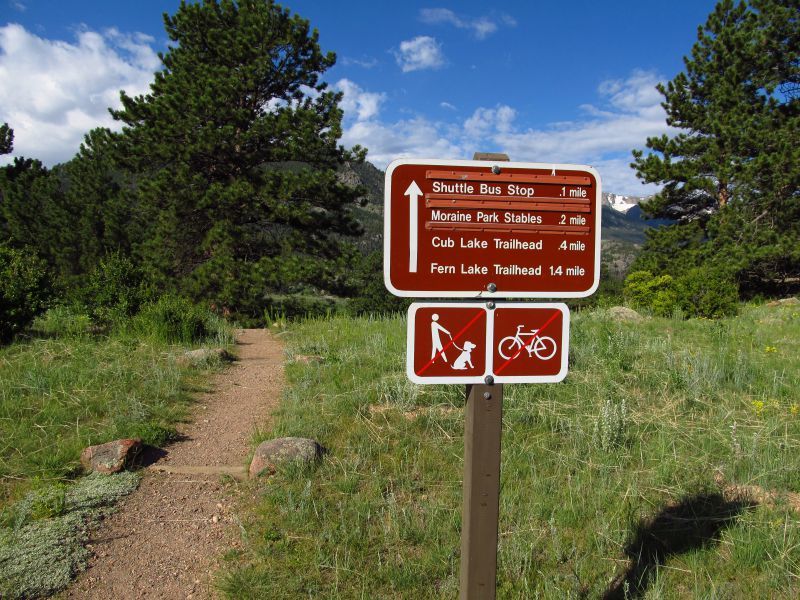 From the Moraine Park Trailhead, you'll follow a path to Cub Lake Road, which leads to the Cub Lake Trailhead.
Bear left on Cub Lake Trail which then reaches the Lateral Moraine Trail Split.
Keep left until you merge with a Park Service Road that will take you back to the trailhead.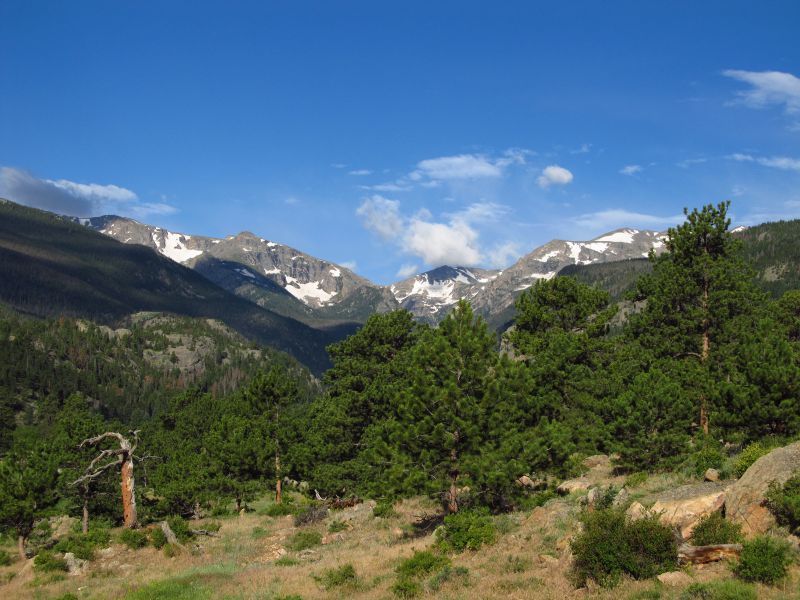 Sky Pond Trail
This spectacular journey starts at the Bear Lake trailhead like so many of the trails on this list, first passing Alberta Falls, which in of itself is a quality hike.
The Sky Pond trail takes high you up into high mountain scenery, offering views of three prominent peaks – Petit Grepon, the Sabre, and Sharkstooth.
Follow the Glacier Gorge/Loch Vale trail up to Timberline Falls.
To reach the Lake of Glass and Sky Pond beyond this point involves slightly technical scrambling up the right side of a waterfall – so wear proper hiking boots with plenty of traction.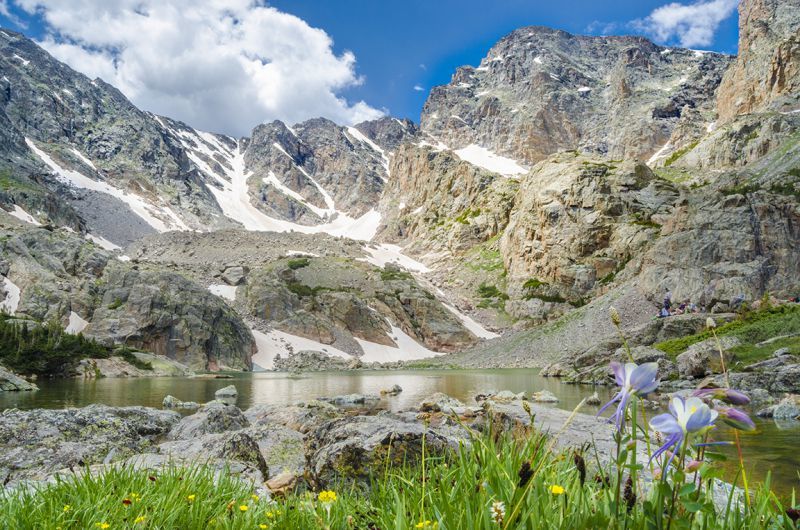 The Pool Hiking Trail
Although the name might be deceiving, The Pool hike does not lead to a popular swimming area.
Quite the opposite, the Pool comprises swirling cascades that have etched a deep pool of fast-moving currents of water.
It is appealing to tourists because it is an easy hike and the views of the waters are magnificent.

There are plenty of points of interest along the Fern Creek Trail leading to the Pool, including Arch Rocks and the Windy Gulch Cascades.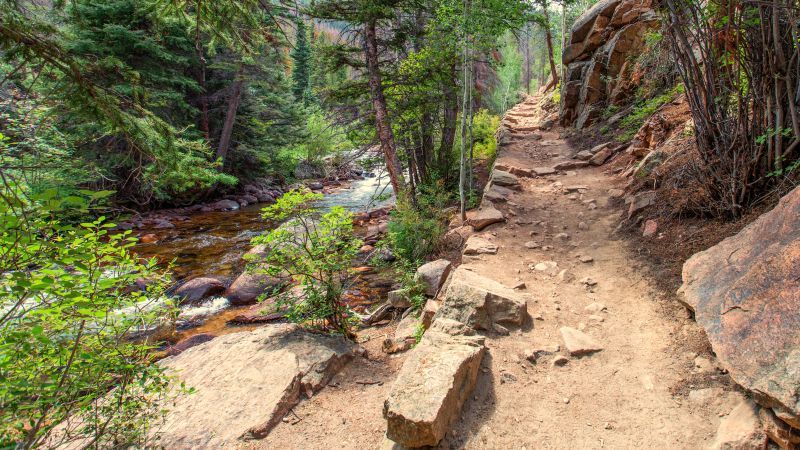 There are also plenty of places to stop and fish along the banks of the Big Thompson River.
The elevation gain is minimal – so enjoy this gently undulating stroll through the wilderness to the treasures at its end.
Hike to Falcon Falls
If you're fit, acclimated, and have some backcountry navigational skills, consider hiking to Falcon Falls – it's quite the adventure. I would still play it safe and bring along your favorite GPS device.
Situated in a remote part of the Wild Basin, Falcon Falls is one of two waterfalls that pour down from Thunder Lake.
The Falcon Falls hike is a demanding, all-day journey that requires an early start – but the views are worth the effort.

Falcon Falls isn't the only body of water you'll encounter along your journey – the trail winds past Thunder Lake, Fan Falls, Copeland Falls, the Calypso Cascades, and Ouzel Falls.
Because of the difficulty and length of the journey, many people make this a multi-day excursion.
Lake Haiyaha Trail
If you're looking to escape the crowds, head out towards Lake Haiyaha, located in a sprawling valley.
This moderate trek provides some fantastic views, including Nymph Lake, Dream Lake, and then on to Lake Haiyaha.
Be prepared for switchbacks through spruce and fir forests and be aware of possible boulder scrambling as you approach the final lake.
Like other trails in the area, the trail routing to Lake Haiyaha begins on the way to Bear Lake but requires veering off to your left at the trailhead sign.
You'll gain less than 1,000 feet in elevation, so it shouldn't be very strenuous in that aspect.

Don't Miss: Best Dog Friendly Hikes in Colorado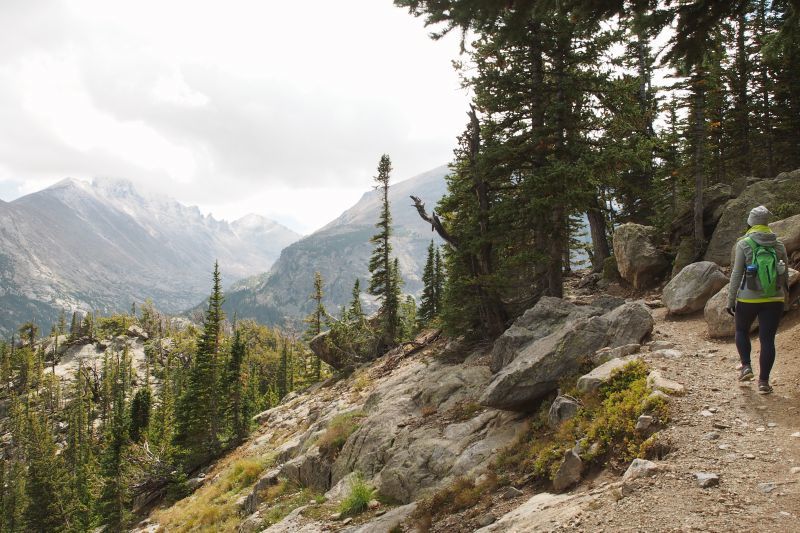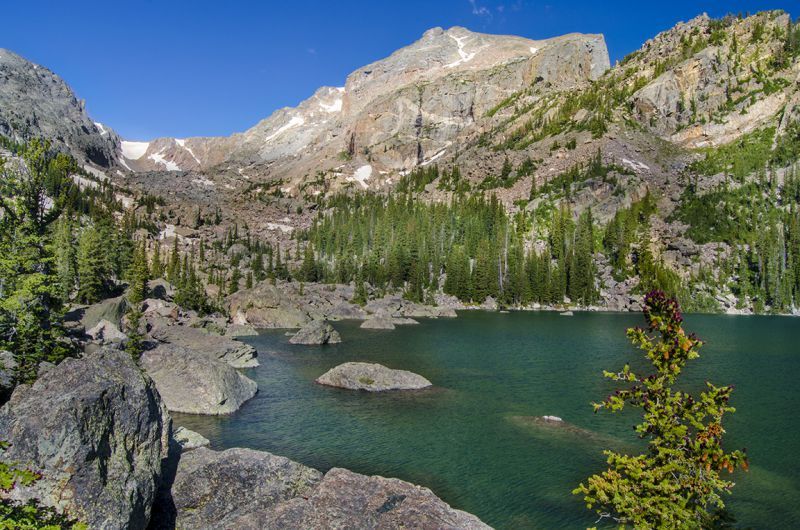 Wrapping It Up…