There's nothing quite like the feeling of being out in nature, exploring new trails and taking in breathtaking views from mountaintops. I know firsthand how important it is to have the right gear on these adventures, especially when it comes to my feet!

After all, our trusty boots are what carry us through muddy puddles, rocky terrain, and even unexpected downpours. That's why I've made it my mission to find the best lightweight waterproof hiking boots that'll keep your feet dry without weighing you down.
Let me tell you, there was a time when I thought 'lightweight' and 'waterproof' were mutually exclusive features in hiking boots.

But after trying out countless pairs over the years – and enduring more than a few soggy hikes, I'm happy to report that there are some fantastic options out there for those of us who crave both comfort and protection from the elements.
So lace up those old worn-out boots one last time and let's embark on this journey together towards finding your ultimate trail companions!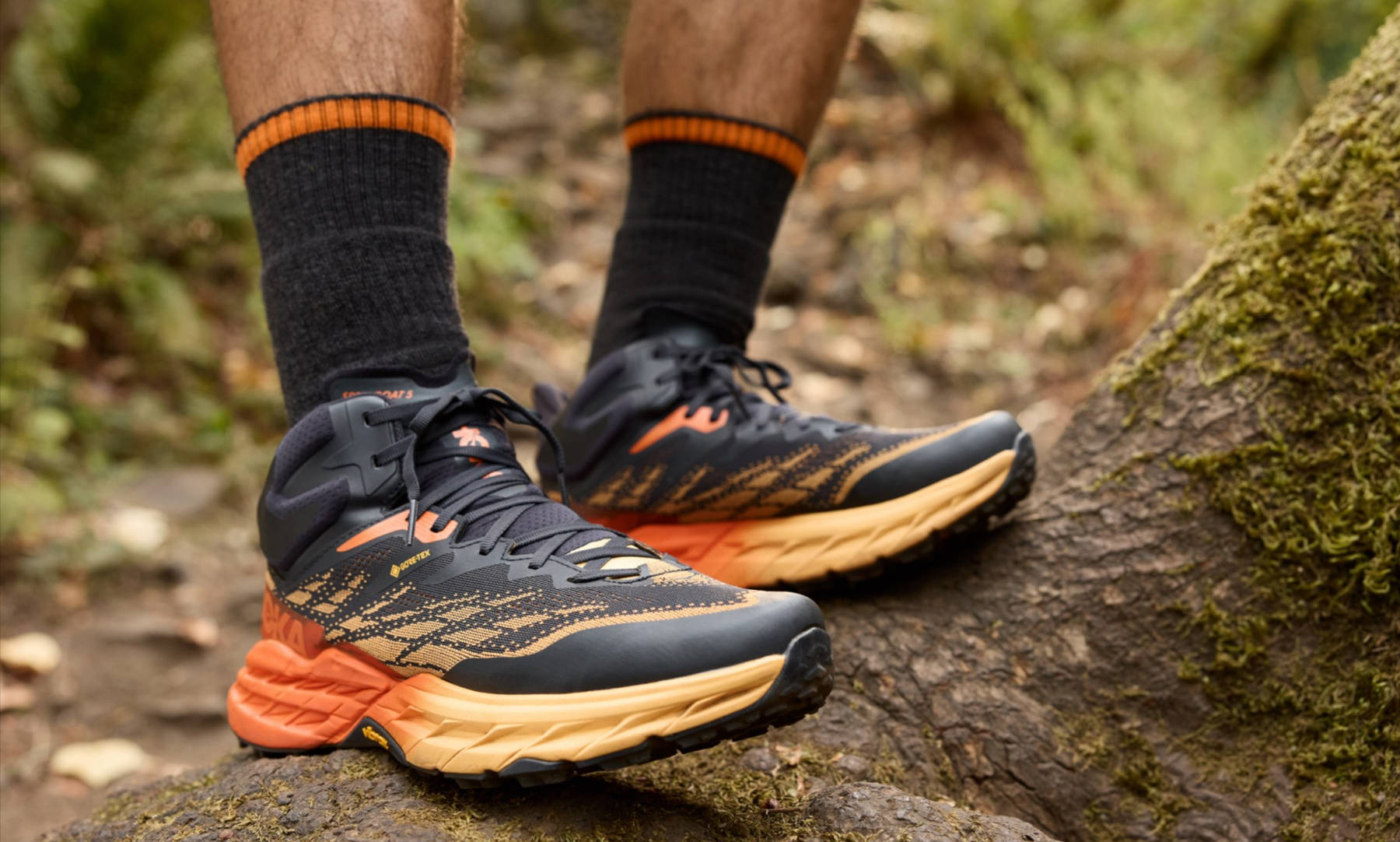 HelloTrail® is reader-supported. We may earn a commission, at no additional cost to you, on purchases made from our expert chosen links.
Lightweight Waterproof Hiking Boot Quick Comparison
(Two Helpful Hints: 1. Clicking each product name will take you to my thoughts on that particular model. 2. On mobile you will need to scroll side to side to view the entire table – enjoy!)
Best Lightweight Waterproof Hiking Boots of 2023
How They Were Chosen
Before we dive into more details about each of the picks, I wanted to share with you how I chose these five lightweight waterproof hiking boots in the first place.

It's as simple as the following criteria…
Must weigh 2 pounds or less
Keep your feet dry in wet conditions (unless you go through water over the tongue, then that's on you!)
Be comfortable enough to wear everyday if needed
Good traction on different types of terrain
Even though your uses might be different than mine, if you are looking for this type of hiking footwear, then any of the options below are going to suit you well.

Now it's time to take a closer look at each one so you can decide which pair you'll be lacing up next!
1. Salomon X Ultra 4 Mid Gore-Tex
I recently tested the Salomon X Ultra 4 Mid Gore-Tex hiking shoes, which are truly impressive. These lightweight boots excel on uneven terrain. The SensiFit system and Active Support wings provide a secure fit, while the Advanced Chassis™ technology increases stability.
These boots are perfect for wet conditions, thanks to the All Terrain Contagrip® outsoles and GORE-TEX protection. They can even handle spring snow. Plus, Salomon X Ultras are more breathable than other waterproof boots I've tried.
The cushioning could be better, but the protective toe caps and heel sections compensate for this. If you have wide feet, choose the wide-size options as the regular version is relatively narrow. I wholeheartedly recommend the Salomon X Ultra 4 Mid GTX boots for anyone wanting a lightweight, waterproof, and nimble hiking shoe.
Pros
– They are lightweight, and for a Gore-Tex hiking boot, fairly breathable which made them comfortable on longer hikes throughout the year
– Good ankle support and stability on hilly and off-camber terrain as well as rockier trails
– Great for everyday use and with different colors to choose from pair well enough with jeans to not look too rugged when you're out and about
Cons
– I have been wearing various Salomon shoes for years, but I noticed a looser fit in the X Ultra 4's than previous models
– The laces Salomon use are not the easiest to get a snug fit and sometimes come undone. Both of us typically swap them out right off the bat
– They run on the small side and you may need to order a half-size up
2. Hoka Speedgoat 5 Mid GTX
On a recent trek, the Hoka Speedgoat 5 Mid GTX boots found their way on my feet. Their lightweight and waterproof features are ideal for handling tricky trails.
First off, the Vibram Megagrip outsoles provided excellent traction, even on slippery terrain. The added ankle support from their mid-height design kept my ankles safe on rocky or uneven paths.
Moreover, the Hoka Speedgoats 5's GORE-TEX membrane kept my feet dry, even during heavy rain. I felt unstoppable! And as a bonus, they're eco-friendly, made with vegan materials and recycled content mesh.
There are some minor issues like they can be tricky to put on and there might be durability concerns. But, if you want versatile hiking boots perfect for wet conditions and comfortable for long hikes, you can't go wrong with the Hoka Speedgoat 5 Mid GTX!
Pros
– Great for hiking on rocky terrain and the support and comfort they provide is much appreciated
– The Vibram Mega Grip outsoles and lug pattern offer excellent grip on various terrains, and are very durable
– They provide a good connection to the trail with a thick cushioned midsole that helps prevent foot fatigue and reduces strain on your feet while you're trekking along on uneven ground
Cons
– There's a feeling of less ankle support versus previous versions of the Speedgoat Mids
– There's no heal strap which comes in as a handy assist getting your foot in the shoe, even with my narrow feet
3. Danner Trail 2650 Mid GTX
Lacing up the Danner Trail 2650 Mid GTX boots, I couldn't wait to hit the trails. These waterproof and lightweight hiking boots promised a hike like no other, and they delivered.
Rain? No problem. A sudden downpour left me soaked, but my feet? As dry as a bone, thanks to the GORE-TEX® membranes. Comfort and dryness even in the harshest weather? Now that's a win!
I've hiked a lot, and I know how a misstep on a rocky path can spell trouble. But these Danner shoes gave me stability like I've never felt before.

Their EXO Heel System and exposed TPU shanks held my feet steady on uneven ground, while the Vibram® outsoles clung to slippery surfaces like a lifeline.

Even on my longest hikes, the Danners stayed light and easy, not once slowing me down. And let's not forget how they performed – top-notch all the way.
So, here's the deal. If you're after waterproof, comfortable, and stable hiking shoes with superb traction and cushioning, go for the Danner Trail 2650 Mid GTX. They're worth every penny and look good wearing around town too!
Pros
– If you normally experience pain in the balls of your feet (metatarsalgia), you will enjoy the comfortable footbed
– The cushioned sole offers excellent traction and is perfect for day hikes in muddy and wet conditions
– There is little to no breaking in required which is always nice
Cons
– The top two lacing lugs are really close together which I found odd in getting a solid fit
– If your feet get hot easily in the warmer months these Danners might not be for you
4. Adidas Terrex AX4 Mid Gore-Tex
The thrill of a weekend getaway had me strapping on the Adidas Terrex AX4 Mid GORE-TEX Hiking Shoes, eager to take them for a spin. And spin they did – over rocky inclines, muddy forest paths, and even an impromptu river crossing!
Comfort and security were the stars of the show here. The cushioned midsole was a blessing, absorbing shocks and saving my knees from strain, letting me cover more ground without tiring.
Right off the bat, the snug fit was a standout. We all know the horror of blisters on a long trail, but these shoes held my feet like a glove, no bandaids necessary. My feet could breathe easily, while the sturdy hold of the shoes tackled the slippery rocks and uneven terrain like a champ.
Now, I've had my share of hiking boots over the years, and Adidas might not be the first name that springs to mind. But let me tell you, these shoes are right up there with the best lightweight, waterproof hiking boots I've tried.
They gave solid support but stayed flexible, moving with me every step of the way.

So, if you're after a trusty pair of lightweight hiking shoes that are waterproof too for your next outdoor adventure, give the Adidas Terrex AX4 Mid GORE-TEX Hiking Shoes a try. Your feet will appreciate it!
Pros
– The design merges a trail-running feel with hiking shoe stability, making it an incredibly versatile shoe for various terrains and activities
– It provides good ankle support and waterproofing for rough terrain, making it an excellent choice for hiking in rocky areas
– Practical and stylish, suitable for everyday wear as well as hiking
Cons
– You might want to order a half-size larger than usual
– They can be stiff at first, so breaking them in isn't a bad idea before your first hike
5. Hoka Trail Code GTX
The Hoka Trail Code GTX lightweight waterproof hiking shoes have risen to the top of my gear list thanks to their blend of comfort and performance.
During a recent romp through a muddy trail, I couldn't help but admire the waterproof membrane bootie construction. Not a drop of water touched my feet, a testament to the Hoka team's expertise!
Speaking of expertise, the sustainability focus of the Hoka Trail Code GTX is worth noting. With a 100% recycled textile ripstop upper and GORE-TEX fabric, Hoka isn't just protecting our feet, but our planet as well.
The standout for me? The HUBBLE® heel technology cushioning. It's like gliding on clouds, even over rocky or uneven trails. Couple that with the Swallowtail™ heel design, and any worries about discomfort on long hikes evaporate.
But don't let the cloud-like comfort fool you – these shoes have some serious grip! The Vibram® Megagrip rubber soles with 5mm lugs ensure no slipping or sliding, only confident strides.

So if you are looking for the perfect balance of support and agility built within a lightweight and waterproof hiking shoe, do yourself a favor and get a pair of the Hoka Trail Code GTX!
Pros
– Made with recycled materials and finished with screen printing to decrease waste and increase durability
– The plushly cushioned compression-molded EVA midsole provides exceptional cushioning, making it comfortable for longer hikes on various terrains
– Vibram Megagrip outsole with 5mm lugs ensures excellent traction on trails
Cons
– They are fine for my narrow feet, but wide footers won't be as happy
– The tongue is on the short side and sometimes dirt gets in besides my best lacing efforts
What to Look for in Lightweight Hiking Boots
When hunting for the perfect trail shoes, target ones that provide:
Cloud-like comfort: Seek out shoes that ensure comfort during your adventures.
Mountain-conquering durability: Durability is crucial when you're tackling challenging terrains.
All-weather adaptability: Your shoes should handle any weather conditions.
Here are some key factors to consider when choosing lightweight hiking boots:
Materials: Examine what the boots are made from.
Breathability: Opt for boots with synthetic or mesh uppers for optimal breathability and quick drying.
Traction: A sturdy rubber sole is necessary to navigate slippery or uneven terrain confidently.
Waterproofing: Top-notch boots utilize advanced technologies like Gore-Tex® lining that keeps moisture out and prevents water from getting in.
Support and Cushioning: Look for EVA midsoles for shock absorption without added weight and sufficient padding for ankle support.
Fit: A snug fit that comfortably envelops your foot is essential.
Remember to take into account:
Personal Style: Your outdoor gear can reflect your style and color preferences.
Size: Brand sizes can vary, and some may run narrower or wider than standard size charts.
Our extensive research is aimed at helping you make the right pick the first time. With a perfect blend of features tailored to your needs, lightweight waterproof hiking shoes can significantly enhance your outdoor adventures.
What are the Pros and Cons of Waterproof Hiking Boots
When deciding on the ideal hiking footwear, weighing the pros and cons of waterproof boots or shoes is essential. Here are some key points to consider:
Advantages of Waterproof Hiking Boots:
Dry and Comfortable: Waterproof boots protect your feet from moisture in wet environments. Be it crossing streams, trekking through rain-soaked trails, or encountering morning dew on grassy fields, these shoes prevent water from seeping in.
Blister Protection: This extra layer of protection can prevent blisters, discomfort, and in extreme cases, hypothermia in colder temperatures.
Carefree Exploration: Nothing beats the satisfaction of splashing through puddles without worrying about getting your socks soaked!
Disadvantages of Waterproof Hiking Boots:
Limited Breathability: Some hikers believe waterproof boots trade off breathability to remain watertight. Sweaty feet can be as uncomfortable as wet ones, particularly on hot summer days or during long hikes.
Longer Drying Time: If water enters a waterproof boot (for example, when stepping into water deeper than ankle height), it tends to dry out slower than non-waterproof options.
Before choosing the right boot type for you, remember to consider factors like:
Climate: What are the usual weather conditions where you'll be hiking?
Trail Conditions: Will you be crossing streams or wet terrain?
Hiking Duration: How long will your typical hike be?
Finding the perfect balance between comfort and performance is key to thoroughly enjoying your wild adventures without any hindrance. So, make your decision wisely!
What Makes Hiking Boots Waterproof
Understanding the technology and materials behind hiking shoes will help make a better buying decision. I know what it is like to spend a good chunk of your income on quality outdoor footwear and it always helps to be armed with the correct information as you make that decision.
Here are some critical points regarding the waterproofing aspects of hiking boots:
What Makes Hiking Boots Waterproof:
Waterproof Membranes: Often using technologies like Gore-Tex, these membranes have microscopic pores. They are large enough to let sweat vapor escape but too small for water droplets to penetrate.
Construction Techniques: Seam-sealing, where waterproof tape or glue is applied over seams, prevents water from seeping through stitch holes. Some brands opt for a one-piece leather upper with minimal stitching to reduce water entry points.
Gusseted Tongues: These create an additional barrier against moisture entering around the laces.
Choosing Lightweight Hiking Boots that are Waterproof:
Weight, Breathability, and Comfort: Opt for boots with mesh panels or vents in the upper material for air circulation. Cushioned midsoles made of EVA foam or polyurethane offer shock absorption and support on uneven terrain. A well-designed lacing system prevents pressure points on your feet.
Maintenance and Care for Longevity:
Regular Cleaning: Use a soft brush or cloth to remove dirt and debris after each hike. This prevents buildup that can damage the materials over time.
Leather Care: Treat leather uppers with conditioning products to maintain flexibility and water resistance.
Proper Drying: Always let your boots dry thoroughly before storing them. Stuffing them with newspaper or using a boot dryer can expedite the process.
Follow these guidelines and you will confidently venture onto the trails, trusting that your feet will remain dry and comfortable, no matter what the weather has in store.
Wrapping It Up…
I can confidently say that these five lightweight waterproof hiking boots have all made a significant impact on my outdoor adventures.

Each one offers its own unique combination of comfort, durability, and protection against the elements.
Whether you're just starting out or already conquering mountains, investing in a reliable pair like Salomon X Ultra 4 Mid Gore-Tex or Hoka Speedgoat 5 Mid GTX will undoubtedly enhance your experience.

No matter which boot you choose from this list, happy trails lie ahead!

And if you aren't interested in the lightest options that keep your feet dry, check out our detailed guide on the top hiking boots for beginners or beginner hiking shoes…