Mark Twain National Forest encompasses 1.5 million acres of land in Missouri, and we all know what that means, an abundance of hiking – around 750 miles of trails to be exact! The trails range in difficulty and length, but they all offer beautiful scenery.

Mark Twain National Forest is located in the southern half of Missouri and is known for its rivers, igneous glades, caves, acres of pine forest, springs, rock formations, prairies, old volcanic mountains and lakes.

Let's look at some of the best hikes in Mark Twain National Forest and you will soon discover why Missouri is a top hiking destination full of varying terrain with great options for all ages and skill levels.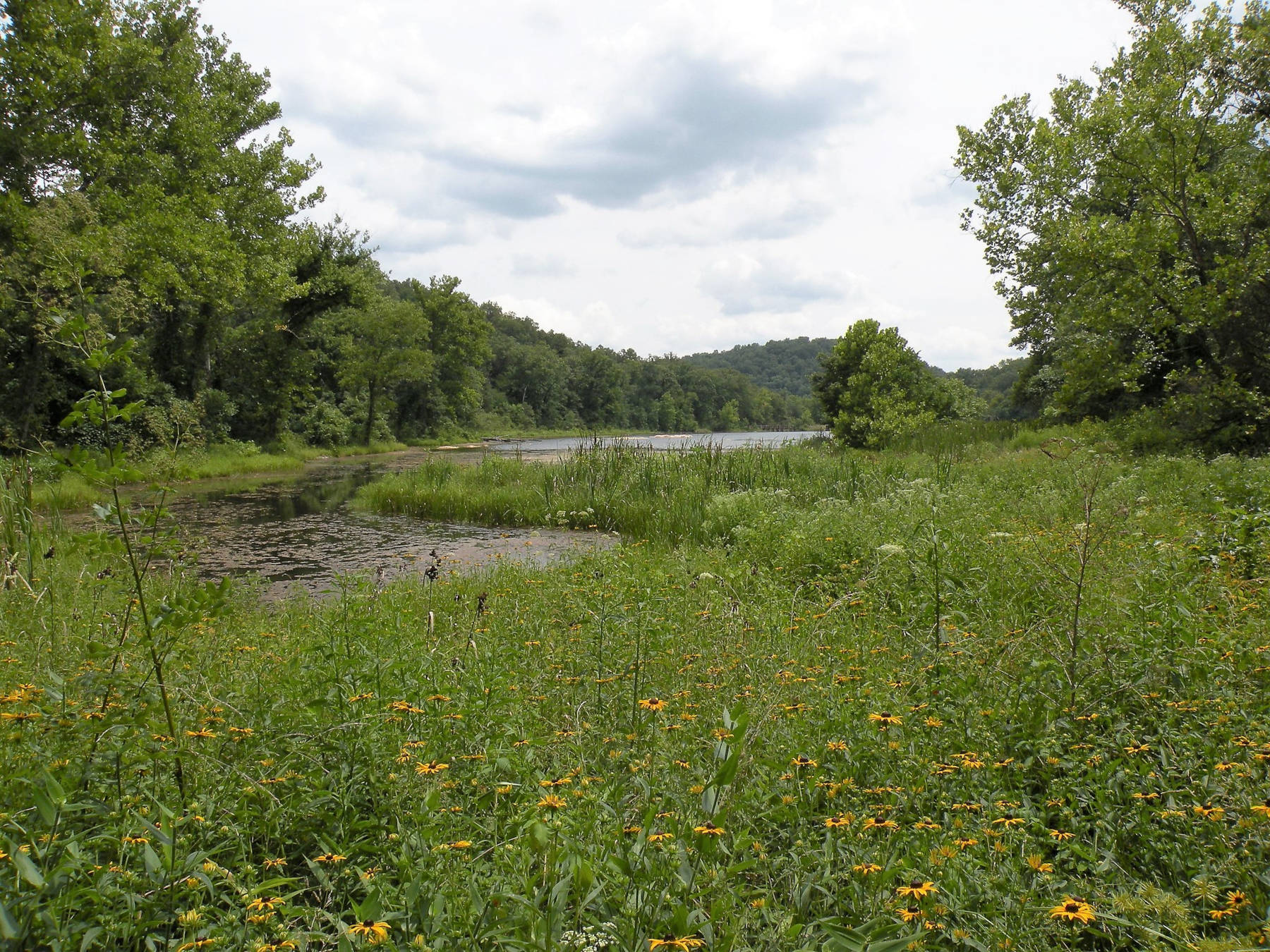 1. Kaintuck Tuck Trail: Oak Leaf Section
If you are looking to get into hiking or just want a more chill trail, check out the Oak Leaf Section of the Kaintuck Tuck trail. There isn't much elevation change, but parts of the path can be a bit broken down due to horse traffic.

You will pass a natural bridge and tunnel as you follow the Kaintuck Tuck trail, a bonus to the monotonous tree-lined path. Other nearby connecting trails can add length to this hike or can help turn it into a loop.
Kaintuck Tuck Hiking Trail
Difficulty: Easy
Distance: Around 3 miles roundtrip
Trail Type: Out and back
Location: Trailhead off of service road 1592 (37.86078, -91.92169)
2. Greer Spring Trail
Your journey on the Greer Spring Trail starts off in a wooded forest full of oaks and pines, then leads you down into a misty jungle oasis.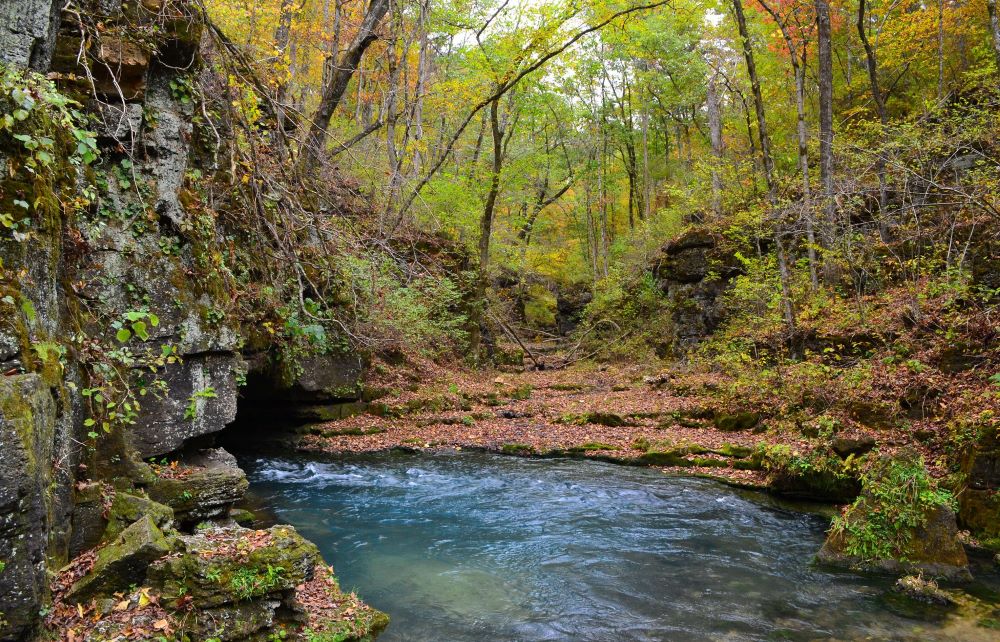 The Greer Spring is the second largest spring in Missouri with an average daily flow of 220 million gallons and is surrounded by ferns and mosses. The trail declines as you make your way on a narrow dirt path.

Although it only takes about .9 miles to get to the spring, there are steep sections which is why Greer Spring trail is listed as an easy to moderate hike.
Greer Spring Hike
Difficulty: Easy to Moderate
Distance: 1.8 mile roundtrip
Trail Type: Out and back
Location: Trailhead is located on the west side of MO-19 (36.77972, -91.34499), Northeast of Alton, MO
3. Berryman Trail
If you are looking for some great hikes near St. Louis, the Berryman Trail is for you since it is only a 90 minute drive. This 26-mile loop can be considered a long day hike or turned into a longer adventure if you link up with the Ozark Trail.

As with many of the hikes I am listing, there are options to make the Berryman Trail shorter, whether that is just doing an out and back or using one of the cut-through roads.
The Berryman Trail travels through the scenic Ozark landscape, with rocky downhill terrain, long climbing sections – over 2,500 feet of elevation gain, and creek crossings. During the springtime, you'll see plenty of wildflowers and flowering trees.

Since this is a multi-use trail, be on the lookout for mountain bikes and horseback riders. Also, it is a pretty popular spot for trail running, so keep that in mind.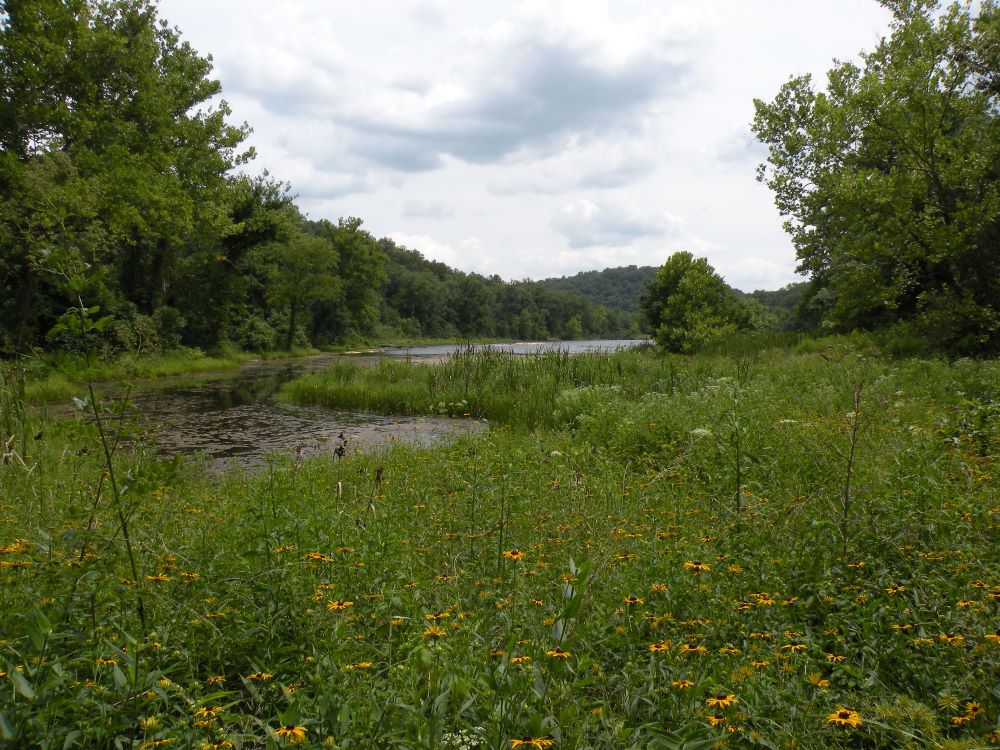 Berryman Trail
Difficulty: Moderate
Distance: 26 miles
Trail Type: Loop
Location: Berryman Campground (37.92987, -91.06233)
4. Big Piney Trail
Big Piney Trail in Mark Twain National Forest is considered one of the best hikes in Missouri. The trail is challenging with loose rock, elevation gain, and some bushwhacking might be necessary during the summer months.

The Big Piney trail can be done in one day by fit, prepared hikers, but if you are looking for a more "relaxed" adventure, there are primitive campsites allowing you to turn this popular day hike into an overnight trip.
I have seen people use lightweight tents and hammocks for their wilderness sleeping quarters. If you are planning to complete this strenuous hike in a day, I'd suggest getting an early start, so you have plenty of daylight.
Big Piney Trail
Difficulty: Moderate to Difficult
Distance: 17 miles
Trail Type: Loop
Location: Roby Lake parking lot (37.52097, -92.12362)
Don't Miss:
Start planning ahead and check out these other great hiking areas:
5. Council Bluff Lake Trail
The 12.4 mile long trail loops around the Council Bluff Lake – the largest lake in the Mark Twain National Forest. The Council Bluff Lake trail is an up-and-down scenic hike with several creek crossings and plenty of lake views.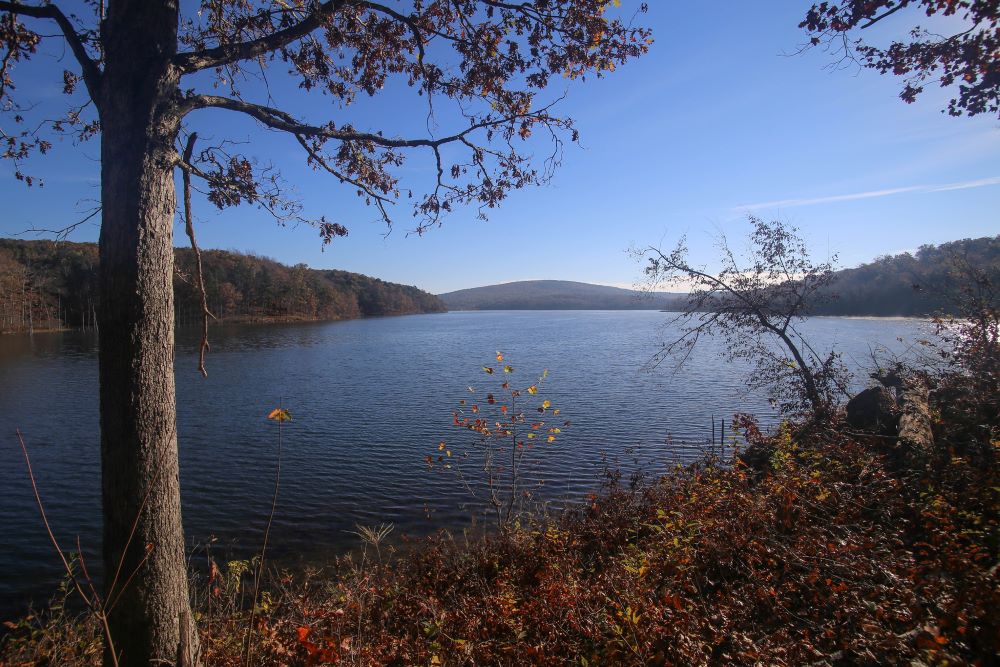 There are a couple of things to keep in mind when exploring the Council Bluff Lake hiking trail. It is shared with mountain bikers, so keep an eye out for fast-moving objects, especially around corners or inclines!

Also, when leaves are on the trail, it can be challenging to see roots and rocks and be slick when wet.
Council Bluff Lake
Difficulty: Moderate
Distance: 12.4 miles
Trail Type: Loop
Location: There are a couple of access points worth noting for this trail: Wild Boar Hollow Boat Launch and the Wild Boar Ridge Campground
6. Bell Mountain Loop Trail
Bell Mountain is an adventurous hike option that offers just enough challenge that can then be rewarded with views, one of the best spots in Mark Twain National Forest, in my opinion. The loop is around 11.6 miles long and has an elevation gain of over 1500 feet.
Keep in mind that once you get to the trailhead and park, you have to cross the road to get to the start of the hike. If you want to split your hiking journey into two days, there are campsites to spend the night.
What's even better about spending the night on the Bell Mountain Loop Trail is the chance of seeing a spectacular Missouri sunrise! There has been known wild boar activity, so stay aware of your surroundings – as you should anyway.
Bell Mountain Loop
Difficulty: Moderate to Difficult
Distance: 11.6 miles
Trail Type: Loop
Location: 37.62588, -90.91108
7. Ozark Trail: Taum Sauk Section
The Ozark Trail (OT) is nearly 400 miles long that offers a little of everything for every type of trail user. The Taum Sauk Section is 35 miles long one-way that traverses through remote forests, crosses flowing springs, passes Missouri's highest waterfall and even climbs Missouri's tallest peak – Taum Sauk Mountain.
There are many rugged sections, so if there is rain in the forecast or if there is potential for ice on the trail, you may want to pick a different time to hike. With rugged terrain comes spectacular views, and this is why the Taum Sauk Section provides some of the best hiking in the Ozarks!
Do not underestimate this section of the Ozark Trail, as it's a very strenuous hike with nearly 5,000 feet of elevation gain. Keep an eye out for trail markings along your trip, as it is relatively easy to get off course.
This hiking trail is suited best for an experienced hiker looking for a multiple-day adventure and most definitely requires a trail map! Make sure to plan ahead to include your return trip or have a friend or family member pick you up at the end.
Many hikers break up the Taum Sauk Section of the Ozark Trail into three smaller sections, here is an example:
Taum Sauk Section of the Ozark Trail
Difficulty: Difficult
Distance: 36 miles one way
Trail Type: Out and back
Location: Goes from Highway A trailhead (37.62587, -90.91101) to Highway 21 trailhead (37.54861, -90.6798)
Mark Twain National Forest Hiking Trails FAQ
How many miles of trails does Mark Twain National Forest have?
Mark Twain National Forest has over 750 miles of trails that vary in length and difficulty. Some are multi-use trails for hiking, horseback riding and mountain biking.
Is Mark Twain National Forest part of the Ozarks?
Yes, Mark Twain National Forest is part of the Ozarks and covers nearly 1.5 million acres in southern Missouri.
Wrapping It Up…
As you can see, Mark Twain National Forest has a wide variety of Missouri trails offering hikers with different skill levels a range of distance, terrain and elevation changes.

So, go ahead – pick a hiking trail that suits your abilities best, get outside and say #hellotrail.