HelloTrail® is reader-supported. We may earn a commission, at no additional cost to you, on purchases made from our expert chosen links.
The foliage is changing from green to shades of red and golden yellow. And cooler temperatures encourage trading out your air-conditioned house for the great outdoors.

Fall is one of the best seasons for hiking in every climate around the country.

The season brings cooler days and longer nights, so it involves creative layering on your part.
We will walk you through what to wear hiking in the fall – no matter where you live.

In a hurry? Click here to find out what we wear on a fall hike…
Rule #1: Know Your Climate
The seasons vary depending on where you live. You can expect cooler temperatures in the mountains and the Northwest and warmer temps in the East and South.

The Northeast experiences similar temperatures as the Northwest, but the weather is a bit more predictable.

The Northwest and mountainous regions have the most uncertain weather, with storms and rainfall.
This is something to keep in mind when packing for a fall hiking trip.

It's important to remember the temperatures listed below are estimations…

Weather is ever-changing and the best thing to do is check the weather report before setting out on a hike.

Make sure to dress accordingly and always be prepared for the unexpected.
Northwest
Fall temperatures average between 45 and 55 degrees Fahrenheit. The area receives plenty of rainfall, with November usually being the wettest month.

Weather is always unpredictable in this region, so it's better to bring extra layers.
Mountains
Like the Northwest, the mountainous regions of the US have cooler temperatures due to the higher elevation.
The higher the elevation, the cooler the temperatures will be. When hiking in the mountains, expect average temperatures to range from 40-50 degrees, depending on your elevation.

Don't Miss: Best Fall Hikes in Colorado
Northeast
The lower part of the Northeast is warmer than the upper tip, specifically Maine.

Maine experiences average temperatures between 40 and 45 degrees Fahrenheit.
While New Hampshire, Vermont, and New York are a bit warmer, with temperatures averaging between 45 and 50 degrees.

The more southern and coastal portions of the Northeast are warmer due to their proximity to the coast, with average temperatures in the 50s.
East
The East is a warmer place to hike in fall, with temperatures averaging between 55 and 65 degrees Fahrenheit.

The further down the coast you go, the warmer the temperatures will get.
South
The South has the warmest fall temperatures, which can soar into the 80s, particularly in the southernmost state of Florida.

It can feel like summer even into the fall months in this region, so the key to hiking here in the fall is to try and stay cool.
Rule #2: Learn An Effective Layering System
Layering is key to a positive experience outdoors in any season, especially fall and hiking in spring. In fall, layers are essential because regions are subject to unpredictable weather – including high winds, rainfall and temperature changes.

A layering system is helpful in cooler temperatures because it allows you to remove a layer as you warm up or add a jacket if you get cold.
Effective layering starts with your underwear and extends to your outermost layers.

The key is to find a minimal set of light clothing that will suffice in a broad range of conditions.
Before we go into more detail about the different layers, I thought it would be helpful to give you examples of what we typically wear hiking in cooler weather.

Later we will discuss different options for some of the more common temperature ranges you will come across in the Fall.
Ashley's Favorites
You can never go wrong with anything made by Smartwool, like this baselayer bottom and top.

My go to pants are the prAna Halle Straight mainly because they have tall sizing options, are comfortable and have cool colors.

These Darn Tough socks have lasted well over a year now and show no signs of slowing down. Plus, you can't beat 'Made In the USA'!

Up top, if the temps are not dipping too low, I like to keep my jacket lightweight. This KUHL fleece hoodie is perfect for that and I like how it's not bulky at all.

For added warmth and super packability, check out my new favorite – the Fjallraven Keb Padded Insulated Zip-Up Hooded Jacket. Since I am tall and slim, I have a hard time finding jackets that are long enough in the torso and tapered to my waist. Although the price tag is a bit steep, to me, it is worth being comfortable. Plus, the color options are great, with blue, wine, deep forest, and black.

I get cold hands frequently and whether I start a hike with them or not, I keep a pair of gloves or mittens handy like these Dakine Storm liner gloves.
Andrew's Top Choices
Since we are avid runners as well, we like to buy clothes that serve multiple uses. Again this is where Smartwool comes in.

Here are Andrew's top and bottom baselayers that keep him warm and dry.

He wears his Prana Stretch Zion pants year round – they are lightweight enough for summer hiking – and the addition of the base layer bottoms provides an excellent weather-resistant barrier for Fall.

The Marmot Featherless Hybrid insulated jacket is ideal since it is lightweight and retains body heat. It's easy to shed and throw in a backpack once you warm up too.

Andrew's hands don't get as cold as mine, but considering our Dakine gloves take up no room, they are a must-have fall hiking item.

Hopefully, you realize how important a good pair of socks are for any outdoor adventure. Andrew's new favorites are the Fox River Highland MX2 lightweight crew merino wool socks.

Like Darn Tough, Fox River socks are made in America. Since Andrew is a US Navy Veteran, we like to support companies that manufacture right here in the USA!
Base Layers
Base layers are the most important part of your layering system because they're touching your skin. They wick moisture from your skin, keeping you dry and warm.

No matter the temperature, you should always wear a base layer.
You'll likely want to hike in a short sleeve base layer in the South and carry an extra layer with you if the temperatures drop.

While in the Northwest and mountainous regions, a long sleeve shirt and a pair of base-layer bottoms (long underwear) are recommended.

When preparing your fall hiking outfit, remember always to check the weather and use your best judgment.
Pro Hiker's Tip
Ditch the cotton once and for all – including your underwear.
Why? Cotton dries slowly, absorbing moisture, whether from sweat or external elements. Having wet material against your skin will make you feel cold and uncomfortable.

Unless you're hiking in the desert and utilizing cotton as a cooling mechanism when sweat evaporates from your body, you should avoid it at all costs.
In extreme cases, cotton can result in hypothermia because of its slow drying properties.

So, what materials should you wear as a base layer?
Merino Wool
Wool is a popular base layer fabric because of its thermal retention properties.

Merino wool keeps you warm even when wet, which is ideal in cooler temperatures and wet conditions.
For fall hiking, merino wool underwear, socks, and base layers are the hiking clothes you will want to seek out. They are known to keep you warmer than synthetic fabrics.

Also, merino wool helps eliminate odor. It sounds like a win to me!
Don't Miss: Hiking Essentials for Beginners
Synthetic Fabrics
An alternative to merino wool is a synthetic fabric.

Examples of synthetic materials are polyester, nylon and spandex.

The advantage of synthetic fabric is its quick-drying properties and elasticity.
Synthetic base layers are usually less expensive than merino wool. So if you sweat a lot when you're active and need a spare, they are a great lower-cost option.

Many companies have created base layer blends of synthetic and merino wool – giving you the best of both worlds.

Because of the cooler temperatures in fall, a synthetic and Merino wool blend is recommended if you're not a fan of straight Merino wool.
Baselayer Weights
When purchasing a base layer, you will notice different weight options on the label – lightweight, midweight, and heavyweight.
As a general rule, the heavier fabrics will keep you warmer – but the primary purpose is to wick moisture from the skin.

A lightweight base layer is ideal for fall hiking in warmer climates, while a midweight base layer is suggested for cooler weather.
Mid Layer
Your mid-layer will retain body heat to protect you from the cold. In other words, it will keep you insulated.

You wear the middle layer over your base layer.
In fall, the temperatures are cooler in the mornings and evenings, so you will want to start off wearing a middle layer. As you warm-up, you can then take it off and pack it away.

Examples of mid-layers are fleece jackets, lightweight down jackets and synthetic jackets.
Polyester Fleece Jackets
A lightweight fleece jacket is an excellent insulating mid-layer. While not designed for freezing temperatures, fleece is ideal for fall hiking in most areas.
Fleece jackets are affordable and lightweight, making for an easy piece to stash away when the temperatures rise.

The only downside is that it does not block the wind, requiring the addition or substitution of an outer layer.
Lightweight Insulated Down Jackets or Vests
Down is the best lightweight insulator and keeps the cold air out – as long as it's not exposed to moisture.

Down does not perform well when wet. But it retains its shape and loft, and you can expect it to last for decades with proper care.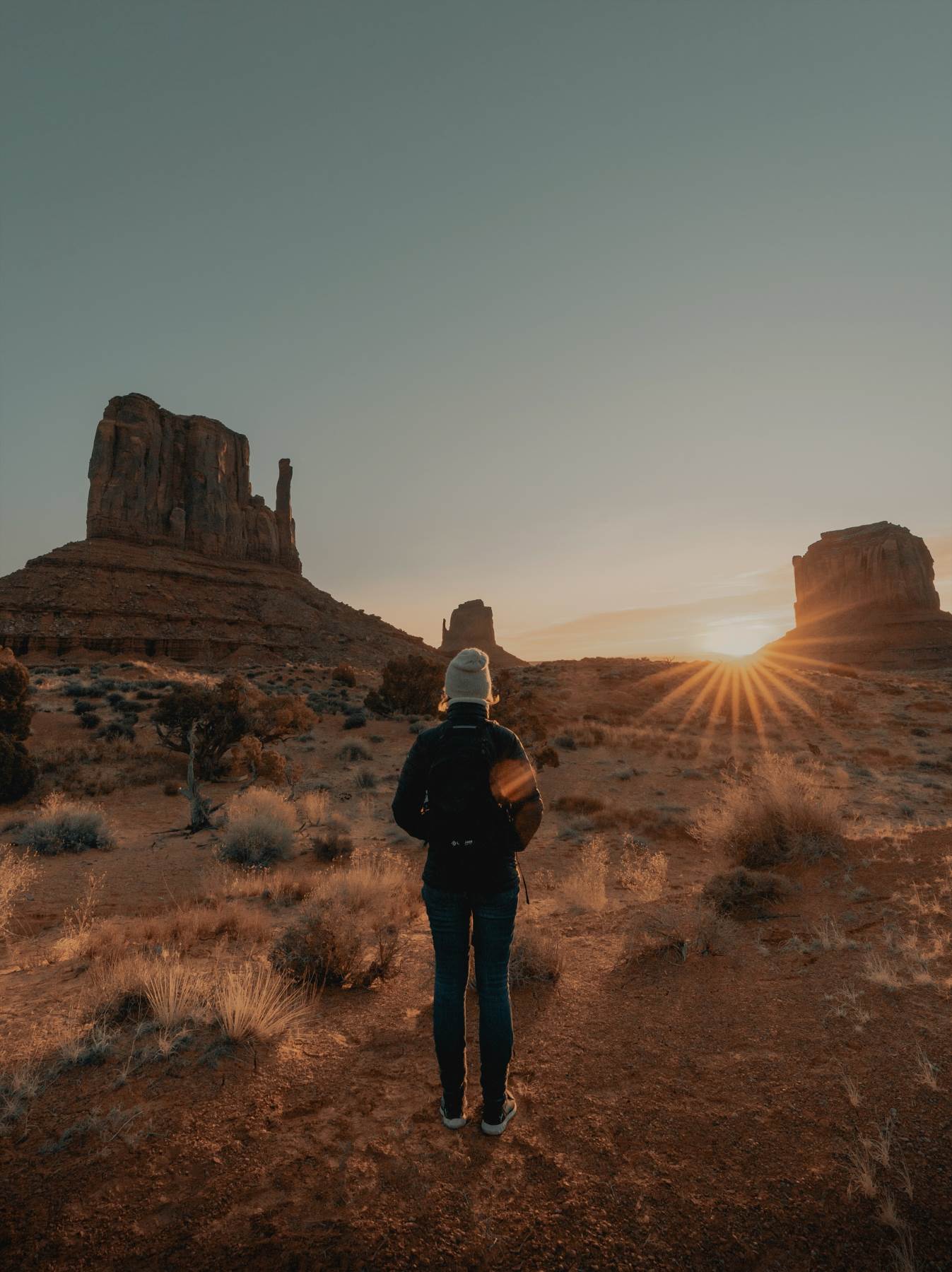 There are three different types of down insulation:
High loft goose down: Provides the highest warmth to weight ratio of any down or synthetic insulation. It is usually the most expensive.
Standard goose down: Although it has less loft, it is reasonably priced.
Duck down: Finer than standard goose down and less expensive.
Synthetic Jackets or Vests
In wet climates like the Northwest, some of the best hiking jackets for cold weather are synthetic alternatives like softshells.

They offer thermal insulation and provide some water repellency as well.
Synthetic insulation has become advanced in recent years. Although heavier, companies have developed alternatives that rival down in terms of warmth to weight.

A disadvantage is that they are bulkier than down.

It tends to be less compressible and experiences faster degradation. So you'll find yourself replacing synthetic products more often than down.
Outer Layers
Your outer layer serves as your first line of defense from the elements.

Often you won't wear an outer layer the entire time you are hiking, but you want to pack it in case it starts raining, snowing or the wind picks up.

Outer layers consist of waterproof and windproof jackets – and don't forget about pants!
Wind Shell
A wind shell is ideal for dry conditions such as in the South, East or when hiking in the desert. They're lightweight, water-resistant, and most importantly, break the wind.

Depending on the temperature, you might choose to wear a wind shell over your base layer. But in freezing temps, it will most likely be your third layer.
Waterproof Shell
A waterproof jacket is necessary for areas that get rain and snow. It is something you should always pack if there's a chance of a thunderstorm on your hike.

Gore-Tex is the most well-known type of waterproof shell, but there are many options to choose from.
Hiking Pants
Although some hikers prefer shorts in summer and warm climates, hiking pants are ideal in all weather conditions.

They protect your legs from insects, unwanted contact with plant life and provide UV protection.
In fall, full-length pants, like the Pranas I mentioned above, also serve as the exterior layer of insulation on your lower half. Lightweight, durable, synthetic pants are your best option.
Technical hiking pants wick moisture and are reinforced in places exposed to high wear. Select a thick pair of softshell pants for cooler climates and a lightweight pair for warmer temperatures.
In freezing temperatures and towards the end of fall, you're going to want to wear a base layer under your softshell hiking pants. Keep this in mind when you're choosing your size.

Ladies, don't miss my list of the best women's hiking pants…
Pro Hiker's Tip
Like cotton, stay away from wearing jeans. They don't allow for a lot of maneuverability and get very heavy when wet.
Rain Pants
If heavy rain is likely on your hike, consider packing rain pants to wear over your hiking pants.

There's nothing worse than being wet and cold while hiking.

Even if you don't end up wearing them, they're lightweight and compressible, so toss them into your pack.
Rule #3: Fall Hiking Clothes – Putting It All Together
Depending on your location and climate, there are multiple ways to layer. We created a few examples to help you plan your fall hiking outfit no matter the temperatures you encounter.

One item you should have from the start, no matter the temps outside, is a pair of comfortable hiking boots.
Waterproof hiking boots will keep your feet dry and warmer between the colder weather and the chances of dealing with rainy conditions. If you take care of your feet, they will take care of you!

My biggest tip for hiking boots or shoes to wear during the fall is to make sure they have great traction. The last you want to do is slip and fall during these wetter months.
What to Wear Hiking in 40 Degree Weather
Dressing for hiking when it is 40 degrees is one thing, but keep in mind the higher you go up, the colder it will be.

It is also possible that you will need to shed some layers as you get going and warm up. That is why we always leave extra room in our packs to stash any clothes we might need to put back on later when temperatures drop.
I will admit that it is nice to have to bundle up for a trek up the mountain. There is something about a chill in the fresh mountain air that livens me up!

Below is our list of must-haves when you are hiking during these frigid fall days…
What to Wear Hiking in 50 Degree Weather
Hiking when the temperatures are around 50 degrees makes it trickier to know what to wear. Most likely, you will feel chilly at the start, but even a 50-degree sunny day can feel warm.
On the opposite side of the spectrum, hiking in 50 degrees will feel chilly if it is cloudy and rainy.

That is why hiking in the fall can be challenging clothing-wise, but the views you get of leaves changing throughout the landscape make it worth it.
You will notice on the list below most of the items are lighter weight and use synthetic materials. There is no need to overdo it and risk getting too hot.

Plus, these clothes will not be too bulky while you are wearing them or take up much space in your backpack as you get warmer.
What to Wear Hiking in 60 Degree Weather
When you are hiking in 60 degree weather, you can keep it simple with lightweight clothes and no need for multiple layers. I would still stick with quick-drying and moisture-wicking options since you may sweat or even get caught in the rain.
If the forecast calls for sunny skies, short sleeves, a pair lightweight pants or leggings, socks and breathable hiking shoes along with your usual gear could be enough on these fine fall days.
What to Wear Hiking in 70 Degree Weather
Depending on where your trip takes you, hiking in 70 degrees will be the norm at the beginning of fall. Even though the temperatures will probably be below 70 degrees when you start your hike, you don't want to overdo it with your fall attire.
You can most likely get away with your summer hiking clothes, but I may opt for pants instead of shorts and bring along a light jacket, just in case.

All in all, you can't go wrong with a 70-degree day out on the trails, so dress accordingly and enjoy the views!
Enjoy Hiking This Fall!
Fall is one of the most beautiful times of the year.

The leaves are turning yellow, burgundy and amber. The cooler temperatures offer a reprieve from summer's sweltering heat and the rivers and streams start to cool.
It's prime hiking season, so get your gear, grab a trail map, and plan a hike.

It's important to dress appropriately for the weather. Use this guide as a starting point and get out and enjoy the great outdoors.
Be sure to check the weather conditions yourself before heading out on the trail and use your best judgment when dressing for a hike.

Remember, it's better to be over-prepared than to be left wishing you had an extra jacket.