HelloTrail® is reader-supported. We may earn a commission, at no additional cost to you, on purchases made from our expert chosen links.
There's nothing better to stimulate a good bit of campfire chat than asking the question, "what is the best camping cooking knife?".

Chances are, you'll get half a dozen answers.

That's partly because there are a lot of knives for camping and partly because choosing one is a very personal thing.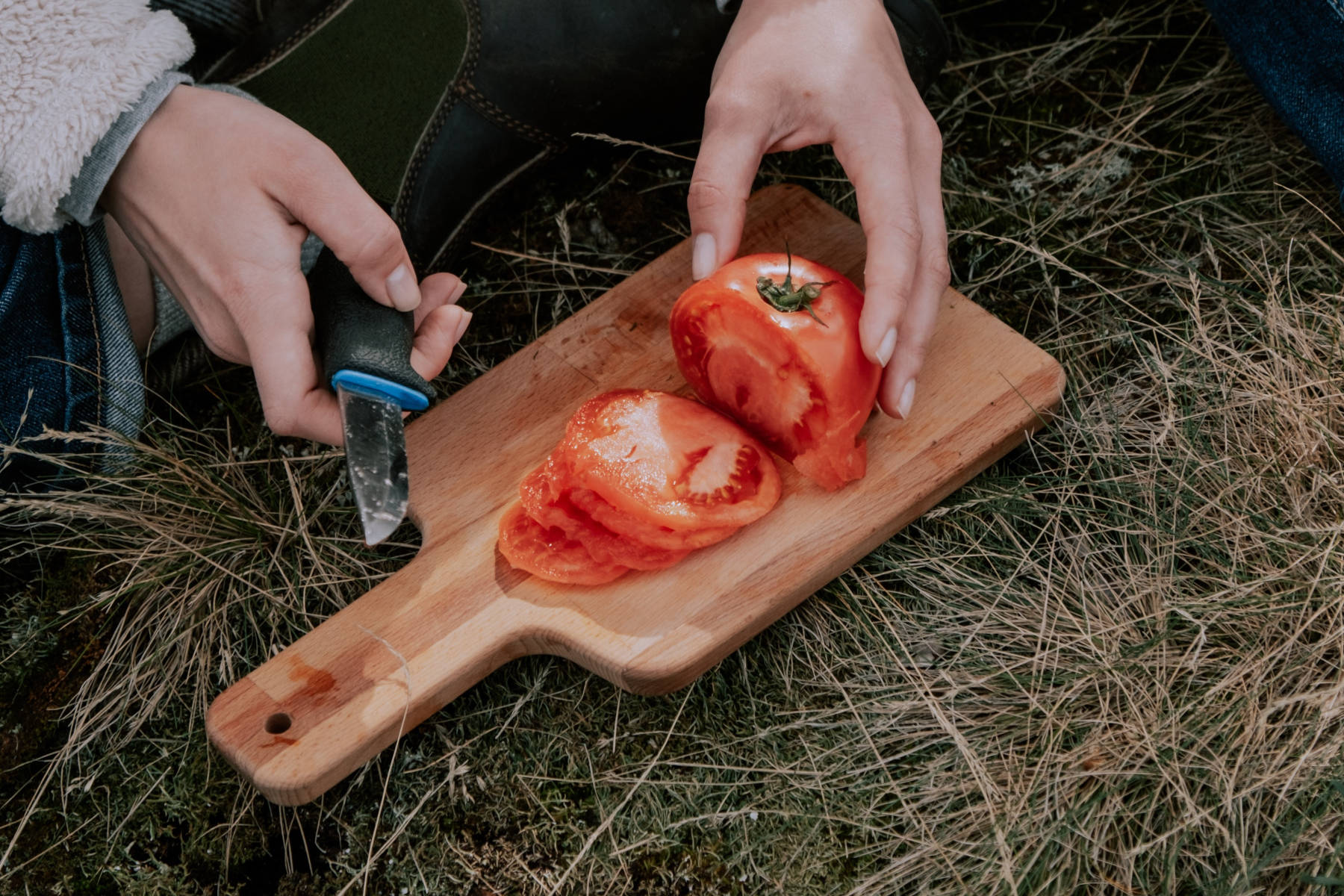 In this article, we'll look at the top camping knives whether you are a camp chef needing something ideal for food prep, want something more versatile or need a reliable blade for backpacking. So let's jump right into it…
The Best Knives for Camping in 2023
Best All Around Camping Knife: Benchmade Bushcrafter 162
The Benchmade Bushcrafter 162 knife looks almost too pretty to use, and its performance is even better than its looks.

It's a sturdy knife designed for heavy use – you don't have to worry about breaking it.

The main thing that sets the Bushcrafter 162 apart (and justifies its price tag) is the S30V steel used for the blade.
If you're not an expert on the different types of stainless steel – and let's face it, why would you be, let me translate: it's more durable than many cheaper steels, it will stay sharper for longer and requires less looking after.
Great for people who just want a knife to get jobs done day after day.

In fact, the Bushcrafter 162 is so robust that Benchmade offers a lifetime repair and sharpening service. That's manufacturer confidence for you.
It's small enough for whittling and food prep, but the 4.4" blade and full-tang design mean you can also baton wood for the fire without worrying about damaging the knife.
As you might expect, this kind of quality comes at a price. The Benchmade Bushcrafter 162 is not a cheap knife.

But if you're looking for a knife that will last you a lifetime of camping and bushcraft adventures, the Buschcrafter 162 is a worthy investment.
Best Folding Camping Knife: Spyderco Tenacious Plain Edge
Spyderco is a well-respected knife manufacturer with a full range of knives at different price points.

The Tenacious Plain Edge folding camp kitchen knife is at the lower end in terms of price but retains Spyderco's quality.

The Tenacious blade is made from 8CR13MoV stainless steel, which is a Chinese steel that's good value but not quite as hard or resistant to corrosion as more expensive steel.
That description may not quite do it justice, though, as this knife outperforms the ones costing significantly more.

The Tenacious is a larger knife designed for big hands, and it's pretty bulky in your pocket.
It's also worth noting that while the hole in the blade allows you to open the knife with either hand, it's not so easy for left-handed users to disengage the lock to close the blade one-handed.

It's not the kind of knife you will pass down to your son or daughter, but if you want a knife for basic camping cooking tasks or everyday use, the Spyderco Tenacious Folding knife is a great value.
Best Backpacking Knife: Morakniv Companion
Made in Sweden, the Morakniv Companion is one of the most highly rated backpacking knives on the market.

Unlike many camping knives which sacrifice performance in one area for another, the Morakniv can chop small tree limbs, carve delicate tools and finely fillet a fish.
The Morakniv Companion is a light knife, weighing in at just under 4 oz. But the big advantage for backpacking is that you won't have to carry multiple knives for different purposes making it one knife that can do it all.
The Companion's blade is made from hardened Sandvik 12C27 stainless steel.

If you want to shave a tiny bit off your backpack weight, the carbon steel blade version is 0.2 oz lighter – and even sharper. You'll need to be more careful when looking after your blade to stop it from rusting.
The Morakniv Companion comes with a plastic sheath, colored to match the trim on the knife handle.

There's a range of brightly colored options, which will make it easy to find the knife if you happen to drop it while out in the woods.
As well as being one of the best knives for camping on the market, the Morakniv's are also a great value. So it's not going to break your heart or your wallet if you happen to lose one in the wilderness.
Best Camp Kitchen Knife: MIKI Sharp 440A Stainless Steel
The MIKI Sharp Stainless Steel folding camping knife is described as a pocket knife, but you'll need pretty deep pockets since it is 5.5" long.

But this isn't the type of knife you'll be carrying around for odd jobs – its home is firmly in the camp kitchen.

Talk to any professional chef, and they'll tell you that the secret to quick and easy food prep is a super sharp knife.
That's why the MIKI Sharp 440A knife is such a great option.

The blade is as sharp as any chef's knife, and it's long enough to cut through meat, fish, and vegetables.
The folding mechanism protects the blade when not in use, so you can chuck the knife into your camping box or backpack without worrying about damaging it or the things around it.
Best Pocket Knife for Camping: Opinel Carbon Steel No8
Apart from the sharp carbon steel blade and its longevity credentials – Opinel knives have been around forever -, the best thing about the Opinel No. 8 folding knife is the locking mechanism.

The Virobloc safety ring has two sections – a fixed section and a sliding section – which means you can lock the blade open and lock it closed.
Good news if you're accident-prone and want to keep your fingers intact.

Although the No8 knife is one of the most popular for general use, the range varies from the 2.7" No6 blade to the long 4.7" No12 blade.
The beechwood handle is comfortable, and the wood is sourced from sustainably managed forests.

Some might call the design old-fashioned. Others would say that it's stood the test of time.
I'd say that if you're looking for a simple pocket knife for camping, you won't find much better value for money than the Opinel No8.
Best Camp Knife for Food Prep: Off-Grid Tracker-X
The Off-Grid Tracker-X is an excellent option for all you camping chefs out there!

It is a fixed blade knife that gives the versatility needed when outdoors.

The Tracker-X is considered the "everything knife" designed as a chopper, food prep, hunting, wood processing and even bushcraft.
If you are looking for a lightweight knife, the Off-Grid Tracker-X might not be for you, as it is 10.3 ounces.

But, with the added weight comes durability as the blade is 5mm and made with D2 steel.

The heavy-duty blade is almost 5 inches long and just over 1.5 inches wide.
The handle is grippy with 'snakeskin' Micarta scales that are functional and give your knife a little style – if you are into that sort of thing.

You also can choose between a blackwash blade or stonewash.
When you aren't using your Tracker-X, the blade is protected with a provided sheath that can be worn horizontally or vertically on your belt or pack.
Another perk to buying knives from Off-Grid is that they offer lifetime replacement.

Once you register on their website, they stand behind their product if you have any issues.
Best Camping Knife Set: Camp Chef 9 Piece Professional
When preparing your gourmet camping dinner, check out this Camp Chef 9 piece knife set if you like to have knife options.

The blades are made of high-quality stainless steel and the rubber handles help with grip when out in the elements.
The Camp Chef 9 piece camping knife set includes a bread, chef, filet, utility and paring knife – plus a carving fork and kitchen shears.

A carrying case is included to protect the blades and yourself, along with a cutting board.
What Do You Need a Camping Knife For?
Some manufacturers would make you believe that you can use their knife to chop a giant redwood into firewood or fend off a zombie invasion.

While some knives look like they're designed more for military combat than filleting a fish, most of us just need something to prepare food for dinner or wood for the campfire.
For this article, we are focusing on the best camping knives for the following tasks:
Preparing wood and kindling for a campfire
Cutting rope, cord and trimming brush
Cooking and preparing food
Fishing and hunting
All those little miscellaneous jobs you forget you need a sharp knife for.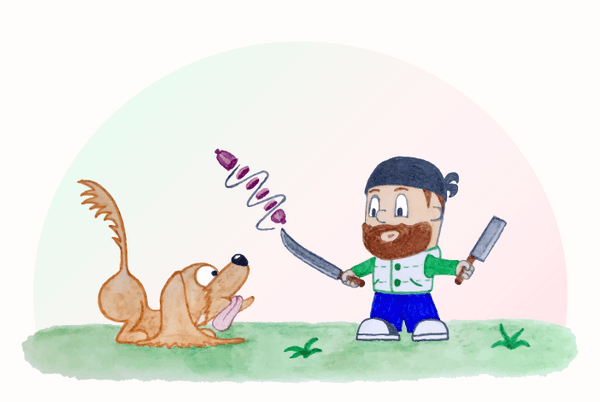 Fixed Blade or Folding Knife
The first decision you're going to have to make when choosing a camping knife is whether to go for a fixed blade or a folder.

Here's the lowdown on each…
Fixed Blade Camping Knives
Fixed blade camping knives come in lots of different shapes and sizes.

For food prep, shaving wood for kindling and general camp activities, a short 3" to 4" blade is likely more than adequate.
The exception to this is if you don't have an axe and want a knife you can use to split wood (batoning) as demonstrated in the handy video below.

You can use a four-inch blade for this, but a longer knife will make it much easier.
A full-tang knife (meaning the metal blade runs inside the handle's full length) is likely to be more reliable and less likely to break than a folding knife or partial tang knife, particularly if you're using it for heavy-duty tasks.

This is why most knives advertised as survival knives have fixed blades.
Some knives have a second sharp edge or saw blade on the top part of the knife.

While this may look handy at first glance, it's also likely to make pressing down on the knife when chopping vegetables pretty painful.
Folding Camping Knives
The main advantage of folding camping knives is that you can safely carry them around in your pocket or on your belt without worrying about accidents.

They're great for general purpose activities such as cutting cord, whittling tent pegs from wood and chopping vegetables, but for batoning firewood and clearing brush, you'll want a sturdier blade.
If you're accident-prone like me, some kind of easy-to-use locking mechanism is essential.

Many folding knives are designed to be opened with one hand, but not all knives are ambidextrous, so if you're left-handed, you may want to consider that when shopping.
7 Things to Consider When Buying a Knife for Camping
You need a knife. How do you choose it?

Here are the main features you need to consider…
1. Functionality
To put it simply, what do you want to do with your knife?

There's no point spending two hundred dollars on a 7" camping knife when all you're going to use it for is cutting cheese.

Equally, if you enjoy a good bit of bushwhacking, the tiny blade on a Swiss army knife isn't going to get you very far.
2. Durability
Opting for good quality materials may cost you more in weight and dollars, but they'll be much more durable than cheaper models.

This goes for the knife blade, the handle material and the sheath (for fixed blade knives).
3. Material
Most knife blades are made from either stainless steel or high carbon steel.

Stainless steel – resists rust and corrosion, tougher but softer than carbon steel. So it may be easier to sharpen, but it'll lose its edge quicker.
High carbon steel – stronger and harder than stainless steel, but you'll need to look after it to ensure your blade doesn't rust.

When it comes to the handle, there is an even wider range of metal, synthetic and natural materials available.

The difference between them largely comes down to personal preference and how the knife feels in your hand.
4. Weight
If you're car camping, this is unlikely to be a consideration, but every ounce matters if you're backpacking!
5. Price
There's a huge range of camping knives on the market at different price points.

Generally speaking, you'll pay more for better quality steel and workmanship, but as you see, there are some excellent knives available for very reasonable prices.
What you want to avoid is buying a knife just because it's cheap.

And then have it break the first time you use it for anything more than cutting cucumbers.
6. Legalities
Different countries have different laws relating to carrying knives.

For example, it's illegal in the UK to carry a fixed blade, lock knife, or a folding knife with a blade longer than 3″ in public without good reason.
Be aware of what the law says in your country or state, as it could affect what type of camping knife you choose to buy and what precautions you take to use it legally and safely.
7. How It Feels
This isn't something that can be easily conveyed in a written article, but it's worth mentioning.

As our hands and fingers are all different shapes and sizes, a knife that feels comfortable in one person's hand may be too big/small/awkward in another person's.
You can sometimes get an idea about whether a knife is right for you by reading many different reviews by other users, but the only way you'll know for sure is to try it out for yourself.
How to Care for Your Knife
Like any camping gear, knives need a little TLC to keep them sharp and ready for work.

Clean and dry the blade after every use and hone it regularly to keep it sharp.
Folding knives will need lubricating to stop the mechanism from stiffening up. If your knife has a carbon steel blade, it may also benefit from a bit of mineral oil, particularly if it will be put away for a while.

Other than that, you can't go wrong.
FAQs
What kind of knife is good for camping?
A good camping knife is going to depend on what you need to use it for. No matter what camp knife you buy make sure it is sharp enough to cut through the food you bring for camping like meat, fish and vegetables. Also keep in mind you might need your knife to cut small branches for fire kindling. In the table below we found the best camping knives for different uses so you can get the right one for your next trip.
What is a good thickness for camp knife?
A good thickness for a camp knife is between 1/8″ – 1/4″. You do not want too much flex in your knives and depending on what you are cutting it needs to be sturdy. Keep in mind that thicker camping knife blades will change how it feels in your hand so make sure to buy one that is well balanced for your needs.
Are folding knives good for camping?
Folding knives are good for camping because they can be versatile and take up less space with the added feature of not having an exposed blade when stowed properly. Folding knives come in different sizes for various uses like a 2.7 inch blade on the Opinel No6 or a 5.5 inch blade on the folding Japanese style camp kitchen knife by MIKI Sharp. Like any camping knife make sure you are getting the right one for what you will be using it for whether that is food prep or just cutting some paracord.
Wrapping It Up…
As I said at the beginning, choosing a camping knife is a very personal choice, especially if you're looking to invest in a knife that will last you for years.

You can research what knives are best suited for different purposes, but no article can explain how a particular knife feels in your hand.
Is that helpful? Possibly not, but at least it's honest.
To find the best camping knife for you, it's worth feeling some out – literally.

Whether that's visiting your local store, borrowing your friend's knife, or ordering online with a close eye on the returns policy. Find the knife that you think you want, then try it out to make sure it's the knife you really want.