When I worked for Adaptive Adventures in Boulder, CO and we attended the annual No Barriers Summit in Telluride, my jaw dropped as we got closer and closer to town.

This was my first introduction to the San Juan Mountains, and although I lived next to the Rocky Mountain range, I could not believe what my eyes were seeing.

It's no wonder that celebrities like Oprah, Tom Cruise and Ralph Lauren have snapped up properties to grab views of the majestic peaks around Telluride.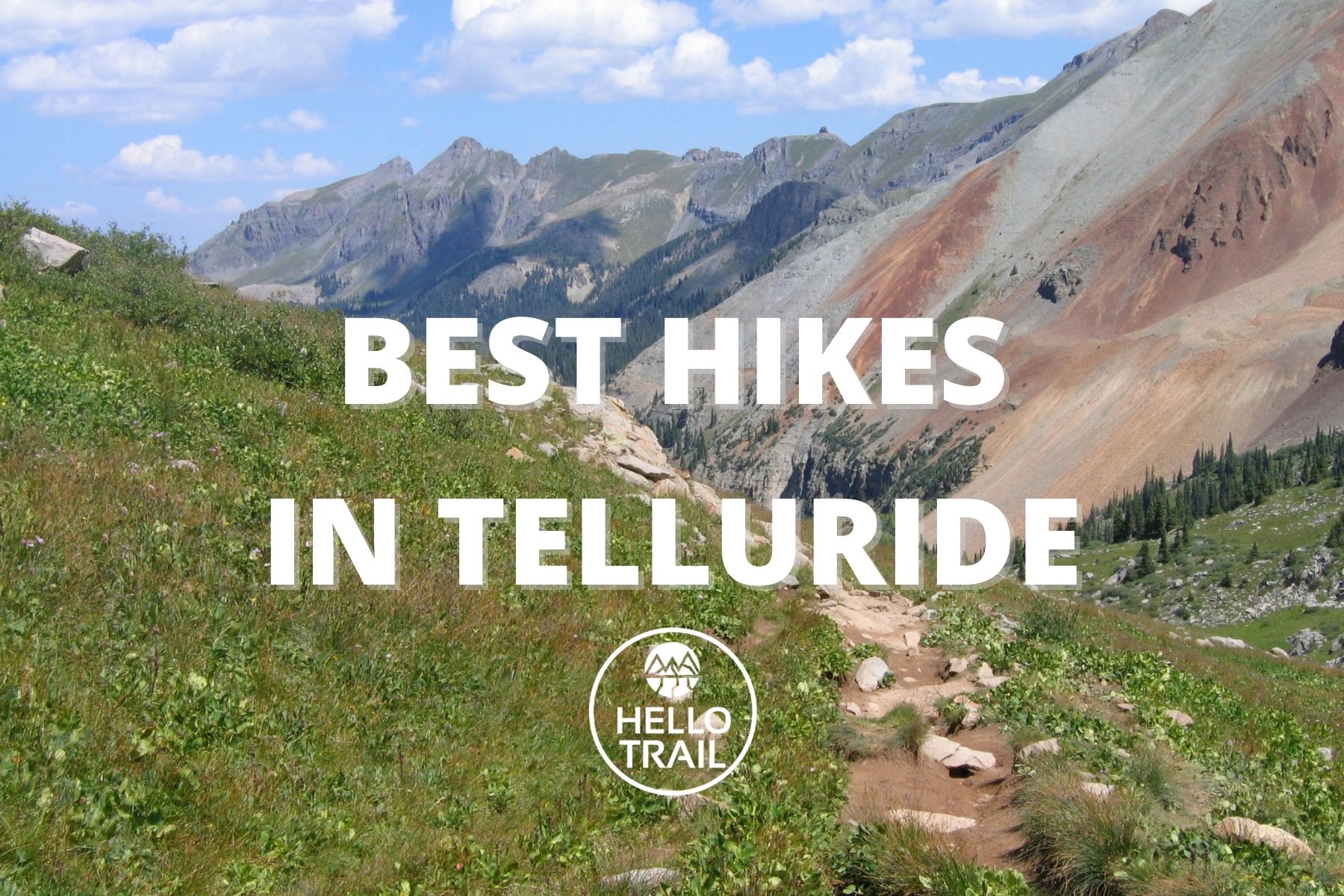 Although Telluride is most famous for its massive ski resort, it serves as a year-round attraction for outdoor enthusiasts. The weathered ruins of old mining operations are scattered across the hillsides while popular Bridal Veil Falls sits at the head of the canyon, serving as a popular tourist attraction.
These 10 Telluride hiking trails are sure to leave you in awe and begging for a return trip soon.

Here's a quick overview of the best hikes in Telluride, but keep reading to learn more about these picturesque trails, and how to make the most of your trip to the San Juan Mountains!
Tips for Hiking in Telluride Colorado
The hiking season in Telluride is from May to early October, with the wildflowers peaking in early July.
The trails vary from easy day hikes to high elevation excursions, so know your limits and don't take on more than you can handle at these higher altitudes.
Many of the mountains around Telluride exceed 13,000 feet and are sprinkled with high alpine lakes.
Bridal Veil Falls is the highest free-falling waterfall in Colorado, serving as a popular hiking destination.
Although mornings can foretell a beautiful sunny day, afternoons often bring Colorado rainstorms – especially if you are hiking in the summer – so it's important to be prepared for wet weather and changing temperatures.
It's essential to carry sunscreen and extra layers, not to mention that bug spray is recommended during the summer months.
There are over 90 total hikes and historic walks through Telluride, making for a coveted adventurer's destination that never really loses its charm.
1. Sneffels Highline Trail
An epic Telluride hiking trail, Sneffels Highline takes you through fields of wildflowers, gorgeous alpine basins, and an aspen forest.
You will climb more than 3,000 feet to the high point on the saddle below Mt. Emma. Though not for the inexperienced or faint of heart, Sneffels Highline is worth its weight in gold.
If you're an experienced hiker, acclimatized to the elevation, and are looking for a full day of activity, then make the Sneffels Highline Trail your top priority.
2. Hike to Bridal Veil Falls
The Bridal Veil Falls hike in Telluride takes you to Colorado's largest free falling waterfall. A historic power plant is located at the top of the falls, and the Bridal Veil Basin area is full of trails leading to other aesthetic destinations for those looking to extend their journey.

The Bridal Veil Falls trail ascends a jeep road and offers sweeping sights of the Telluride Valley.
A modest 1,380-foot elevation gain makes for a great warm-up for bigger hikes. Bridal Veil Falls trail comprises mostly switchbacks, including excellent vistas for photographs and ends at a gate to the power plant.
3. Lizard Head Hiking Trail
The Lizard Head trail is Telluride hiking at its finest taking you past Trout Lake and many other scenic natural features, including Pilot Knob and Golden Horn.

If you can arrange shuttle vehicles, the best way to execute this hike is to connect to the Cross Mountain Trail and make for a nearly complete loop.
Nearly 3,000 feet in elevation gain makes for a challenging trek — but you're rewarded with unbelievable sights along the way, highlighted by the 400-ft Lizard's Head spire.

The Lizard's Head Hike is essentially a sweeping traverse of the ridge of Black Face Mountain. Enjoy nearly four miles of alpine meadows.
4. Bear Creek Falls Trail
Bear Creek Falls is one of the easy hikes in Telluride with amazing views.
5. Blue Lake Trail Hike
One of the best hikes around Telluride, the Blue Lake Trail takes you to an alpine lake above 12,000 feet in elevation. The area is also loaded with mining relics, serving as a joint historical exploit.
Your journey begins up Bridal Veil Basin past the waterfall and the mine. It continues through fields of wildflowers until you arrive at the spectacular Blue Lake, situated at an elevation of 12,400 feet.
Blue Lake Trail offers views of waterfalls, an old tram, mining cabins, and a bunkhouse. You begin on the switchbacks that brought you to Bridal Veil Falls and continue into the alpine wilderness.

Don't Miss: Best Hikes to See Fall Colors in Colorado
6. Wasatch Hiking Trail
It's great you can start some of these Telluride hikes from town like the Wasatch Trail. Starting at the end of S. Pine Street, the Wasatch Trail provides winding views of alpine basins, waterfalls and the remnants of winter snow at an elevation exceeding 13,000 feet.

The best time to hike the Wasatch trail is in summer or autumn when you can see the wildflowers in all their splendor.
While not an exceedingly long trail, it gains more than 4,300 feet in elevation, so it's best to be acclimatized and prepared to take it slowly while bringing along plenty of water and food. The trail comprises a large loop around Wasatch Mountain and La Junta Basin.
7. Telluride Trail
A beautiful beginner's hike, the Telluride Trail in the Telluride, Colorado ski area is a scenic journey on foot during the summer months. Be on the look out for wildlife including marmots, porcupine, and deer.
The Telluride Trail is an excellent trek for those of all abilities because you can always bail at the top and take the gondola back down. Enjoy stunning views of the surrounding mountains and downtown Telluride below you. The elevation gain is less than 2,000 feet.
8. Navajo Lake Hiking Trail
In Telluride's Lizard Head Wilderness area, the Navajo Lake hiking trail offers breathtaking views, meanders through forests, waterfalls, and wildflower-filled alpine meadows.
The journey takes you along the broad valley formed by the West Dolores River while also providing views of three 14,000 foot peaks, including Wilson Peak, Mount Wilson, and Diente Peak. The elevation gain of the Navajo Lake trail is about 2,400 feet.
9. Whipple Mountain Trail
The Whipple Mountain Telluride hike offers stunning views of the Mount Sneffels Wilderness, including Mt Wilson and the La Salle mountain range in Utah. You can start the Whipple Mountain Trail from either a Western or Eastern trailhead.

West to East awards you with a downhill trail, while East to West will require a significant gain in elevation.
It is not recommended to hike the Whipple Mountain trail during winter due to thick vegetation and the difficulties that snow can pose to the trailhead access.
10. Hope Lake Trail Hike
Hope Lake Trail is one of the best hikes near Telluride with its lavish wildflower meadows, 13,000-foot peaks, and a striking alpine environment. The Lizard Head Wilderness is full of wonders.

The colorful Vermillion Peak and the gorgeous glacial Trout Lake and Hope Lake provide plenty of jaw-dropping beauty.
The Hope Lake trail is short, but the elevation gain is over 1,000 feet, serving as a respectful day hike or a warm-up for a higher summit.
How to Get to Telluride
Getting to Telluride can be a bit challenging because of its distance from major international airports. Denver is the closest major airport, located about six hours away from town. From Denver, you can rent a car and drive to Telluride.
Alternatively, smaller airports are located closer to Telluride, including the Telluride Regional Airport nestled right in the mountain. From Denver or Dallas-Fort Worth, you can fly into the Montrose-Telluride airport. It's a 75 minute drive from Montrose-Telluride into town.
Another option is to fly into the Grand Junction Regional Airport, located about two and a half hours from Telluride. Six major cities offer non-stop flights into Grand Junction, including Denver.

Durango-La Plata is another airport located the same distance away as the Grand Junction Regional Airport, with options to fly in from various major cities.
Great Lakes Airlines serves Telluride's airport, located fifteen minutes from the ski resort, and offering year-round flight options. Flying directly into the Telluride airport is the only way to avoid a significant amount of drive time.
Wrapping It Up…
Still uncertain? Visit in July when the wildflowers are at their peak and don't forget your camera because every step you take is an eye-catching photograph just yearning to be taken!
Check out our Google Web Story – 7 Telluride Hikes that Will Transport You to Another World