As someone that grew up in numerous Midwestern states, I've explored many of the best hiking trails in the Midwest, and let me tell you, they are better than you might initially think!

From the rugged beauty of Theodore Roosevelt National Park in North Dakota to the scenic views in Shawnee National Forest in Southern Illinois – yes, I am a Saluki!, there's something for every outdoor enthusiast.
Whether you're in Minnesota, Wisconsin, Missouri, Illinois, Indiana, or Ohio, these Midwest hikes have plenty of hidden gems waiting to be discovered. So grab your hiking boots (and bug spray) and get ready for an adventure like no other.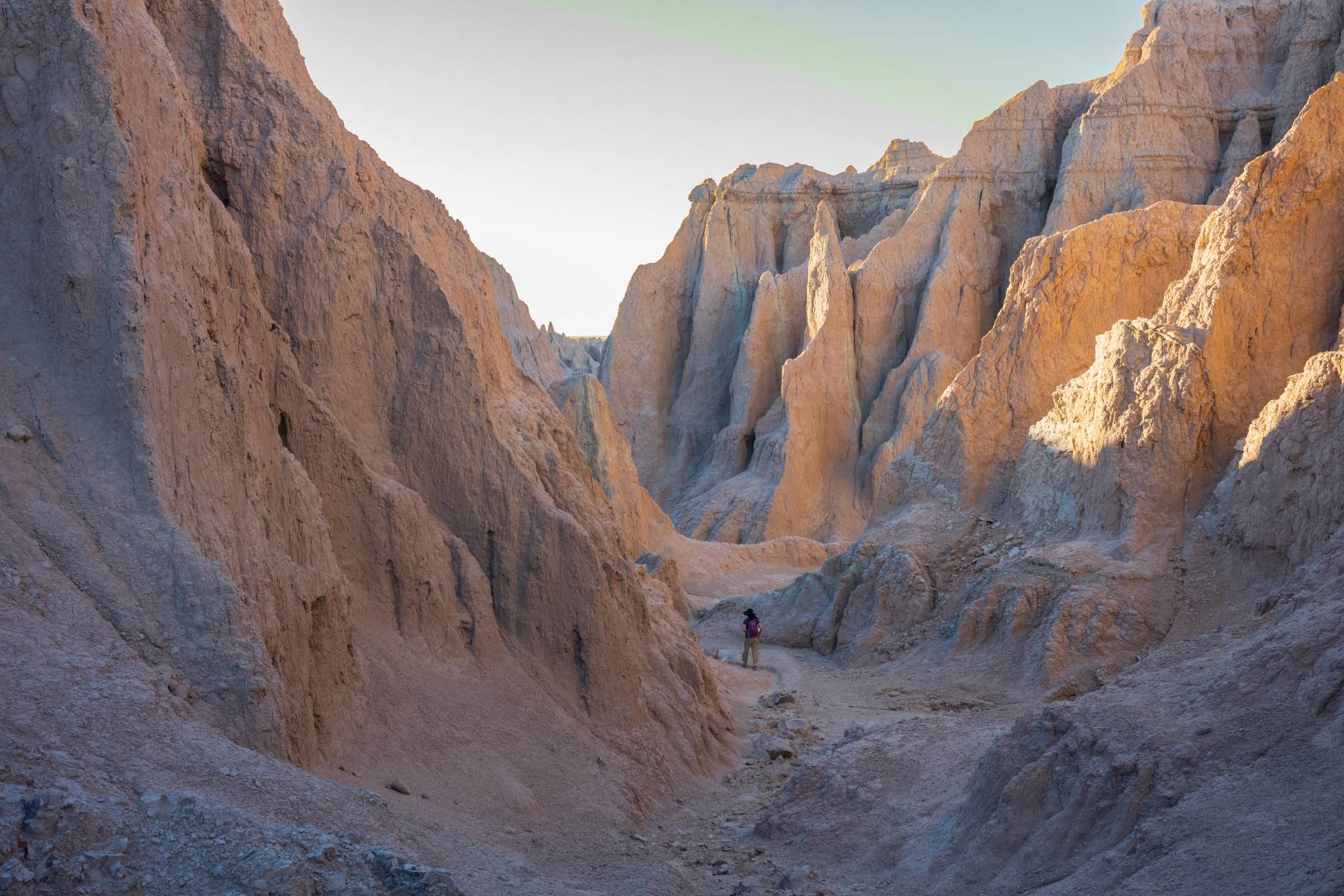 Best Hikes in the Midwest
1. Caprock Coulee Trail – North Dakota
The Caprock Coulee Trail in Theodore Roosevelt National Park, North Dakota, is one of the best hikes in the Midwest, offering breathtaking scenery and the chance to spot wildlife.

The trail is a 4.1-mile loop with a moderate difficulty level that can be completed in about 2 to 3 hours. Starting counterclockwise lets you tackle the uphill sections early on and end with stunning panoramic views from the ridge.
The first mile of the hike shows off the diverse geology and biology of the badlands. From here, the Caprock Coulee trail ascends steadily through forests and scenic canyons. Although the climb can be challenging, the reward is worth it.

If you're up for it, there's an optional detour to the Big River Overlook, which lets you look over the Little Missouri River.
NOTE: To make the most of this hike, I recommend going early in the morning or late in the day to avoid the heat. Don't forget to bring sunblock and at least 1 to 2 liters of water per person.

While on the trail, be sure to maintain a safe distance from bison and watch out for rattlesnakes.
2. Centennial Trail – South Dakota
The Centennial Trail in South Dakota is a challenging Black Hills National Forest adventure.

Consisting of 125 miles, there are various landscapes, from prairies to woodlands, granite spires to grasslands. It truly showcases the beauty and diversity of the Midwest.
Hiking the Centennial Trail is an opportunity to connect with nature and experience the great outdoors.

If you are interested in backpacking, the trail can be completed in 5-8 days (phew, that made me tired just typing that). It's a moderate difficulty trail, with constant elevation changes that will keep you on your toes.
Of course, most people will only choose a small section of the trail to hike since there are seven different trailheads. One of the highlights of the Centennial Trail is the chance to spot wildlife.

As you hike, keep your eyes peeled for buffalo/bison, prairie dogs, elk, pronghorn antelope, foxes, and coyotes. Witnessing these animals in their natural habitat is a unique experience.
NOTE: Poison ivy and ticks are common, so take precautions. Additionally, be cautious of creek crossings and check water sources, as they may be scarce in hot weather.
3. Notch Trail – South Dakota
Located within Badlands National Park in South Dakota, the Notch Trail is a thrilling experience with its ladder climb and scenic cliff walk. This 1.5-mile path is perfect for those seeking an adrenaline rush.

I was amazed by the variety of terrain on this hike. Starting with a flat walk through a wide canyon, I soon came across a wooden ladder.
Climbing it was the trickiest part, but there is a canyon detour for those who prefer to stay on solid ground. As I continued along the trail, I was treated to remarkable views of the Badlands from the cliff edge.

The hike's highlight was reaching 'The Notch,' a cut-out in the walls that provided a beautiful view of the White River Valley. The Notch Trail is a must-do for adventure seekers looking to explore the beauty of Badlands National Park.
NOTE: This trail is not recommended for anyone with a fear of heights.
4. Superior Hiking Trail – Minnesota
The Superior Hiking Trail in Minnesota offers incredible views and diverse landscapes. The 310-mile path takes you through Northern Minnesota's 'Arrowhead' region, showcasing geological formations such as volcanic ridges, lakes, streams, and waterfalls.
The best times to embark on this adventure are late summer and fall, but it can be hiked year-round. If you are planning a multiple-day hike, check into shuttle companies. This way, you can explore more miles of the Superior Trail.

Many folks choose to do shorter trail sections using this resource to plan their day.
NOTE: Bear safety precautions should also be taken, including storing food in odor-proof bags and hanging it at night (if camping).
5. Hardwood Lakes and Chippewa Moraine Ice Age Trail Sections – Wisconsin
I love hiking the Ice Age Trail in Wisconsin. One of my favorite sections is the Hardwood Lakes segment, a 5-mile stretch that takes you through the Chippewa Moraine Lakes State Natural Area and Chippewa County Forest.
It's like stepping into a rustic wilderness paradise. The scenery is breathtaking, with beautiful lakes, beaver ponds, wetlands, and streams.

As you make your way through the trail, you'll notice that it becomes more hilly and enters the denser county forest.
One of the highlights of this section is the photogenic Mud Brook Valley, which features a boardwalk over wetlands. It's a great spot for taking pictures and immersing yourself in the area's natural beauty.

Another section of the Ice Age Trail that I highly recommend is the Chippewa Moraine segment. This 7-mile course takes you through a unique geological area.
The high-relief terrain, rolling hills, and valleys provide a challenging yet rewarding hiking experience. Plus, the trail crosses precarious bridges over lake channels, adding an element of adventure to your hike.
6. Pictured Rocks – Michigan
The trails at Pictured Rocks in the Upper Peninsula of Michigan offer some of the most stunning views of Lake Superior. With over 100 miles of trails, there is something for everyone to enjoy.

This place is a nature lover's paradise, from waterfalls to beaches and forests to cultural sites.
There are plenty of day hikes of various lengths and difficulties available in the park.

You can choose from trails like the 1.2-mile Miners Falls Trail, the 2-mile Miners Castle to Miners Beach trail, or the Chapel Falls Trail, a 2.5-mile round trip hike to a 60-foot waterfall.
NOTE: One thing to keep in mind is that pets are not allowed on most trails in Pictured Rocks National Lakeshore. So, if you're planning to bring your furry friend along, you might have to explore other options.

It's essential to be prepared for fast weather changes and cool conditions, as Lake Superior affects the local weather. Also, be aware that insects like black flies, mosquitoes, and stable flies can be a nuisance, especially during summer.
Bicycles are prohibited on any trails, so leave your bike home. Lastly, during hunting season, wearing bright colors is recommended for safety reasons.
7. Escarpment Trail in the Porcupine Mountains – Michigan
One of the most challenging and rewarding Midwest hikes is the Escarpment Trail in the Porcupine Mountains of Michigan.

This 8.5-mile out-and-back trek takes you high up on rocky bluffs, offering breathtaking views of the Lake of the Clouds and the Big Carp River Valley.
As you make your way along the trail, watch your footing as it skirts the edge of cliffs.

The trail takes you through lush woodland, gradually ascending about 1,690 feet in elevation. The effort is well worth it, as you're rewarded with stunning views!
NOTE: It's important to wear sturdy boots or shoes, as parts of the trail can be rough with loose rocks and roots. Additionally, bring a hat and plenty of water for warm weather, as the hike is mostly exposed to the sun.
8. Horseshoe Bluff Trail – Iowa
The Horseshoe Bluff Trail in Iowa offers hikers a view of the canyon below and the majestic Horseshoe Bluff.

This trail is a hidden gem in Northeast Iowa, just outside Dubuque. With a length of around 1.3 miles, it provides a moderate level of difficulty.
The trail takes you through diverse landscapes, including juniper and pine forests, offering a unique and immersive hiking experience.

Along the way, you'll also encounter a variety of wildflowers, such as yellow and purple coneflowers, adding beauty to the trail.
Wildlife sightings are common, with red-shouldered hawks and flying squirrels making appearances.
9. Rock Bluff Run Trail (Indian Cave State Park) – Nebraska
Exploring the Rock Bluff Run Trail in Indian Cave State Park is a thrilling adventure that will leave you in awe of the surrounding natural beauty.

This challenging but rewarding hike spans just over six miles, making it a perfect day-long excursion for those seeking a vigorous outdoor activity.
As you traverse the trail, you'll immerse yourself in picturesque landscapes, from expansive fields to tranquil wooded glades.

The trail's highlight is the breathtaking vista from the top, where you can witness the countryside of Kansas stretching out before you.
10. Tallgrass Prairie National Preserve – Kansas
Tallgrass Prairie National Preserve in Kansas is truly a Midwest hidden gem. As you hike along the Southwind Nature Trail, you will be captivated by the magnificent views of rolling hills and vibrant wildflowers.

The trail showcases the prairie ecosystem's beauty and introduces visitors to the incredible wildlife that calls this place home.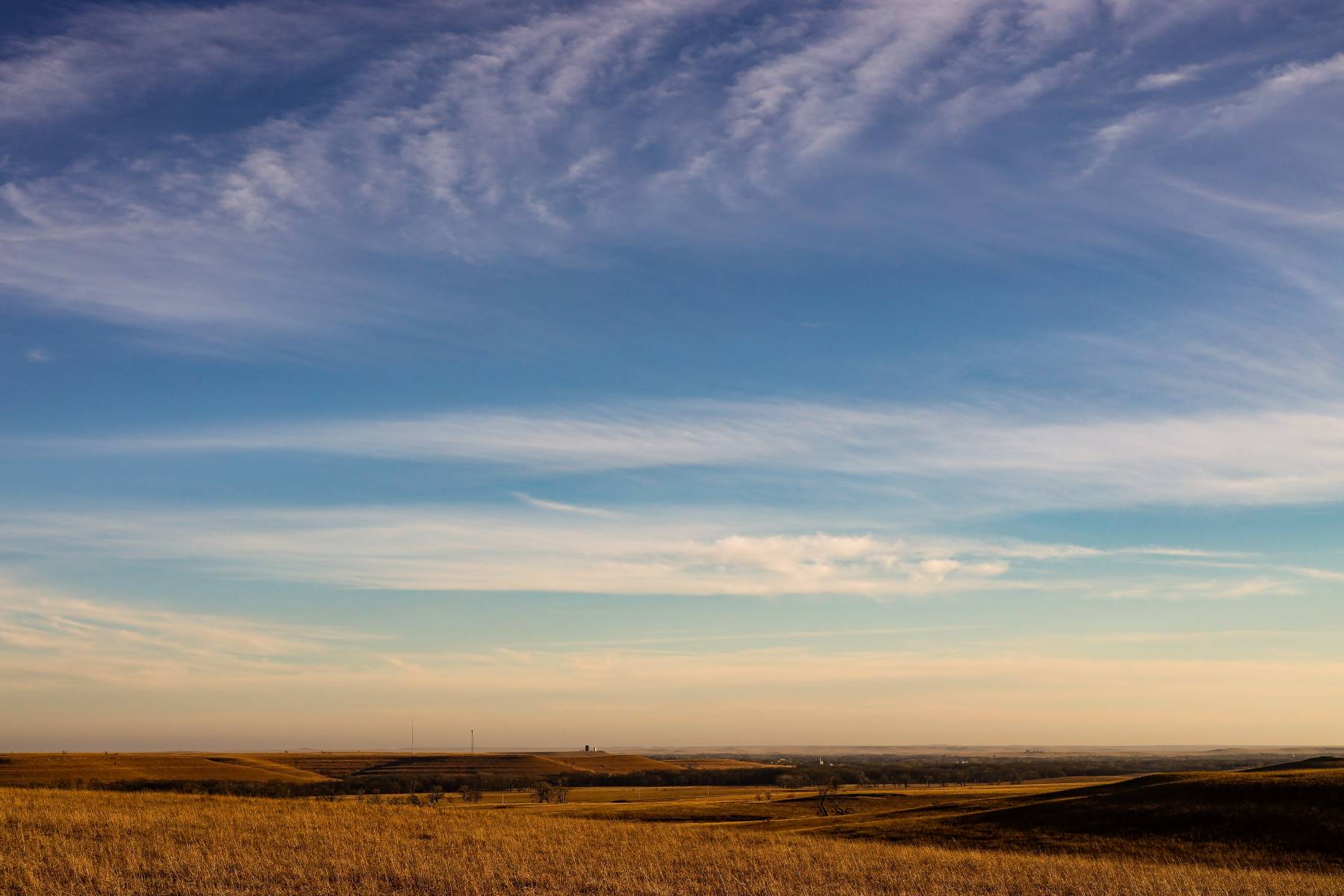 I was lucky enough to spot a bison roaming freely, a sight that hadn't been seen there in over a century until they were re-introduced in 2009.
The Bottomland Nature Trail is another must-visit hike in the preserve. Its two loops provide a unique opportunity to explore a bottomland prairie restoration area.

As I walked through the gentle slopes, I couldn't help but appreciate the importance of this ecosystem in our human history. The trail is wheelchair-friendly during dry weather, making it accessible to all.
For those looking for a longer hike, the Fox Creek Hiking Trail is a great choice. This 6.1-mile round-trip trail takes you through bottomland prairie restoration plots and follows the scenic Fox Creek.

Along the way, you can even try your hand at catch-and-release fishing.
11. Greer Spring Trail – Missouri
Greer Spring Trail in Mark Twain National Forest, Missouri, is 1.4 miles long and takes you through a stunning landscape filled with towering trees and vibrant greenery.

The highlight of the hike is how the trail got its name – Greer Spring – the second-largest spring in Missouri.
Although swimming, wading, and fishing are not allowed in the spring, the peaceful atmosphere is just what the doctor ordered.

NOTE: Be on the lookout for bugs like mosquitoes, ticks, and chiggers along the way.
12. Little Grand Canyon – Southern Illinois
The breathtaking Little Grand Canyon in Shawnee National Forest is a must-see destination for hikers in the Midwest.

This 3.6-mile loop trail is a moderate to strenuous hike that offers impressive views of Southern Illinois's waterfalls, rock formations, and rolling hills.
The best times to visit are in April and October when the spring wildflowers and fall colors are in full bloom.

You'll be treated to a waterfall cascade, creeks, and natural windows that provide glimpses of the surrounding beauty as you go along.
NOTE: It's important to exercise caution as the trail can be slippery, especially during wet or wintry conditions. Don't forget to use bug spray to protect against flies, mosquitoes, and ticks!
13. Trail 3 Turkey Run State Park – Indiana
One of the highlights of Trail 3 at Turkey Run State Park in Indiana is the Punch Bowl, a circular chamber with a waterfall. As you hike along this rugged 1.9-mile loop, you'll encounter ravines, boulder scrambles, and ladder climbs.
The park was created to preserve its unique natural features, including old-growth stands of virgin forest.

You'll need to cross a suspension bridge over Sugar Creek to reach the trail, which leads you into the Rocky Hollow-Falls Canyon Nature Preserve. The landscape is unlike the typical scenery found in Indiana.
The trail takes you through freshwater lagoons, rock shelters, and wet-weather waterfalls. Be prepared for numerous creek crossings and narrow paths carved into the steep rock face.

Along the way, you'll also pass through a tranquil woodland stretch with staircases and benches for resting.
Trail 3 ends with the famous ladders of Bear Hollow, descending 25 feet against the canyon walls. Just be cautious when navigating these ladders.
14. Whispering Cave (Hocking Hills State Park) – Ohio
The Whispering Cave trail in Ohio's Hocking Hills State Park offers rugged terrain, jagged rocks, and a suspension bridge that adds an extra element of excitement to the hike.

The cave itself was a sight to behold. As I ventured into the cave, I was greeted by the sound of water trickling down the walls, creating a soothing and peaceful atmosphere.
The honeycomb formations in the rocks were extraordinary, and I couldn't help but marvel at the beauty of nature.

The cliff erosion provided a unique glimpse into the forces of nature at work. The flora and fauna of the region were also abundant, and I enjoyed spotting various plants and animals along the trail.
Wrapping It Up…
The Midwest provides a variety of incredible hiking trails for outdoor enthusiasts. From the stunning landscapes of Theodore Roosevelt National Park in North Dakota to the rugged beauty of Badlands National Park in South Dakota, and the serene forests of Minnesota and Wisconsin, there is something for everyone.

Whether you're seeking challenging terrains or peaceful nature walks, the Midwest hiking trails will not disappoint. So grab your hiking gear and explore the wonders of the region's natural treasures.