If you are searching for quintessential Colorado outdoor adventures, look no further than the city of Fort Collins, located 65 miles north of Denver. As the home of Colorado State University and a stone's throw away from the majestic Rocky Mountain National Park, Fort Collins offers ample opportunities to revel in nature's beauty.
With a wide array of hiking trails in Fort Collins, you have countless options to immerse yourself in the great outdoors, participate in bird watching, or even snap some stunning photos to fill up your Instagram feed.
Having lived in Colorado on multiple occasions, I can confidently say this part of Northern Colorado offers amazing outdoor recreation opportunities in the Front Range. That's why I wanted to highlight some of the best hikes near Fort Collins for you to explore.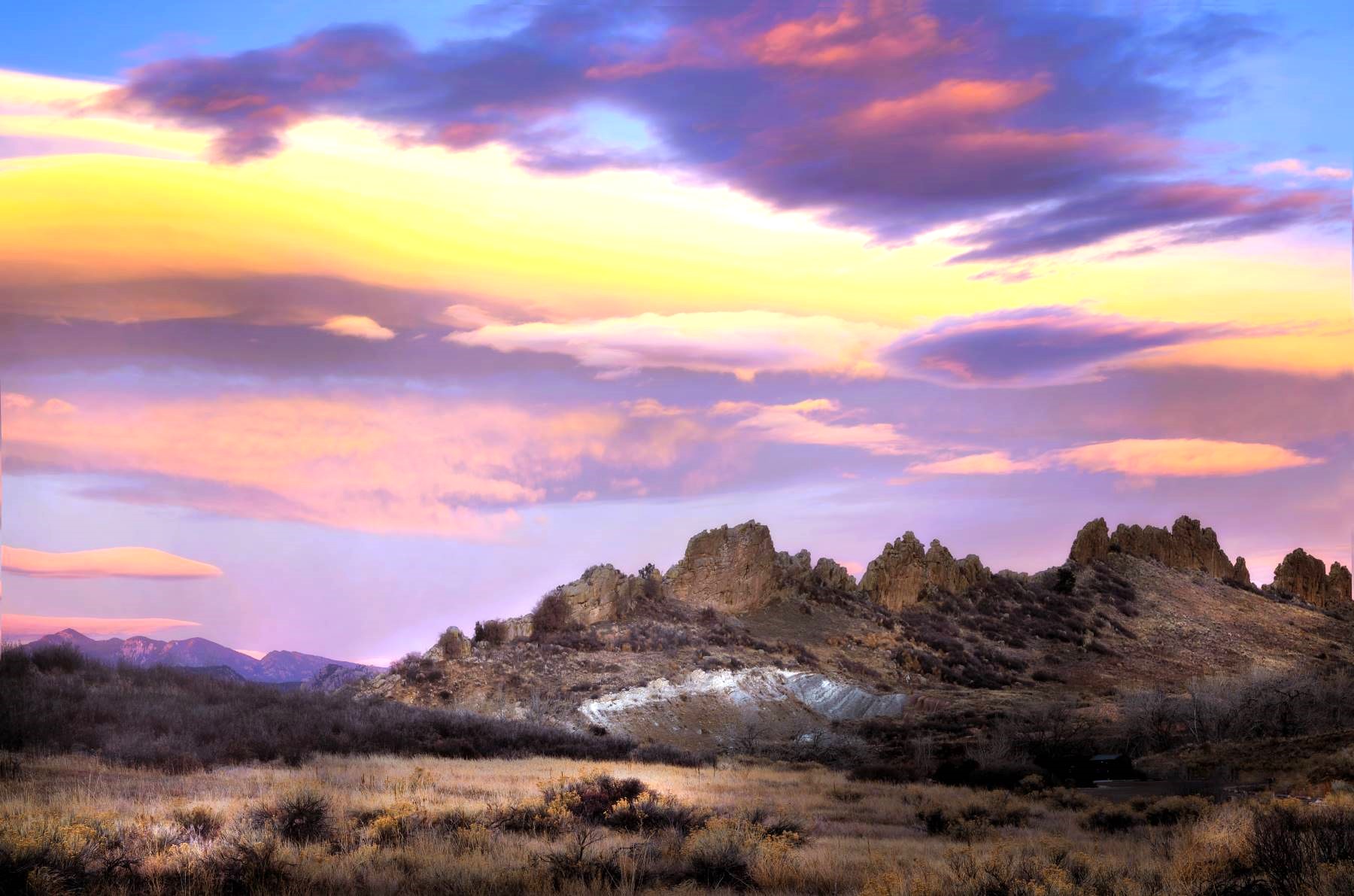 Before you embark on your adventure, consider some crucial hiking tips.
First, always stay hydrated and carry enough water for the entire hike. If this is your first time trekking at these elevations, you must drink more than usual.
Second, check the weather before you leave to ensure you are appropriately dressed. The weather can change quickly in the mountains, and temperatures vary depending on the elevations you will be exploring.
Lastly, respect the trails and the wildlife that calls them home.
Now, let's dive into some of the best trails near this vibrant city.
1. Hewlett Gulch Trail
The Hewlett Gulch Trail in Poudre Canyon is a scenic 30-minute drive from downtown Fort Collins via Highway 14. The 8-mile out-and-back trail passes through a canyon, offering plenty of stream crossings and breathtaking views of the natural area.
This hike is a journey back in time, as you will come across foundations from homesteads built in the early 1900s.
One of the perks of this trail is that dogs are allowed to explore off-leash in some areas, but during early fall, keeping your pup leashed due to bear activity is recommended. Always remember to keep your furry friend and yourself hydrated throughout the hike.
With its rich history and natural beauty, the Hewlett Gulch Trail truly embodies the spirit of Colorado's great outdoors.
Hewlett Gulch
Difficulty: Moderate
Distance: 8 miles (13 km)
Trail Type: Out-and-Back
Location: 40.691103, -105.310164
2. Young Gulch Trail
Next on our list is also in Poudre Canyon, the Young Gulch Trail. This trail in the Roosevelt National Forest offers breathtaking views of the canyon and the majestic surrounding mountains.
As you make your way along the trail, you'll encounter several creek crossings, but don't worry, there are newly constructed footbridges and wood beams to assist you. The trail takes you through a peaceful pine forest and a narrow canyon, leading you to a burn area with unique rock formations and burnt trees.
The view is truly rewarding once you reach the top of the hill. You'll be treated to panoramic views of the Cache la Poudre River and its picturesque scenery. The Young Gulch Trail is just over 10 miles long with an elevation gain of around 1300 feet.
It's a popular hike, but thankfully, it is not overly crowded. If you want to avoid the crowds, start early and try to go on weekdays during the summer.
Young Gulch
Difficulty: Moderate
Distance: 10 miles (16 km)
Trail Type: Out-and-Back
Location: 40.688624, -105.348054
3. Greyrock Mountain Loop
Greyrock Mountain Loop is one of Fort Collins' unique hikes that delivers a remarkable blend of adventure and serenity. The 7-ish mile loop provides a satisfying challenge for hikers, showcasing the area's stunning natural beauty and wildlife.
But be prepared, the first 5k sees you climbing nearly 2,000 feet! The terrain varies, offering an engaging hiking experience with various landscapes.
Greyrock Mountain is one of the most popular hikes near Fort Collins, so get started early to beat the crowds and the summer heat!
Don't Miss:
Make sure to plan a trip to take on these other sweet hikes in Colorado…
4. Horsetooth Rock to Horsetooth Mountain Loop (Horsetooth Falls)
The Horsetooth Rock to Horsetooth Mountain Loop is a must-visit for anyone seeking the best hikes in Fort Collins. The trail is part of the vast Horsetooth Mountain Open Space, known for its scenic mountain park views and well-maintained trails.
The Horsetooth Rock Trail, in particular, offers an immersive hiking experience with a gradual transition of grassy terrains into lush pine forests. It's no wonder it is a popular hike among locals and tourists.
The trail is approximately 6 miles long and is steep in areas with around 1600 ft of elevation gain. Along the way, you'll enjoy panoramic views of the Horsetooth Reservoir. If you're lucky, you may even spot wildlife like deer or foxes.
To get there, take a scenic drive west from downtown Fort Collins and south of the reservoir. You will need to pay a $10 daily use fee if you don't already have an annual pass.
Horsetooth Mountain
Difficulty: Moderate
Distance: 6 miles (9.7 km)
Trail Type: Loop
Location: 40.523942, -105.181120
5. Arthur's Rock Trail
Arthur's Rock Trail is another gem among the Fort Collins hiking trails. It is well-marked, and the ascent towards Arthur's Rock provides a rewarding workout. The trail's terrain varies from grassy landscapes to pine forests, similar to the scenic transition found in the popular Horsetooth Rock Trail.
From the top of Arthur's Rock, you'll be rewarded with mountain views of the surrounding area. It's a sight that always impresses, regardless of how many times you've hiked the trail.
Since the 3.4-mile trail is within Lory State Park, you will need an annual pass or pay $10 for the day. You can't put a price on experiencing this kind of beauty around Fort Collins – but at the very least, I guess that price tag is ten bucks.
Arthur's Rock
Difficulty: Moderate
Distance: 3.4 miles (5.5 km)
Trail Type: Out-and-Back
Location: 40.564573, -105.174511
6. Lory State Park Loop Trail
If you're up for a challenging hike near Fort Collins, the Lory State Park Loop Trail is an excellent option. This loop trail, spanning over 10 miles, will test your endurance with its 1,700 feet of elevation gain.
Despite being a moderate trail, the Lory State Park Loop rewards you with stunning lake views and an opportunity to experience some of the best of Colorado's natural beauty.
For those looking to make their hike even more memorable, there's an option to take a detour to the Arthur's Rock Trail we just discussed.
The Lory State Park Loop Trail is also shared with bikers and horseback riders, so keep an eye out and respect all trail users.
And remember your ten dollar bill for the daily use fee to enter Lory State Park.
Lory State Park Loop
Difficulty: Hard
Distance: 10 miles (16 km)
Trail Type: Loop
Location: 40.590482, -105.184145
7. Devil's Backbone Open Space Wild Loop Trail
The Devil's Backbone Trail, situated near Loveland, Colorado, south of Fort Collins, is an easily accessible and enjoyable hike with spectacular views. The trail, around 2.5 miles long, is not particularly steep, with an elevation gain of only 350 feet, making it suitable for hikers of all skill levels.
During your trek, you can take in panoramic views of the Devil's Backbone, a unique geological feature that is a must-see.
While the hike is generally easy, it's important to stay vigilant as rattlesnakes – aka danger noodles – have been known to appear on the trail. Additionally, due to the lack of tree coverage along the trail, it's recommended to come prepared with sun protection.

Also, as with many other Larimer County outdoor recreation areas, you must pay a daily-use fee of $10 at Devil's Backbone Open Space.
Devil's Backbone Wild Loop
Difficulty: Easy
Distance: 2.5 miles (4 km)
Trail Type: Out then Loop then Back
Location: 40.412383, -105.152862
8. Maxwell Natural Area Trails
Maxwell Natural Area Trails, located in Fort Collins, Colorado, offers two unique and picturesque journeys for outdoor enthusiasts. These include the lengthy Foothills Trail, spanning 8.2 miles, and the shorter Overlook Trail, stretching 1.5 miles.
The Foothills Trail offers impressive scenic views, showcasing Fort Collins and the surrounding mountain ranges. For those wishing to stay within the Maxwell Natural Area, the Foothills Trail has a 4-mile out-and-back section.
The Overlook Trail, though shorter in distance, provides its own unique experiences. This trail presents wide open spaces, native shrubs, and numerous opportunities for wildlife sightings.
Both of these trails are dog-friendly, though it is required that dogs be kept on a leash at all times. And the best part? No parking fee!
Maxwell Natural Area Foothills Trail
Difficulty: Easy to Moderate
Distance: 9.6 miles (15.4 km)
Trail Type: Out-and-Back
Location: 40.557134, -105.143763
9. Pineridge Natural Area Dixon Reservoir Loop
For a delightful hiking experience near Fort Collins, the Pineridge Natural Area Dixon Reservoir Loop offers a scenic trail that is both highly rated and easily accessible. Nestled next to a serene lake, the trail takes you through lush grasslands with a view of patched pine trees along the rise of the valley.
Its 2-mile length makes it an excellent choice for a family outing or a casual walk with your furry friend. You can also link up to the Foothills Trail in the Maxwell Natural Area if you want to plan a longer day hike in Fort Collins.
Remember, the area opens from 5 a.m. to 11 p.m., leaving plenty of time to enjoy the natural beauty of the foothills without an entrance or parking fee.
Pineridge Natural Area
Difficulty: Easy
Distance: 2 miles (3.2 km)
Trail Type: Loop
Location: 40.551046, -105.142900
10. Coyote Ridge Trail
Nestled between Fort Collins and Loveland, in the heart of Northern Colorado, lies the Coyote Ridge Natural Area. Here, the Coyote Ridge Trail presents an appealing 4-mile hike with a mild elevation gain of 564 feet. While the trail offers a bit of a challenge to beginners, the breathtaking scenery of the Rocky Mountains makes it worth the effort.
The trail takes you through varied landscapes, from the rolling foothills to the rugged rim rock formations. You'll also have ample opportunities for wildlife viewing, with species like bald eagles and fox meadows making their home here.
Plus, with Devil's Backbone Open Space to the south and Horsetooth Mountain Open Space to the north, you have plenty of opportunities to connect longer hiking adventures from Coyote Ridge Natural Area.
However, do note that dogs are not permitted on this trail or natural area.
Coyote Ridge Natural Area
Difficulty: Easy
Distance: 4 miles (6.6 km)
Trail Type: Out-and-Back
Location: 40.480256, -105.116395
Wrapping It Up…
Once you've finished exploring these hikes around Fort Collins, take advantage of the town's other attractions, like its excellent craft beer scene.
And while in Northern Colorado, you should plan to check out any of the great hikes in Rocky Mountain National Park.
Either way, you can't go wrong exploring this part of the Front Range and into the canyons!