It's hard to choose only 10 day hikes near Boulder, Colorado! When we lived nearby in Littleton, and I worked in Boulder, this is where you go to get away from the Denver crowds.

Boulder, CO is where high plains meet jagged mountain peaks, serving as the melting point for two exquisite landscapes. The hiking opportunities in Boulder offer front-row views of the snow-capped mountains of the Front Range and the area serves as a mecca for outdoor enthusiasts.
Whether you want to see wildlife, waterfalls, or mountain vistas, there isn't a hiking trail in Boulder CO we wouldn't recommend.

Below is a quick look at the best hikes in Boulder, but keep reading for more details on each trail, followed by some helpful information about the area.

It's time to say HELLO TRAIL…
| Trail | Difficulty | Distance |
| --- | --- | --- |
| Bear Peak | Difficult | 7.4 miles (11.9 km) |
| Green Mountain Loop | Difficult | 5.5 miles (8.9 km) |
| Mount Sanitas | Moderate | 3.1 miles (5 km) |
| Flatiron Loop | Moderate | 2.6 miles (4.2 km) |
| Tenderfoot | Easy | 2.5 miles (4 km) |
| Royal Arch | Difficult | 3.5 miles (5.6 km) |
| Rattlesnake Gulch | Moderate | 4 miles (6.4 km) |
| Bitterbrush | Moderate | 4 miles (6.4 km) |
| Ceran St. Vrain | Moderate | 3.8 miles (6.1 km) |
| South Boulder Peak | Difficult | 8.5 miles (13.7 km) |
Tips for Hiking Around Boulder Colorado
Stay on trails and paths – When you stray off course on a hike, you risk damaging the surrounding environment, including vegetation, soil, and wildlife.
Clean up after your pet – It's enjoyable to take your dog out on a hike, but you must clean up after them. This is a classic leave no trace policy — scoop it, bag it, and pack it out.
Go above and beyond – If you find litter out on the trail, pick it up and take it out with you. You're serving to beautify the area for others and preserve the health of the ecosystem.
Camp in designated areas – If you plan on backpacking or pitching your tent up on the trail and sleeping overnight, be sure to pitch it in a designated area. Designated camping areas prevent pristine habitats from becoming damaged and help preserve vegetation. Let what's wild, stay wild.
Don't touch wildlife – While it's exciting to encounter wildlife out on the trail, be respectful and observe. Take a photograph for the memory bank but under no circumstances should you reach out and try to touch an animal —for your safety and theirs.
1. Bear Peak Trail
Difficulty: Difficult
Distance: 7.4 miles
Time: 5 hours
Trail Type: Hike in, Hike out
Where to Start: South Mesa Trailhead 39.93940, -105.25640
Bear Peak trail in South Boulder, Colorado is a difficult hike that takes you to the top of Bear Peak and back with an elevation gain of more than 2,800 feet.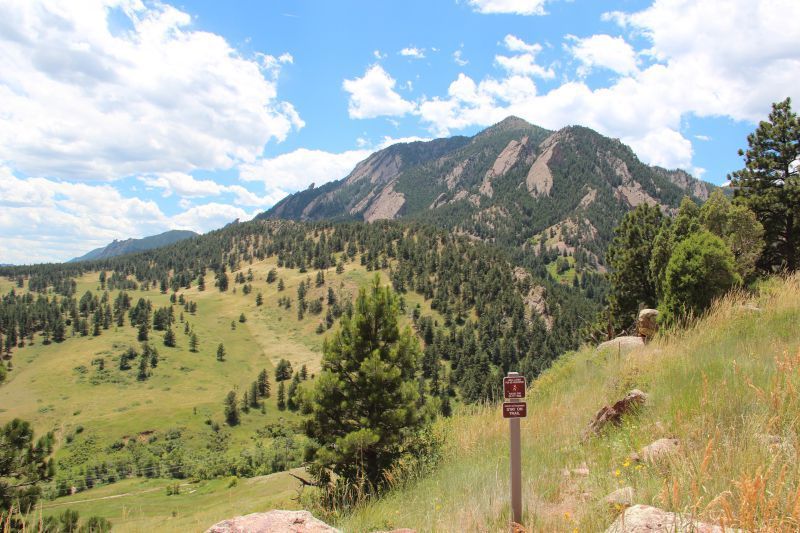 If you like venturing through different ecosystems, the Bear Peak hike is for you. The trail starts in chaparral vegetation, transitions to the dense forest, and eventually leads to a rocky and exposed mountain top.
From the top of Bear Peak you can enjoy panoramic views of Boulder and even Denver and surrounding cities in the distance. You could encounter a variety of wildlife, including falcons, hawks, songbirds and mule deer.
2. Green Mountain Loop Trail
Difficulty: Difficult
Distance: 5.5 miles
Time: 3-4 hours
Trail Type: Loop with Spur to Summit
Where to Start: Gregory Canyon Trailhead 39.99754, -105.29270
The Green Mountain Loop hike provides you with some of the most epic views in Boulder.
This moderately trafficked loop offers fabulous views of wildflowers and brings you to the summit of Green Mountain, from which you can enjoy sights of the Indian Peaks, the Rocky Mountain National Park to the west, and Boulder to the east.
Although the distance is less than six miles, the total elevation gain is more than 2,500 feet.
A unique bronze marker set into the granite at the summit indicates the names of the mountain peaks in the distance. Enjoy the delectable aromas of fruit and flowers as you're hiking.
3. Mount Sanitas Trail
Difficulty: Moderate with an Easy option
Distance: 3.1 miles
Time: Approximately 2 hours
Trail Type: Loop
Where to Start: Mount Sanitas Trailhead 40.02021, -105.29783
The Mount Sanitas trail is one of the most popular hikes in Boulder and a solid thigh burner. It starts incredibly steep and rocky, so be sure to wear stiff-soled hiking boots.
Although Mount Sanitas offers three different hike options, the loop to the top is the most scenic. It's a short hike so it's perfect as a warm-up or if you only have a few hours to spare.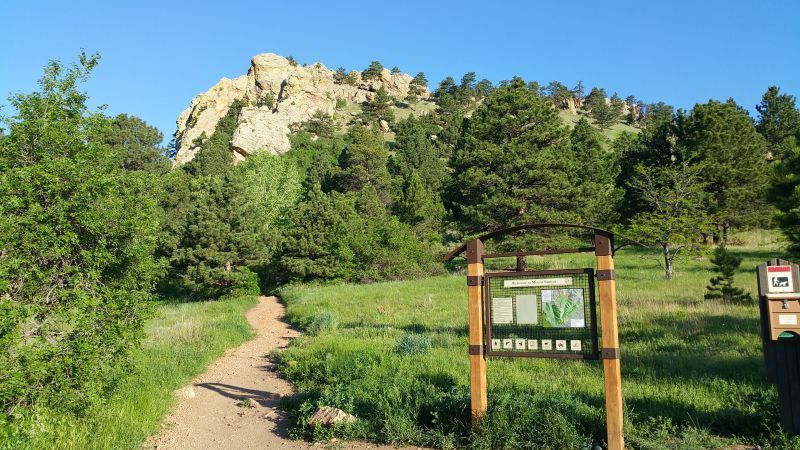 This loop features lush greenery, gorgeous wildflower meadows, and great views of Colorado's Front Range serve as icing on the cake. If you're looking for something more manageable, try the Mt. Sanitas two-mile out-and-back valley hike.
4. Flatiron Loop Hike
Difficulty: Moderate
Distance: 2.6 miles
Time: Approximately 2 hours
Trail Type: Hike in, Hike out
Where to Start: Chautauqua Trailhead 39.99881, -105.28294
Flatiron Loop is a fabulous Boulder hiking trail that takes you through a lush meadow and up through a notch between the first and second flatirons. Hint: The First Flatiron made our list of the Best Fall Colors Hikes in Colorado!

This popular loop is dotted with wildflowers and extremely heavily trafficked — it's best to start early in the day to avoid getting clumped together with the crowd.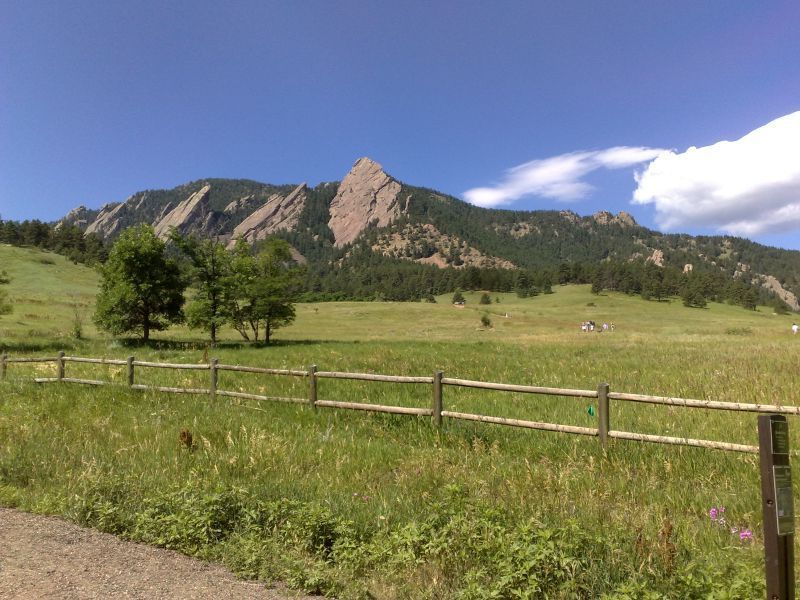 Starting from the Bluebell-Baird Trail, head south on the Flatirons Loop Trail to two trail signs, then follow the switchbacks up into the rock formations.

An elevation gain of less than 1,000 feet makes for an ideal hike for beginners or a warm-up for more strenuous trails.
5. Tenderfoot Hiking Trail
Difficulty: Easy
Distance: 2.5 miles
Time: Approximately 1.5 – 2 hours
Trail Type: Hike in, Hike out
Where to Start: Realization Point 39.99755, -105.30905
One of the easy hikes in Boulder, the Tenderfoot Trail is located on the backside of Flagstaff Mountain. The Tenderfoot Trail is a short journey from Realization Point with rewarding views of the Indian Peaks.
You start on a winding trail through a ponderosa forest and eventually, the trail spits you out into a wide-open area with magnificent mountain views. The Tenderfoot trail is excellent for spotting wildlife and is commonly used for trail running.
The drive up to Realization Point is a scenic journey in of itself. While you're going to start hiking along on Chapman Drive, you'll turn right onto Tenderfoot Trail after about a mile and a half. As always, you won't want to forget your camera on this hike.
6. Royal Arch Hike
Difficulty: Difficult
Distance: 3.5 miles
Time: 2 – 3 hours
Trail Type: Hike in, Hike out
Where to Start: Chautauqua Park Trailhead 39.99907, -105.28300
A list of the best Boulder hikes would not be complete without including Royal Arch trail in Chautauqua Park.

Although the Royal Arch hike is not for the faint of heart or those with tired legs, the views at the end of your 1400 foot elevation gain are worth every mile of the journey.
The trail includes its fair share of rock steps and obstacles, so be prepared for a workout. The arch formation at the end of the Royal Arch trail is one-of-a-kind.

There are splendid views of Boulder, and on a clear day you can see Denver in the distance.
7. Rattlesnake Gulch Trail
Difficulty: Moderate
Distance: 2.5 to 4 miles
Time: 1.5 hours to 2.5 hours
Trail Type: Lollipop with spur option
Where to Start: Eldorado Canyon State Park 39.92949, -105.29009
The Rattlesnake Gulch trail is located in Boulder's iconic Eldorado Canyon — a gem of towering sandstone cliffs, epic views, and a popular rock climbing destination. This moderate hike offers great views of the canyon and a vista of Colorado's sweeping plains to the east.
Enjoy the historical element as you pass the remnants of the Crags Hotel, which burned down in 1913. This trail leads to the Continental Divide Overlook — where you won't want to be without your camera.
The Rattlesnake Gulch Trail is one of three trails that wind through Eldorado Canyon State Park and is the most scenic.

The elevation gain is about 1,300 feet so you'll have to work hard to earn your views.
8. Bitterbrush Trail Hike
Difficulty: Moderate
Distance: 4 miles
Time: 2.5 – 3 hours
Trail Type: Hike in, Hike out
Where to Start: Hall Ranch on Highway 7 just outside of Lyons 40.21128, -105.28792
The Bitterbrush trail near Boulder takes you on a hike through open areas instead of dense forests. Be sure to wear plenty of sunscreen and bring a hat to protect your head.
Enjoy trekking through open fields with wildflowers and looking for signs of wildlife, including deer, birds, and prairie dogs.

The Bitterbrush trail's steepness increases as your journey progresses and some rocky outcroppings may be hard to navigate.
From the meadows you'll move uphill into ponderosa pines. The scenery is ever-changing, ensuring you won't experience a dull moment.
9. Ceran St. Vrain Trail
Difficulty: Moderate
Distance: 3.8 miles
Time: Approximately 2 hours
Trail Type: Hike in, Hike out
Where to Start: Ceran St. Vrain Trailhead 40.12464, -105.44198
Consider checking out the Ceran St. Vrain Trail, one of the best hikes in Boulder that follows a creek the entire way, helping you stay cool during hot summer months. Plenty of trees provide shade and the creek crossings will be tempting to splash around in to help you cool off.
The area is sprinkled with plenty of beautiful flowers to delight the eyes, including silvery lupine, black-eyed susans, and fireweed. The Ceran St. Vrain Trail is incredibly lush in June when the vegetation is flourishing.
The Ceran St. Vrain trailhead is off of Overland Road, which turns to dirt about 4.5 miles beyond Jamestown.
10. South Boulder Peak Trail
Difficulty: Difficult
Distance: 8.5 miles
Time: Approximately 4 – 5 hours
Trail Type: Hike in, Hike out
Where to Start: South Mesa Trailhead 39.93978, -105.25636
The South Boulder Peak trail rises from the Boulder Colorado foothills through three distinct ecosystems including a prominent burn zone.

At 8,549 feet, South Boulder Peak serves as the highest summit in the Boulder Mountain Parks network.
The going is steep but not technical and it's often regarded as a hidden gem, as it sees less traffic than its neighboring mountains. Slightly longer than some of the other day hikes in Colorado, South Boulder Peak sees a 3,100 foot gain in altitude, so be prepared!
You begin at the South Mesa Trailhead in Eldorado and eventually spill onto Shadow Canyon Trail which takes you up through the burn zone.

If you're looking for a long day in the mountains, you can link this trail with Bear Peak.
How to Get to Boulder
Boulder is just 30 miles northwest of Denver, making for easy access to the area. The Denver International Airport is the largest in the United States by total land area and serves for daily flights from major cities around the world.
The easiest way to get to Boulder from the Denver area is by car — but there are bus and taxi options also. Boulder's central location makes for easy access from other places around the state.

Getting around Boulder is convenient with a car — but it's also possible to get around by bike or on foot.
Are you headed to the Chautauqua area to hike among the Flatirons? You can ride a park-to-park free shuttle to avoid parking fees.

Park for free at CU Regent or downtown parking garages.
Things to Know
Boulder offers over 150 miles of hiking and biking trails and 45,000 acres of open space – guaranteeing there is something for everyone, regardless of ability level.
Points of interest for hikers include Chautauqua Park, which offers various of moderate to strenuous trails that provide access into the Flatirons. Chautauqua Park is a protected destination located within the Boulder City Limits.
The Flatirons are five unique rock formations with tons of opportunities for exploration. Nearby Estes Park and Rocky Mountain National Park is a hiker's heaven comprised of protected mountains, forests, and alpine meadows.
Some of the wildlife you'll encounter around Boulder include Abert's squirrels, foxes, coyotes, mule deer, black bears, and mountain lions. Boulder residents are serious about preserving their beautiful natural resources — so it's important to follow suit.
FUN FACT – Boulder elevation is 5,430 feet so factor that into the altitude gain you will get from many of these hikes!
Wrapping It Up…
Although a big city in terms of population, hiking in Boulder provides an easy escape from the bustling urban life.

Surrounded by the Flatirons, Eldorado Canyon, and Rocky Mountain National Park, you couldn't ask for more variety in scenery.

Whether you enjoy meandering through vast fields of wildflowers, steep mountain ascents, or gorgeous vistas above the tree line, these hikes near Boulder, Colorado are an outdoor lovers dream.
Check out our Google Web Story – 7 Awesome Hikes in Boulder