HelloTrail® is reader-supported. We may earn a commission, at no additional cost to you, on purchases made from our expert chosen links.
If you're like me and hate blisters, pick any of these 8 amazing hiking socks, sit back, and kick your feet up in comfort after a long hike. A pair of quality socks is as necessary as a good pair of hiking boots.
Proper fit and material construction can prevent hot spots and leave you blister-free, while different thicknesses will keep you warm or provide breathability in humid conditions.

Let's take a look at our picks for the best hiking socks to prevent blisters, with options for both women and men.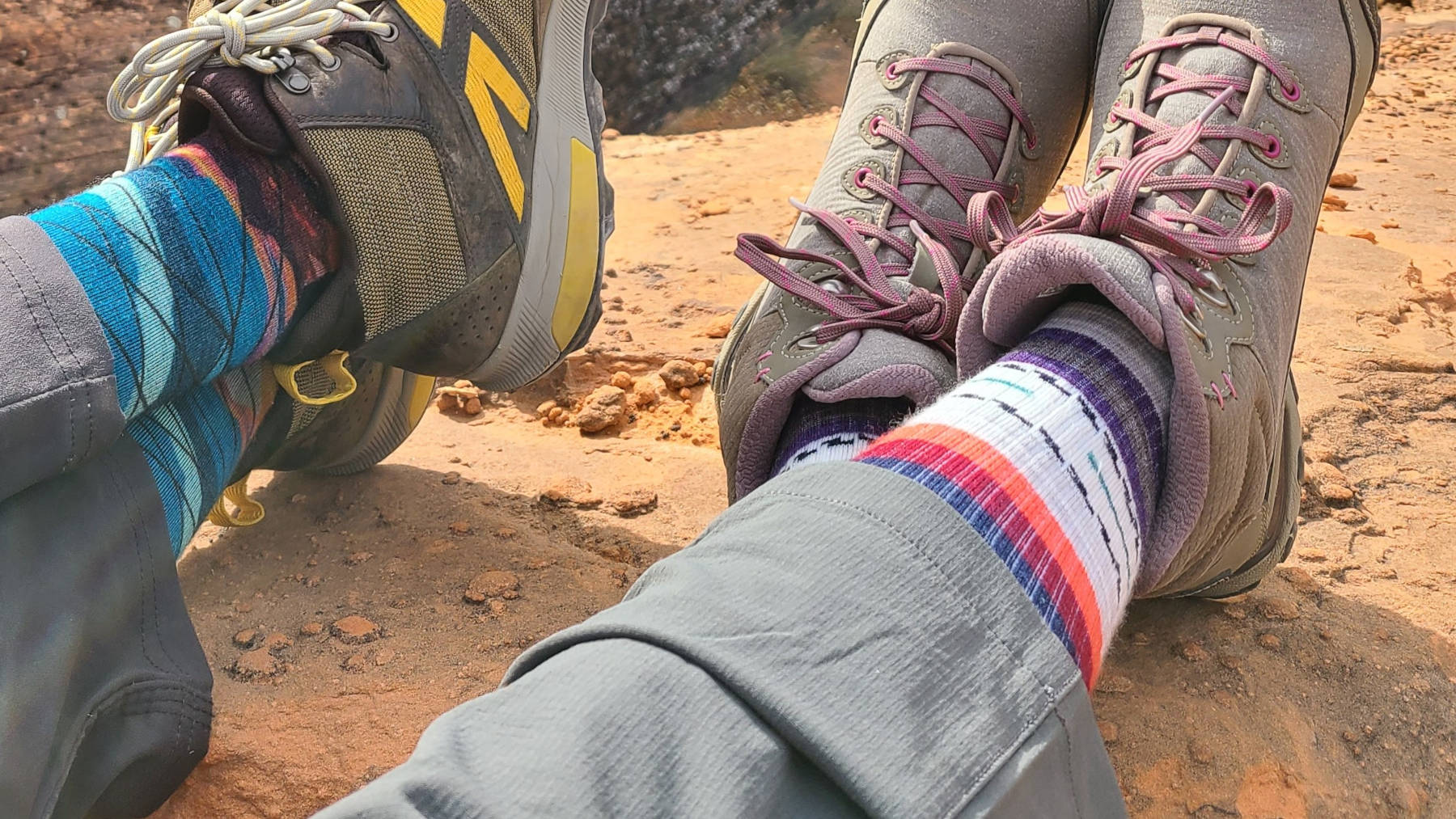 What are the Best Hiking Socks of 2023?
Best Women's Hiking Socks – Darn Tough Vermont Spring Garden Crew Light Cushion
These Darn Tough merino wool blend socks are as stylish as they are practical for any day hike or overnighter.

The brand ensures durability while guaranteeing performance out on the trail — so push the fear of blisters from your mind.
A blend of nylon and lycra combines the fast-drying capacity of synthetics with the comfort of merino wool. Although lightweight, these socks are designed for all-weather performance.

Materials – 65% Merino Wool, 33% Nylon, 2% Lycra
Best Men's Hiking Socks – Darn Tough Hiker Micro Crew
The Darn Tough Hiker is a great all-around sock cut to a low crew length for just enough protection from the elements.

Mid-level cushion density provides just enough warmth and comfort while a seamless design ensures performance without rubbing, bunching, or blisters.
The merino wool is blended with synthetic fibers for enhanced durability and excellent moisture wicking. Merino wool is naturally antimicrobial, easily repelling bacteria and odors.
Materials – 61% Merino Wool, 36% Nylon, 3% Lycra
Best Medium Weight Unisex Hiking Socks – Fox River Hike Maquoketa Crew
Even though the Fox River Maquoketa's are medium-weight, keep in mind they will make your foot more snug in your hiking boot or shoes. I am a big fan of Fox River socks in general, but I did have to order another half-size up in my boots even with their lightweight options.

Materials – 37% Eco Coolmax, 32% Nylon, 22% Merino Wool, 7% Polyester, 2% Spandex
Best Lightweight Hiking Socks for Women – Smartwool Hike Ultra Light Mini
If you're looking for something with a lower profile to compliment a pair of hiking shoes or trail running shoes, the Smartwool Ultra Light Minis are an ideal option.

Mesh ventilation zones and a multi-rib cuff ensure the highest breathability level while still providing some cushioning and shock absorption.
These Smartwool socks are suitable for warm weather hiking, fastpacking, and trail running. Close-fitting shoes are important when wearing ultralight socks, so make sure your boots or shoes fit you well.
Materials – 67% Merino Wool, 30% Nylon, 2% Lycra, 1% Elastane
Best Men's Lightweight Hiking Socks – Smartwool Hike Ultra Light Crew
If you're hiking in warmer temperatures and don't want your feet to sweat, opt for a pair of Smartwool ultra-light hiking socks.

They're a step above ultra-lightweight options, providing just enough cushioning and comfort while maintaining breathability.
The Smartwool name is synonymous with merino wool products built to last and these socks are ideal for day hikers looking for protection from the elements with a high crew-length cut. The mesh fabric and two types of rib provide for excellent breathability in the most humid, hot conditions.
Materials – 67% Merino Wool, 30% Nylon, 2% Lycra, 1% Elastane
Best Women's Merino Wool Hiking Socks – Smartwool Hike Light Crew
A crew height ensures your ankles will be protected from any plant life you happen to come into contact with, which is why Smartwool crew socks are a great option.

The light cushion provides comfort while maintaining a nice, snug fit.

These are ideal socks for the day hiker, offering a coveted blend of support and durability.
Match these Smartwool Hike Light Crew socks with any pair of quality, close-fitting hiking boots and you'll feel like you can hike for days on end.
Materials – 67% Merino Wool, 32% Nylon, 1% Elastane
Best Merino Wool Hiking Socks for Men – Wigwam Comfort Hiker
For those who value comfort above all else, these Wigwam Comfort Hiker socks are made for you.

They're midweight – which makes them versatile in changing weather conditions and varied seasons.

Although primarily constructed of merino wool, this product is blended with just enough synthetic fibers to enhanced durability in a fully cushioning design.
The nylon and spandex also make sure these socks stay up so you can worry more about the trail in front of you and worry less about looking down at your feet. The seamless toe closure makes for an added level of comfort.

Materials – 67% Merino Wool, 21% Stretch Nylon, 7% Elastic, 5% Acrylic
Best Summer Hiking Socks – Randy Sun Waterproof and Breathable Unisex
Ideal for wet and humid environments, these waterproof socks excel at keeping your feet dry.

The Y structure of the heel ensures your socks stay up even when the going gets rough.

A combination of nylon, lycra, and elastane makes for a coveted synthetic option that will maintain its fit throughout its lifetime.
These waterproof hiking socks are fast-wicking and designed for unisex use — be sure to use the sizing guide.
Materials- OUTER (74% High Waterproof Nylon, 23% Lycra, 3% Elastane) LINING (64% Coolmax, 3% Lycra, 33% Elastane)
What To Look For…
Types of Socks
Most socks are designed based on their designated sport or activity, so there are various types of outdoor socks to choose from. If you are just getting started hiking evaluate the elements involved on your typical day hike to pick out the appropriate socks for you.
For example, if you do a lot of trail running on your hikes, you might want to get a pair that's more trail-running specific.
Skiing/Mountaineering: Ski socks are typically taller than most pairs of hiking socks, coming up to just below your knee. Thicknesses vary from ultralight to very thick as they are designed to fit inside a ski or mountaineering boot. They need to be snug to avoid rubbing when you're out on the slopes or climbing a mountain.
Running: Running socks are somewhat the opposite of ski socks in height, typically coming up to just below the ankle. If you choose to forego taller hiking boots for low hiking shoes, running socks make great companions.
Running socks are thinner than general hiking socks and more breathable, ideal for warmer temperatures or when you're moving fast.
Hiking: Unless you're a trail runner or an experienced hiker who also mountaineers, general hiking socks are going to be the most suitable option for you. Unlike simple cotton socks, hiking socks are specifically designed to optimize comfort, warmth, and breathability out on the trail.
They usually measure ankle to mid-calf height — so pick out a pair that matches your preference and the style of boots or shoes you're wearing. You'll most likely select hiking socks in correlation with the seasons — summer hiking calls for a thinner, more breathable pair, while winter requires a thicker, warmer style.
Toe socks: Toe socks allow your toes a greater range of movement and are considered more natural, attributing to added stability out on the trail. If you tend to get blisters in between your toes, these are a good option for you. They take some getting used to, but if it helps relieve any pain, then they are worth it!
Whether you pick a pair of toe socks or traditional hiking socks will come down to your personal preference.
Different Styles
Ultra-light Weight: Socks are available in different styles, which can be loosely correlated with the seasons. Ultra-lightweight socks are the thinnest types of socks, ideal for trail running or fastpacking. They are designed for warm, humid environments and the summer season.
Lightweight: Lightweight socks are designed with thin fabric but still offer a degree of insulation and protection. They are ideal for warm weather hiking.
Midweight: Midweight socks are the most versatile for different hiking conditions and temperatures. If you're looking for one sock to wear in various environments, a midweight sock is ideal. They are typically more durable than lightweight socks, offering increased longevity.
Heavyweight: Heavyweight socks will keep your toes warm if you're hiking in early spring or winter. They also offer more padding for increased comfort. Although they perform excellently in cold conditions, they are not ideal for moving fast or warm climates due to their lack of breathability.
If you are like us, then you're not a fan of blisters. We use several of the socks on this list and haven't had any issues, but here's a good video to help you prevent those unwanted pains…
Materials
The kind of fabric used in sock construction determines durability, next-to-skin comfort, wicking capability, and provides for warmth measures. There are two primary categories of materials: merino wool blends and synthetic socks.
Merino Wool: Those who like merino wool are more than likely raving fans. Merino wool is comfortable, breathable, and durable and doesn't boast the itchiness of traditional wool fabrics.
Merino wool provides a high level of warmth on those cooler fall hikes depending on its thickness and is also great at wicking away moisture in the hot months. Better yet, merino wool helps keep odor to a minimum because no one likes stinky feet!
Polyester: This type of synthetic fabric is implemented into socks to improve their durability. They tend to last longer than their merino wool companions, are quick-drying, and are likely to maintain their fit over their lifetime.
The downsides? Polyester socks are typically much less warm than merino wool and less likely to regulate your body temperature when wet.
Polypropylene: Polypropylene is coveted for its hydrophobic (water-hating) properties and tends to absorb less moisture than polyester or merino wool. It dries faster when wet, so it is ideal for rainy environments or trails with lots of stream crossings. This attributes to increased breathability, also ideal for warm and humid conditions.
Nylon: Nylon is often blended with merino wool to provide added shape retention and durability, but is known to absorb water more easily compared to other synthetics, so it isn't ideal for use on its own.
Elastane/Lycra/Spandex: These three names are used interchangeably and often found in stretchy clothing to help it maintain its shape. It is frequently blended with merino wool and synthetic materials for this exact purpose.
Wrapping It Up…
Happy feet make for happy hikes – and your hiking shoes or boots are only half of the equation. Although often an after-thought, finding the best hiking socks to prevent blisters is a vital piece of the essential hiking clothes equation.
Pick out the appropriate hiking socks for you depending on your ideal pace, hiking season, and climate.
You might opt for a heavyweight pair for winter and a lightweight pair for summer – or a midweight style for all seasons.
This all depends on personal preference but we hope this guide has made it easy for you to start shopping for the perfect pair of hiking socks. It's time to start gearing up to get outside – the trails are calling.