Situated amidst the rolling hills and lush landscapes of Missouri, I have had the privilege of living in this picturesque state for many years. As someone who has trekked through the forests, scaled rocky cliffs and marveled at the pristine waters of our state parks, I can vouch for the incredible hiking experiences that Missouri has to offer.
In this article, we'll embark on a journey through some of the best Missouri State Parks for hiking. From the towering heights of Taum Sauk Mountain State Park to the tranquil beauty of Ha Ha Tonka State Park near the Lake of the Ozarks, Missouri's state parks offer a diverse range of landscapes and trails that all hikers will appreciate.
It's time to breathe in the fresh air, soak in the stunning views, and create unforgettable memories in the heart of the Show-Me State!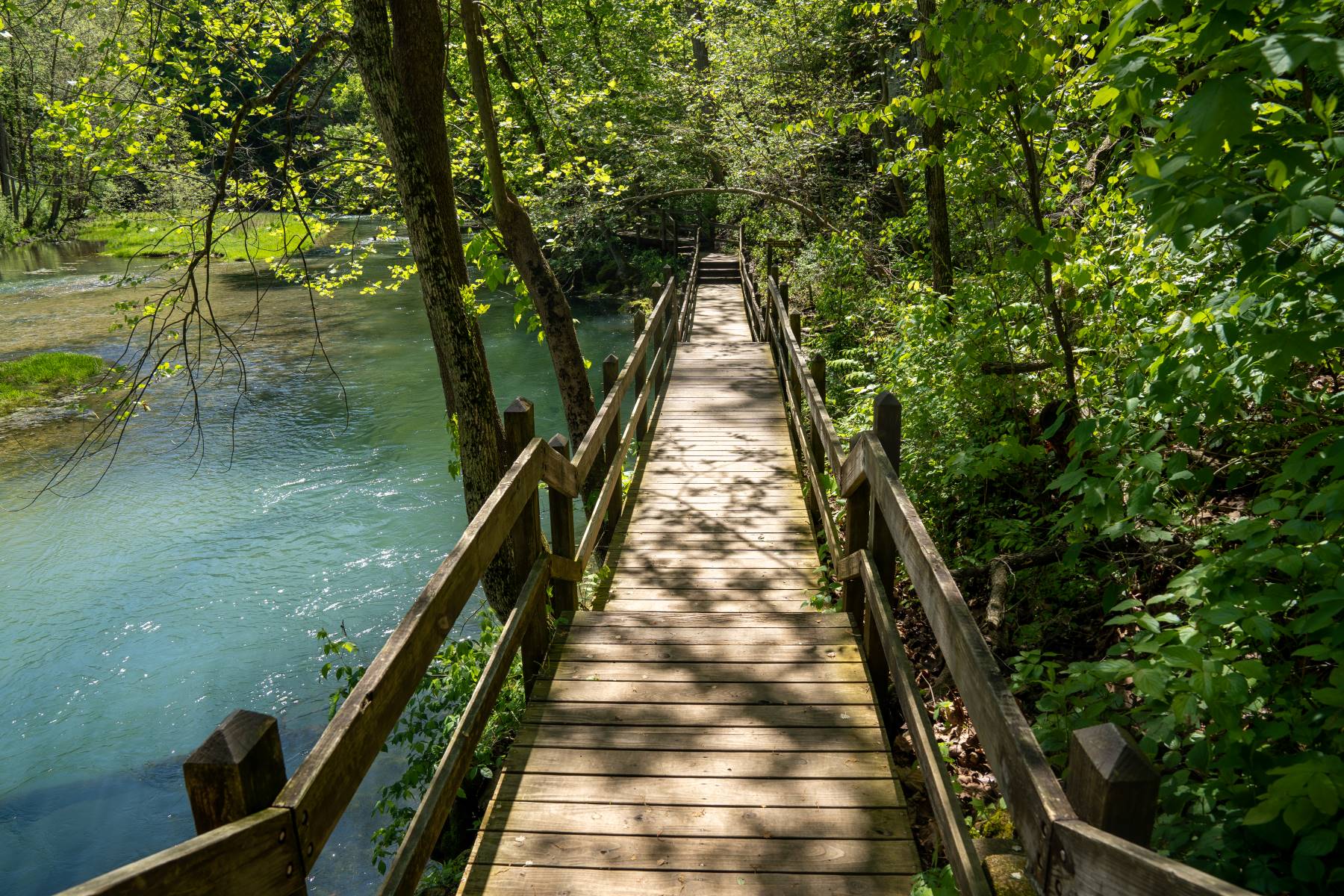 1. Taum Sauk Mountain State Park
You'll love traversing the rugged trails of Taum Sauk Mountain State Park, with its breathtaking views and spectacular waterfalls.

Situated in the St. Francois Mountains, Taum Sauk Mountain is the highest point in Missouri, reaching 1,772 feet above sea level.
The park offers plenty of hiking trails, including a paved ADA-accessible trail that leads to the summit of Taum Sauk Mountain and the start of the Mina Sauk Trail, a three-mile loop (4.8 km) that leads to the stunning Mina Sauk Falls.

The falls, which are only active during wet weather, are a 132-foot wet weather waterfall, with two large drops measuring around 30 feet high.
The trail to Devil's Tollgate (accessible from the Mina Sauk Falls Trail and adds about two extra miles) is the most challenging, with large boulders and rocks, but it provides terrific views of the mountains and pools of water.

With 7,000 acres of remote wilderness and stunning views, Taum Sauk Mountain State Park is the perfect spot to escape to.
2. Meramec State Park
Take a break from your busy day-to-day life and explore Meramec State Park in Sullivan, MO.

From the 1.5-mile (2.4 km) Bluff View Trail, which offers views of the Meramec River, to the 8.5-mile (13.7 km) Wilderness Trail, the longest and most remote in the park, there's something for everyone to enjoy.
The 1.8-mile (2.9 km) Deer Hollow Trail passes by the dining lodge and Fisher Cave, while Nature Wonders Trail is a 1.3-mile (2.1 km) trek full of small caves, springs, and streams, and the 0.5-mile (.8 km) Walking Fern Trail features tall bluffs, wet glade marshes, and Indian Cave.
Finally, the 0.8-mile (1.3 km) River Trail runs alongside the Meramec River and returns through the forest. Whether you're looking for a short walk or a more challenging trek, you will find something unique and special at Meramec State Park.
3. Ha Ha Tonka State Park
Ha Ha Tonka State Park is located near the Lake of the Ozarks in Missouri, covering over 3,700 acres. It features Missouri's 12th-largest spring, caves, natural bridges, rock formations, sinkholes, bluffs, and dense forests.

Find your perfect day hike on Ha Ha Tonka's 31 miles of trails with well-marked, color-coded blazes.
There's the 0.6-mile yellow-blazed Castle Trail, the 1.4-mile (2.3 km) blue-blazed Spring Trail with its grist mill and water-filled cave, the 0.4-mile (.6 km) green-blazed Island Trail, and the 1.5-mile (2.4 km) red-blazed Boulder Ridge Trail (walked in a clockwise direction).
Wheelchair-accessible trails and accommodations for those with disabilities are available. Plus, you can check out the ruins of a 20th-century castle.

Be prepared for wildlife, interpretive stops, steep grades, slippery surfaces, and natural obstacles.
4. Don Robinson State Park
Explore Don Robinson State Park's rugged canyons and wet-weather waterfalls with its two trails:
LaBarque Hills Trail
Sandstone Canyon Trail
Take the LaBarque Hills Trail for a 2.4-mile (3.9 km) journey that offers incredible views of canyons, creek crossings, and interesting rock formations. You may even spot frost flowers in the right season.

Or, take the Sandstone Canyon Trail for a 4-mile (6.4 km) adventure through the canyon bottom. This trail is muddy and slippery after rain, but the payoff is spectacular – take in the sights of waterfalls and spring wildflowers.
Don Robinson State Park also features historical structures, like the remains of a concrete dam and the home of Don Robinson. For a less-crowded option, visit the park early or during the week.
5. Castlewood State Park
If you are looking to go hiking near St. Louis, then check out the River Scene Trail in Castlewood State Park where you can take in breathtaking cliff-top views of the Meramec River. Located just outside St. Louis, this 3.1-mile (5 km) loop is perfect for an enjoyable morning or afternoon of exploration.

Rated as moderate in difficulty, the only challenging part is climbing to the cliffs, which can be done via trail or stairs. You can hike in either a clockwise or counterclockwise direction, and each offers a unique experience.
Don't miss the frost flowers, which look like flower petals made of ice. To avoid crowds, try going on an early weekday.
Another hiking option is the Castlewood Loop via Chubb Trail. This 2.8-mile (4.5 km) trail features old farmland and skirts along the edge of Lincoln Beach, while the seclusion makes it a great spot for bird watching and wildlife viewing.

The trail is suitable for hiking, equestrian activities, and mountain biking. If you want a more challenging experience, check out the Grotpeter Trail.
You'll have plenty to explore with its varied routes and hilly terrain. Since the path takes you through a dense forest, this is a great option when searching for a fall hike!
6. Hawn State Park
You can enjoy a peaceful hike at Hawn State Park, where towering pine and oak trees, sandy creek bottoms, and sandstone rocks create a picturesque landscape.

The cascades of Pickle Creek flow year-round, adding to the area's tranquility. In spring, you'll be amazed at the blooming dogwoods and azaleas, and in fall, the colorful leaves against the rushing waters paint a beautiful scene.
The trails at Hawn State Park are perfect for hikers of all abilities. The popular 2-mile (3.2 km) Pickle Creek and Whispering Pines Trail is rugged and rocky, with creek crossings and stunning overlooks.

Make sure to do the Pickle Creek portion first for a more secluded experience. You'll see the creek, smooth rock areas for water play, and tall pine trees.
The Whispering Pines Trail takes you uphill, with bridge crossings and overlooks of the Pickle Creek valley.

If you live in the St. Louis or southeastern Missouri areas, Hawn State Park should be at the top of your list for a peaceful hike. Enjoy the stunning views and relaxed atmosphere of one of the best state parks in Missouri.
7. Table Rock State Park
Experience the beauty of Missouri nature at Table Rock State Park, with its scenic trails, diverse wildlife, and stunning views of Table Rock and Taneycomo lakes.

The White River Valley Trail System has four main loops, each offering unique difficulty levels.
Red Loop is the most technical.
Blue Loop is the longest, with diverse nature experiences.
Orange Loop offers the shortest route, with small waterfalls.
Green Loop, with its highest elevation point and great views.
You'll also want to check out the Table Rock Lakeshore Trail, a paved and relatively flat path along the shore of Table Rock Lake, perfect for walkers and those with strollers or wheelchairs. Keep an eye out for bald eagles, loons, and ospreys in the winter.

Note: Backpacking and camping are not allowed, and the trail system is closed following rains.
8. Lake of the Ozarks State Park
There's something for everyone at Lake of the Ozarks State Park, from the challenging Lakeview Bend Trail loop to the picturesque Fawn's Ridge Trail.
The 1.5-mile (2.4 km) Lakeview Bend Trail loop offers a variety of Ozark terrain, from rocky cliffs and boulders to oak-hickory forests.

The path can have loose gravel and roots, so watch your footing. Hiking poles can help keep you stable if you are worried about slipping.
For those looking for a longer hike, the Trail of the Four Winds offers 13.5 miles (21.7 km) of trails with stunning lake views and rock outcrops.

The Hidden Springs Trail is great for those seeking a short, moderate hike and provides 2.5 miles (4 km) of woodlands and views of the lake from the bluff tops.
For something easy, the White Oak Trail is a one-mile loop and great for wildlife spotting. Whether you're a beginner or an experienced hiker, Lake of the Ozarks State Park is an ideal spot for a fun family outing or a solo hike.
Wrapping It Up…
If you're looking for a great place to go hiking in Missouri, look no further than state parks like Table Rock, Meramec, and Castlewood.

Each park offers something unique and exciting, and you won't be disappointed by any of them. So why wait? Get out there and start exploring!